From discarded children's toys to pots and pans, there is a handful of artists from around the world who are creating exceptional work using recycled materials. Sustainable art that is used to stimulate conscious thought and discussion among viewers is truly special and calls for celebration.
We have compiled a list of some of the most breathtaking art installations from around the world that were made from recycled materials. The MASSIVart team hopes that these installations will inspire you to experiment with creating with recycled materials or to check out these special artworks for yourself. Here is part one of our list:
Unveiled in Sydney, Australia in 2021, Weaving Thru The World was created by Gabriele Filtz and is a wonderful example of how fabric can take on a new life. Constructed from discarded fabrics, ribbons, and rope from used City of Sydney street banners, festival fabrics and flags, the pieces have found a second life as public art, instead of ending up in a landfill. The bold, bright and unique work is hung above entrances and laneways of Sydney's World Square, welcoming visitors into the space. Filtz explained in an interview that she wanted to create a statement piece "and also be mindful of the delicate ecosystem on this beautiful planet of ours."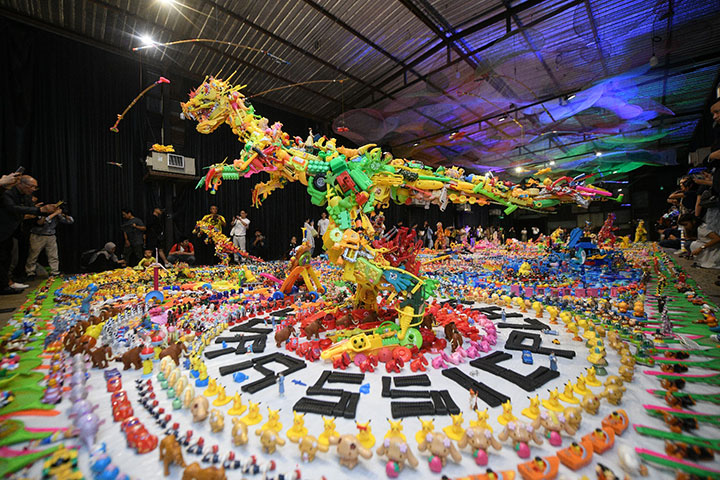 Hiroshi Fuji's Jurassic Plastic brings a sense of childlike wonder in their art exhibition meant for both kids and grown-ups. These large sculptural dinosaurs were constructed using unwanted toys from Japan and Thailand.  Exhibited in Chan Chui Creative Park in 2019 the fun and playful showcase also inspired its visitors to consider the role of plastic in our lives, shedding light on our collective consumption of plastic and waste.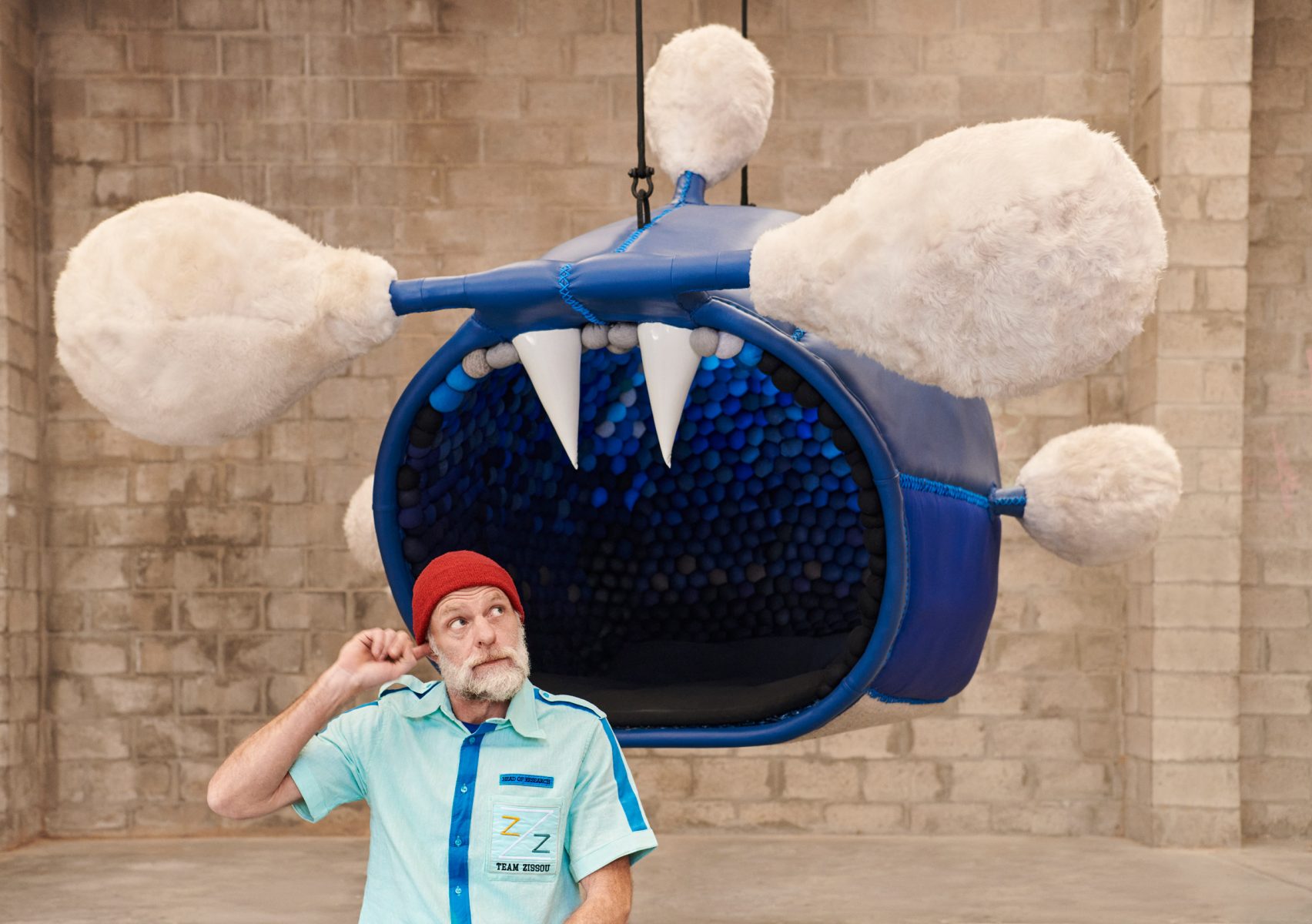 South African designer Porky Hefer's work named Plastoscene – Marine Mutants from a disposable world was displayed in the National Gallery of Victoria in Melbourne, Australia in 2020 and encouraged visitors to think about their role in ocean pollution. Imagining how polluted oceans may force marine animals to mutate, Hefer created five large fantastical creatures. Working alongside artisans, craftsmen and fabricators, each piece is handmade with objects like cigarette butts, q-tips, takeaway food packaging and fishing ropes. Hefer's exhibition is a fun but important reminder of how humanity can change the natural world.
Developed by Vancouver-based artists and architects Rebecca Bayer and Matthew Soules, the public art piece City Fabric is made of safety netting, which is a material that is initially designed for temporary use. The fabric is typically used to protect the public from construction hazards. Stretched across the concrete pillars of the Burrard Street Bridge in Vancouver, this piece has become cherished by the community. City Fabric was originally debris from construction and has been repurposed into a thoughtful piece that passersby can admire from below.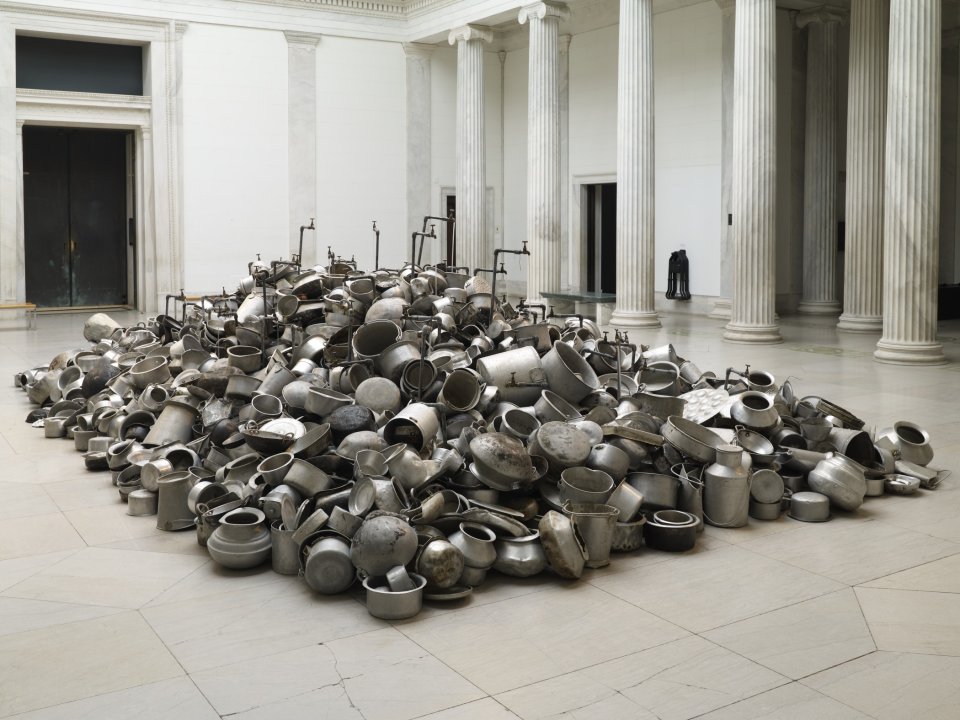 Created and displayed from 2011 – 2013, This is not a fountain by Subodh Gupta was constructed by collecting pots and pans from families throughout India. The accumulation of dents and scratches as well as the fact that the objects are discarded by many people all at once, speaks to the economic realities that many face and the ongoing migration from rural to urban areas. Gupta's sculpture is a reflection of the rapid transformation of industrialization.
Patrizia Biondi's sculptural painting series titled Between Ruins and Santosha was made using recycled cardboard boxes and spray paint. Her work, displayed in 2018 at Artreal Gallery in Sydney, Australia, delved into the complexities of ethical consumption. Arising from the total immersion of materialism and urgency towards thoughtful consumption, her work asserts that there is underlying potential to reach contentment. Her colourful and award-winning work encourages viewers to consider a middle ground between consumption and waste—inviting them to ultimately reach a state of contentment.