The creative team of MASSIVart would like once again to honour an artist that they love. This time they talked with Victor Pérez-Rul to enter his inner world and learn more about the inspirations and motivations behind his work. Thank you to him for allowing us to discover so much about him!
The work of Víctor Pérez-Rul (Mexico City, 1983) is an ongoing artistic research in which art, retro-futurism, Natural Sciences, cosmology, engineering, design, and subtle pop references converge. His solar sculptures are collaborative experimental projects, large scale installations, landscapes, physical and virtual objects that propose and explore new ways of understanding, perceiving and imagining the universe, energy, and life.
To facilitate his artistic, creative and experimental exercise, in 2010 Víctor founded Studio Víctor Pérez-Rul; an art studio that investigates energy and living beings as systems of energetic processing, converging sculpture, installation, physical and virtual environments and landscapes, experimental architecture, object design, futurism, reflections on technology and a vision of the world far from the Anthropocene such as post-humanism or nahualism.
His work has been presented in several countries including South Korea, Holland, Germany, Italy, the United States, Costa Rica and Mexico.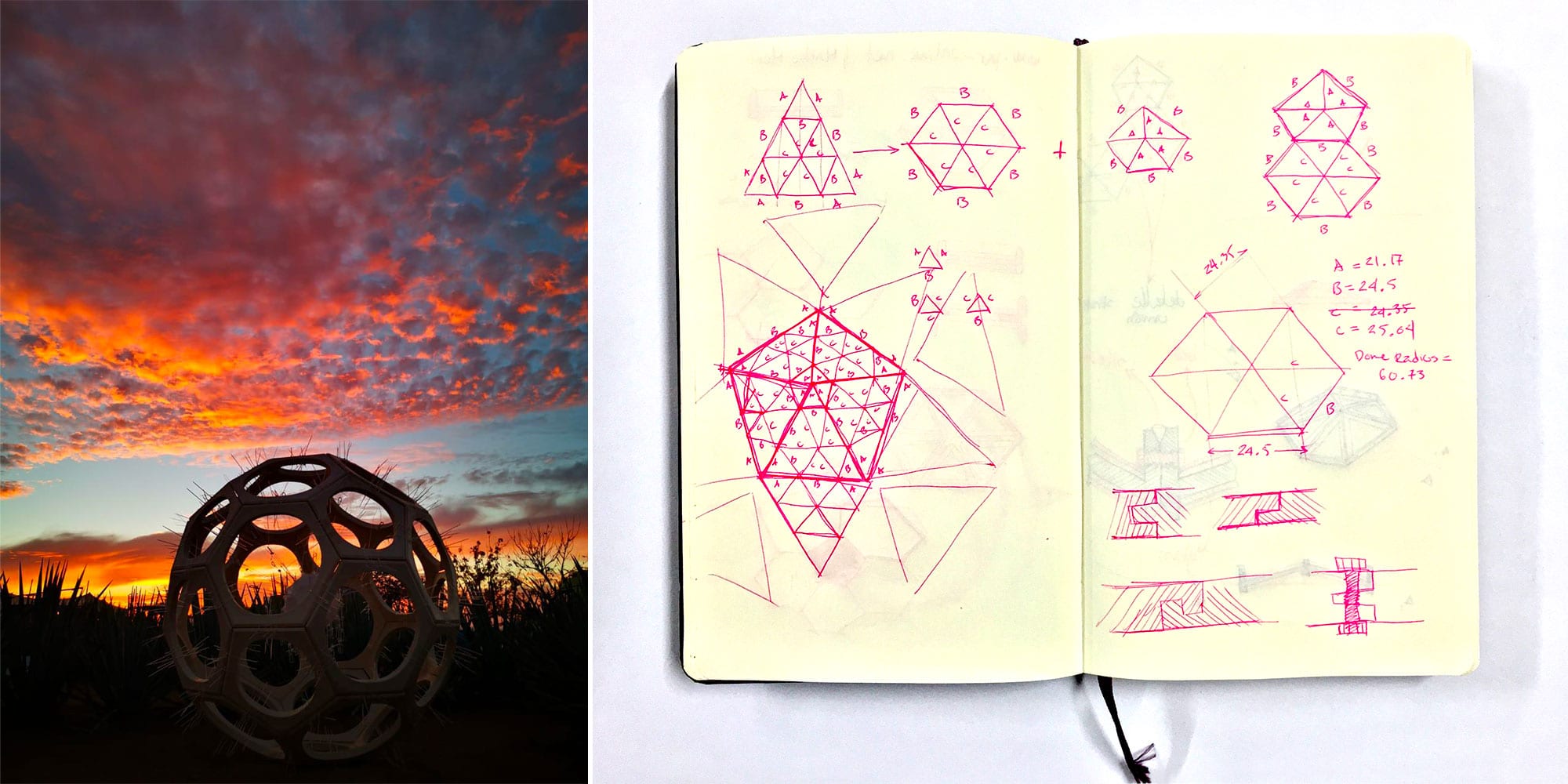 Exoskeleton 1.2, sketch & piece by Víctor Pérez-Rul
MASSIVart: What is the main purpose of your work?
VPR: Sharing my amazement for the world and experiment its mysteries. I look to submerge myself through the heterogeneous experience of art into the great questions of our species, such as what is the Universe? What is life? Living and sharing my work is always an inconclusive adventure in the quest of freedom, wonder and knowledge.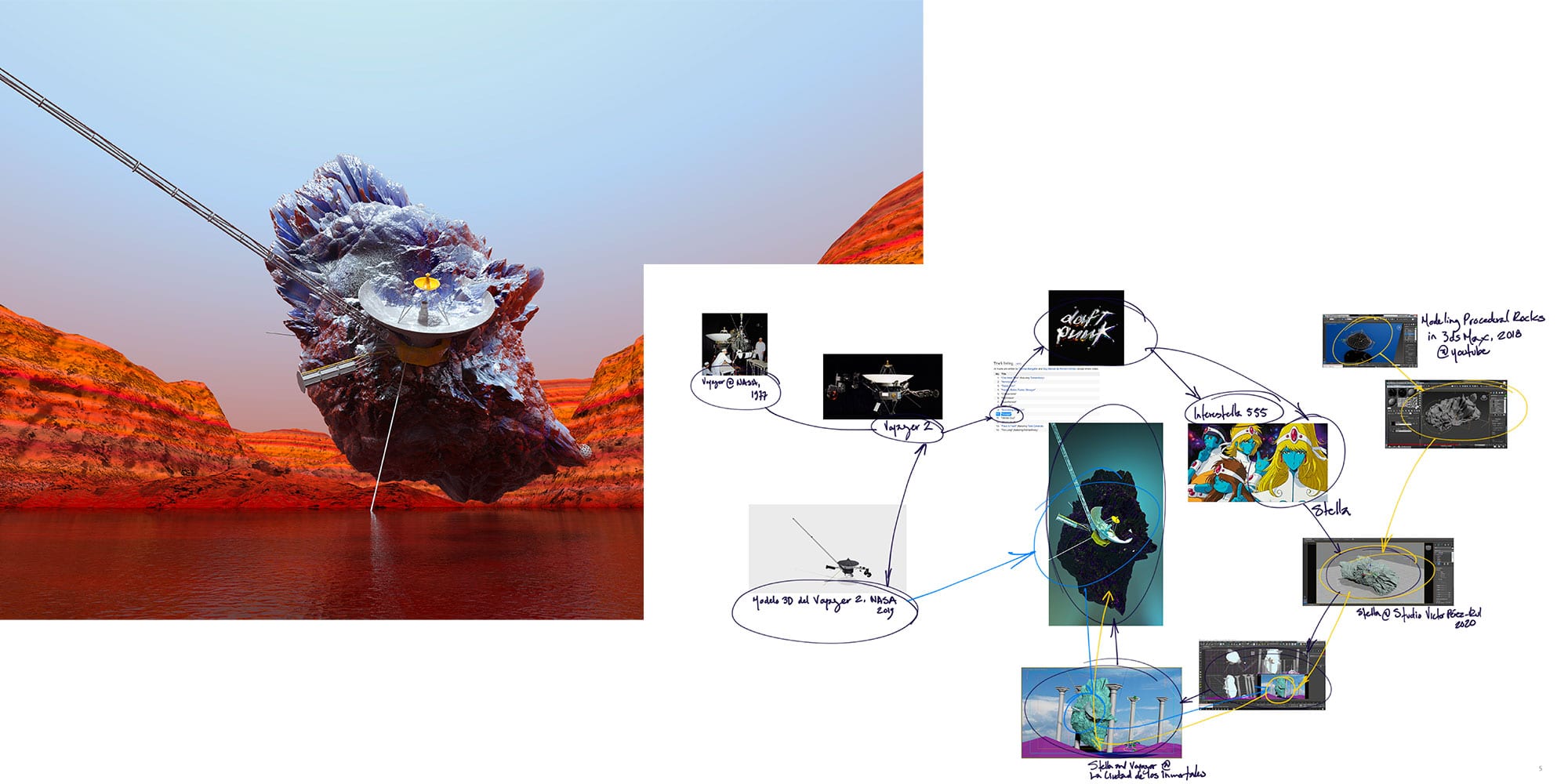 Stella and Voyager, concept diagram & piece by Víctor Pérez-Rul
MASSIVart: What are your inspirations? From where do the ideas that lead to the creation of a piece come from?
VPR: I am inspired by nature, landscape, insects, underwater creatures, psychedelic, anime, video games, retro-futurism, spatial exploration, cyborgs, architecture, music in general, electronic music in particular, and Natural Sciences. The ideas can come from different places: a dream, a meditation, a conversation, a reading, while walking, in an adventure, in the shower… you know. Many times the ideas come in pieces and in different places and moments and they accumulate (through texts, sketches, diagrams, maquettes, etc.) until they generate a complete idea, usually utopic. The attempt of reaching that utopic vision, to the ideal piece, is how the idea gets materialized in an artwork. In that sense, every piece I work on is an attempt, an unfinished experiment.

MASSIVart: What themes are you mostly interested in to express through your artwork?
VPR: Maybe the latest constant in my work resides in the expression of possible worlds and how these worlds can be suggested and unfold through art. Currently, I am working with themes related to theories and speculations on the origin of life and the vague limits between what we consider alive and not.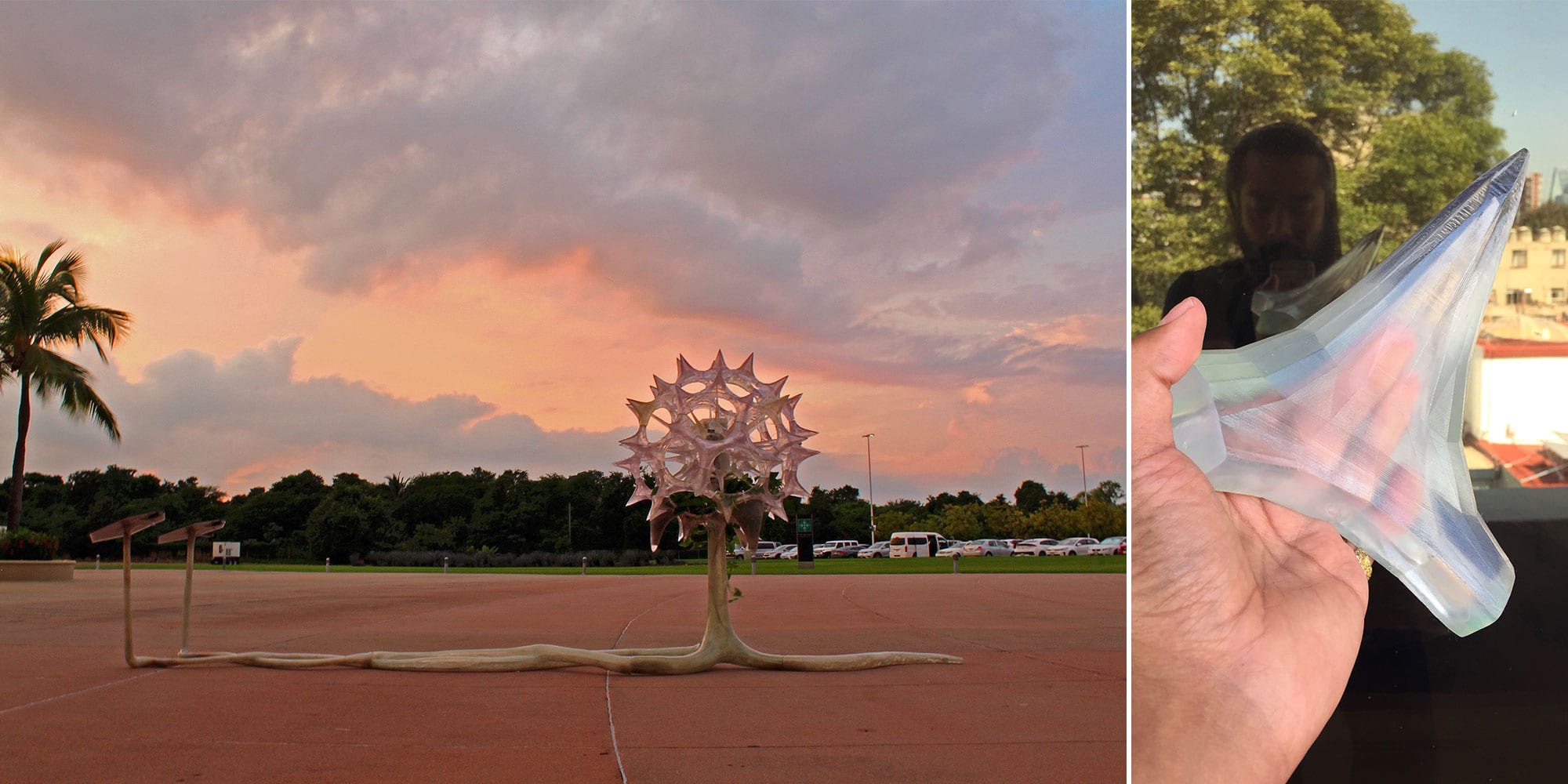 The arrival, first finished module & piece by Víctor Pérez-Rul
MASSIVart: How would you describe your process?
VPR: As an exploration adventure: one day I can be in a tropical forest, the other in a mine, the next one reading in my studio, working on the computer or watching cartoons. At the end, all experiences and knowledge that I accumulate began to transform into pieces through diagrams, sketches, prototypes, and their iteration. I try that the pieces I create can work as catalysts of complex experiences for the viewer, experiences that can't be possible in any other way. For that, I have adapted the idea that my pieces have to be the point of convergence between different elements such as reflection, fiction, speculation, science, pop culture, the ancestral and the transcendental, all mixed without distinction. This point of convergence in the universe of my work is what I have called, Tesseract.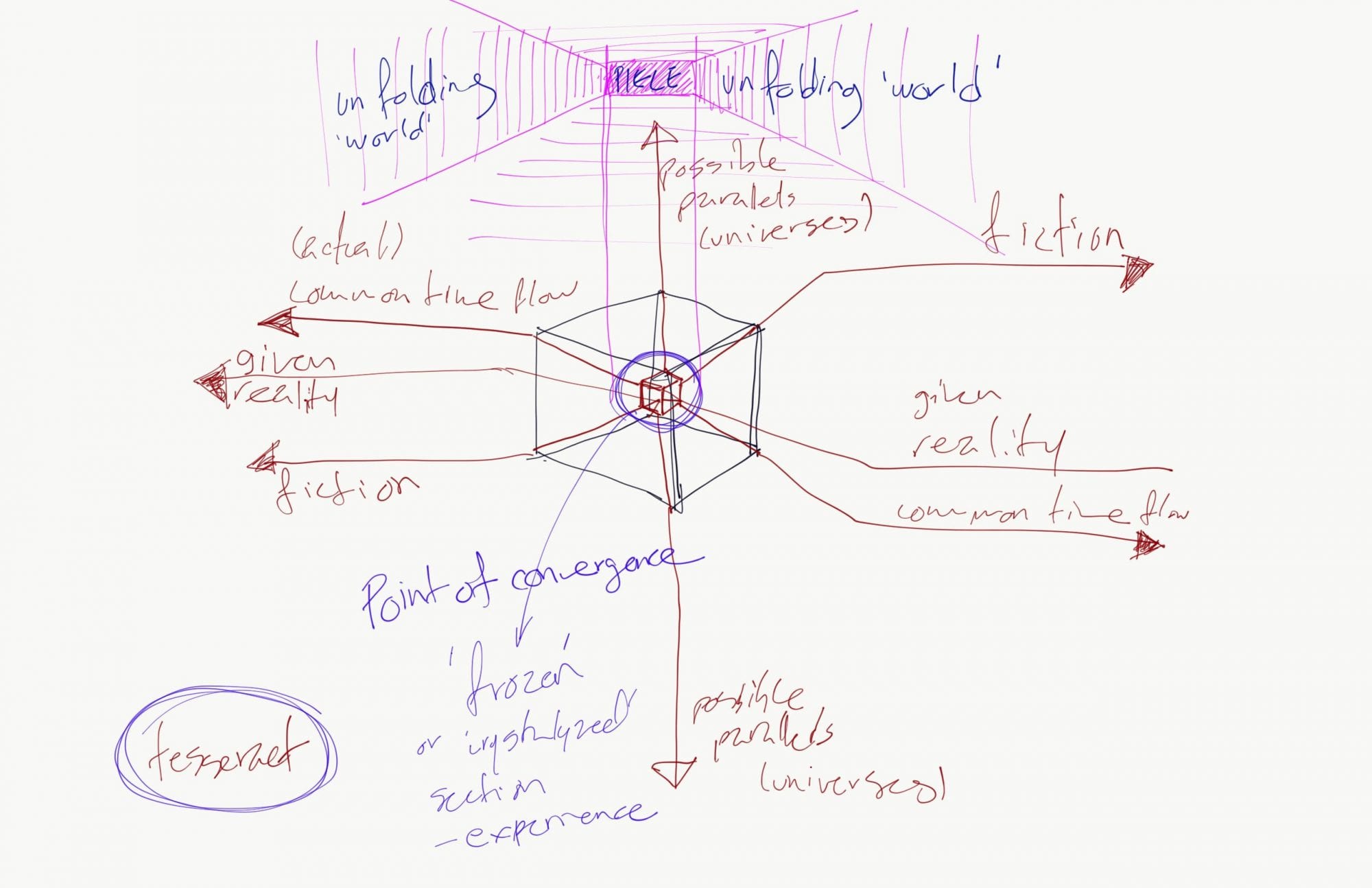 Tesseract, diagram by Víctor Pérez-Rul
MASSIVart: What is the most challenging when creating a piece?
VPR: The technical solutions. I like to work and experiment with processes, technologies, and elements that can take a long time and a lot of knowledge. My pieces always come from a tension between content, experimentation, formal possibilities, production expenses and quality. Creative freedom has big challenges.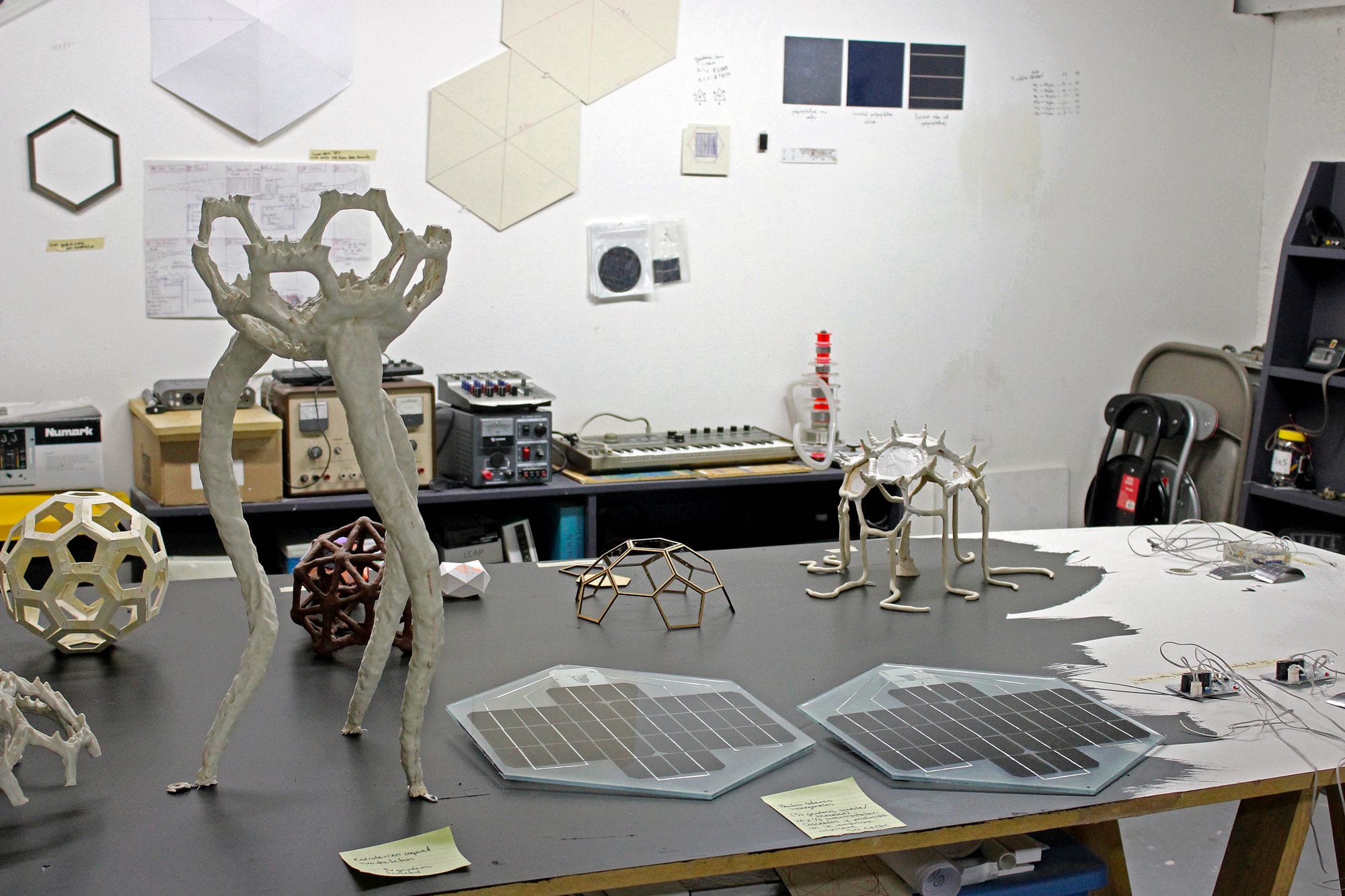 Víctor Pérez-Rul 's Studio in Mexico City