International Women's Day (March 8) is a global celebration of the social, economic, cultural, and political achievements of women. MASSIVart's core values consist of making art & culture more accessible and present in the world, but also to support and empower a diverse, inclusive and emerging creative community. Gender equality is an integral part of this value.
Our talented team and the artists we work with are delivering impact by contributing to the vibrancy, resiliency and sustainability of cities and places, and creating positive change in the world.
We have asked some of the incredibly creative women at MASSIVart to share their thoughts on their favourite artworks and the projects they loved working on recently. Take a minute to get to know them!
Philomène, Artistic Director, Montreal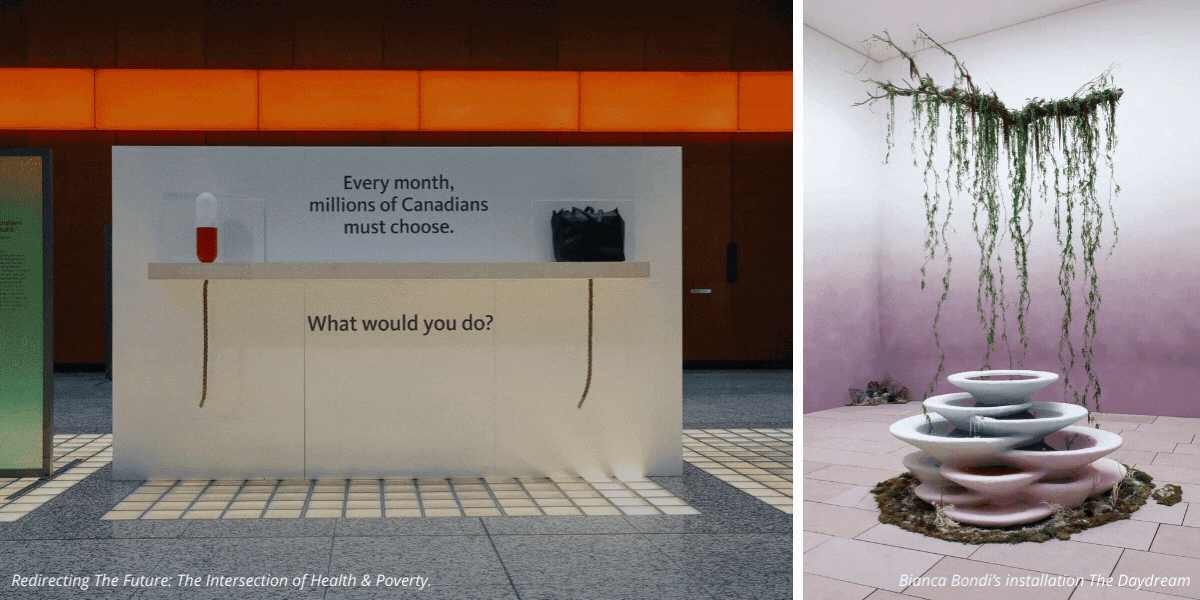 What's your favourite art piece?
I recently experienced Bianca Bondi's installation The Daydream at the Louis Vuitton Foundation and was really drawn to her work. The installation has something magical to it, almost spiritual. The central piece resembles a fountain made out of organic shapes like giant corals and evokes something fragile yet worthy of worship. The whole mystical ambiance is heightened by sound and scent for a powerful moment of contemplation, of reverence towards nature.
What's your favourite MASSIVart's project?
Redirecting the Future exhibition for the C-UHS. We had to develop six participative installations that raised awareness on the inequalities of the healthcare system in an engaging and accessible way. Our installations highlighted the importance of changing the current healthcare system and helped encourage people to donate for the cause. I think this project goes to show that creativity can have an impact and I love that our projects can have a positive effect on society.
Veronique Dufour, Creative Coordinator, Montreal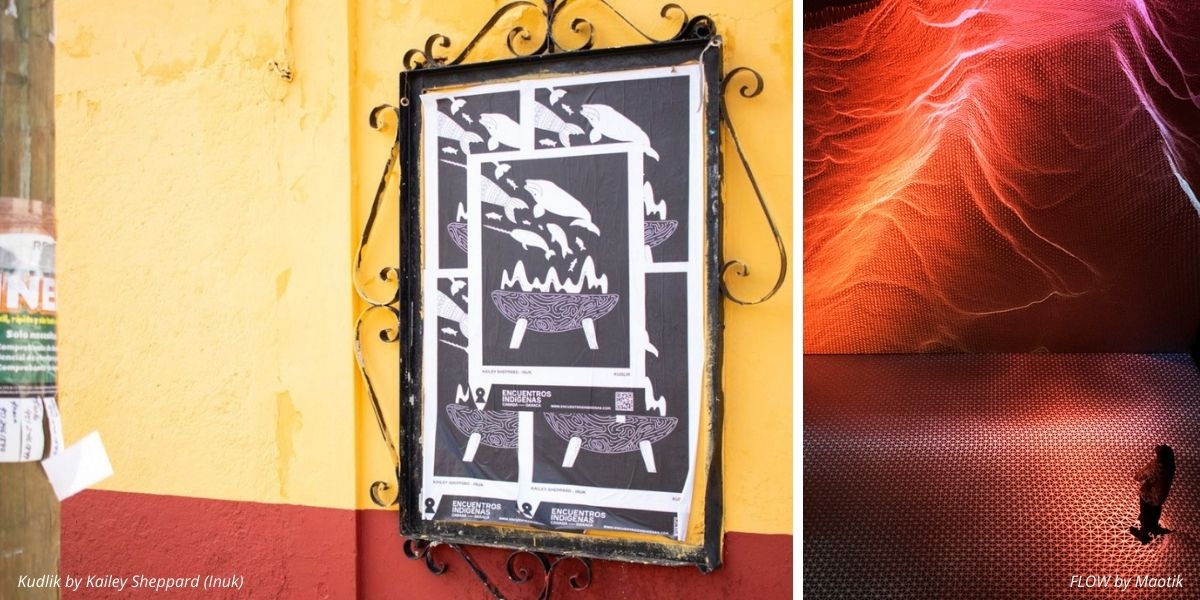 What's your favourite art piece?
My favourite art piece of the moment is FLOW, an immersive audio-visual experience I saw at Oasis in Montreal: the artist is Maotik, and it simulates in real-time the natural cycle of rising sea levels and so it definitely speaks to my love of the ocean. Plus, I think such immersive experiences are a super interesting way to stimulate senses and thanks to the incorporation of data art into this piece, we can travel in seconds to special places around the planet, whether it is Iceland's remote shores or Australia' warm coast, and feel their pulses. It brings me a sense of grounding in a world that can get so global, and would have some powerful leverage as an activist message concerning the effects of the climate crisis: people can see real-time damage!
What's your favourite MASSIVart's project?
Indigenous Crossroads: Canada – Oaxaca. This one I think is super special because it connects the silenced yet essential voices of marginalized first nations that are distinct in their artforms and creativity yet share similar experiences of oppression and racism. I think that the social impact of projects like these is undeniable!
Jacqueline Alvarez, Space Design, Mexico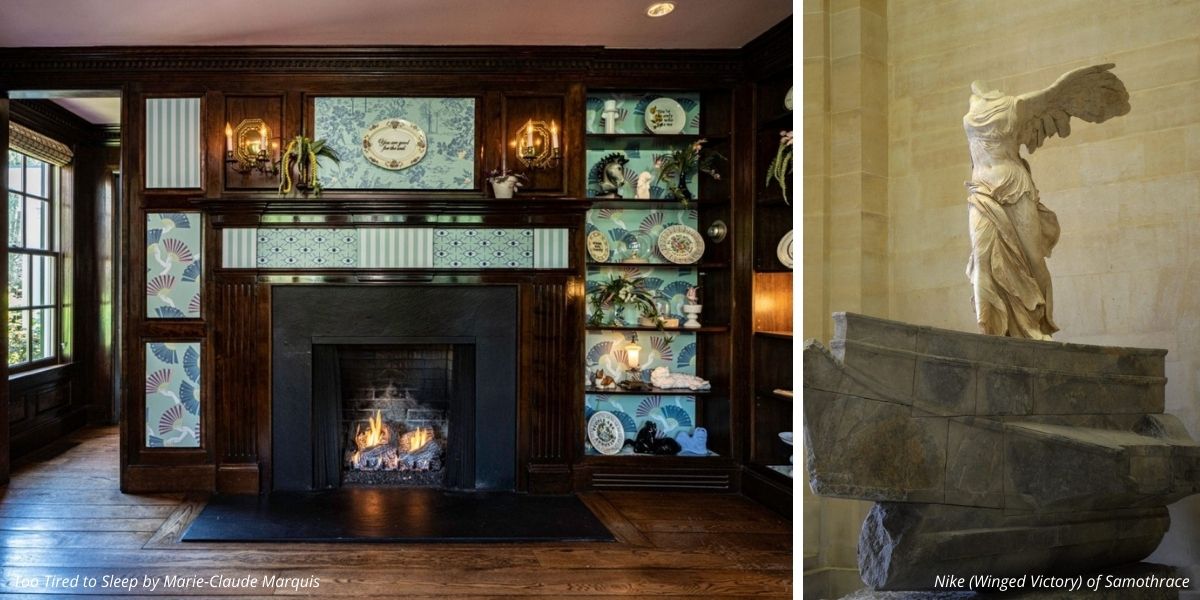 What's your favourite art piece?
My favourite art piece is Nike (Winged Victory) of Samothrace. I think it is a powerful representation of women, of victory, of all we are capable of. You can take it symbolically as: it has no facial appearance, it can be anyone.
What's your favourite MASSIVart's project?
My favourite project is Too Tired to Sleep by Marie-Claude Marquis because it emphasises the importance of our individuality and how we need to care about ourselves as well as the experience to slow down, share and reconnect.
Claire Tousignant, Managing Partner, Montreal
What's your favourite art piece?
Ayum-ee-aawach Oomama-mowan: Speaking to Their Mother by Rebecca Belmore. I am drawn to political pieces in general and more specifically this one by Rebecca Belmore which connects nature seamlessly to power structure struggles, addressing dark realities through a mechanism of hope.
What's your favourite MASSIVart's project?
The 21 public art installations project in which we collaborated with the City of Montreal during the summer 2021. I like the innovative nature of this project which is unique worldwide. We had the privilege to collaborate with a broad roster of artists and different branches of the city which gave the project depth and meaning. I love those multi-layer projects where we have to think outside the box. The artistic result and the social impact of the project were outstanding. I hope it can be an example for the future of cities on how to invest smartly in their communities.
Estefania Cardoso, General Manager, Mexico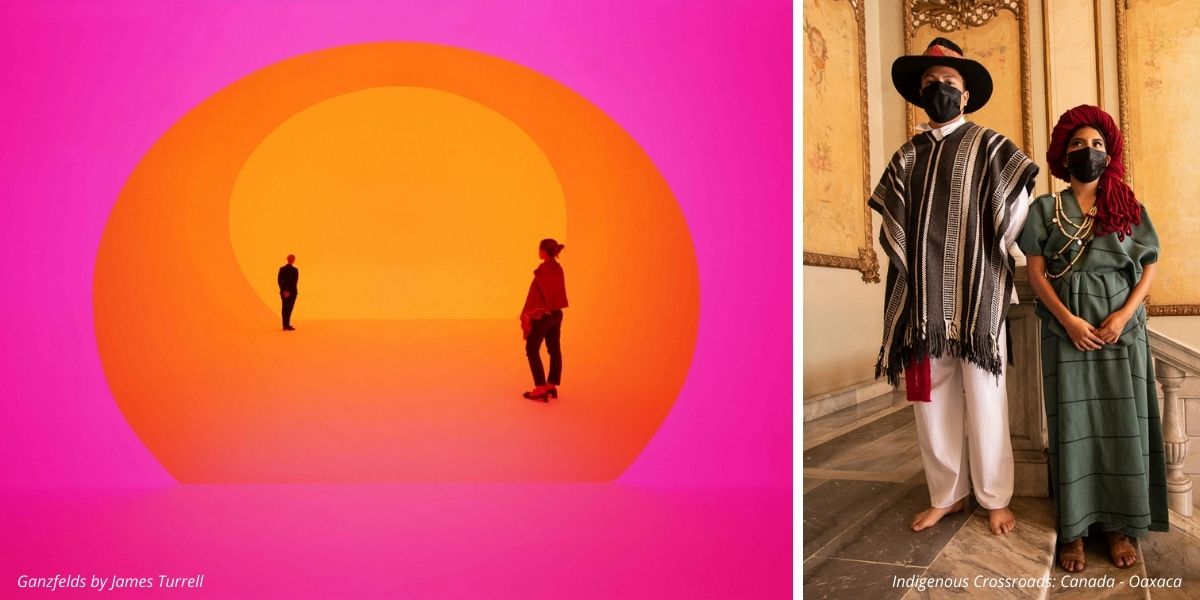 What's your favourite art piece?
I really loved experiencing Ganzfeld, an immersive art piece by James Turrell. I think it is very powerful, yet simple and minimalistic, and it creates an interesting space of introspection. I'm amazed by how light and playing with perspective can totally change your depth perception and experience as if you are floating in a different dimension.
What's your favourite MASSIVart's project?
Indigenous Crossroads: Canada – Oaxaca, a project we produced in Oaxaca in collaboration with the Embassy of Canada in Mexico was a really enriching experience for me. I loved how we brought together artists from different countries and different communities. It brought me closer to my own culture and I was really inspired by the different artistic expressions, as well as recognizing the importance of recognizing the indigenous rights in Mexico and Canada.
Jimena Lopez, Creative Coordinator, Mexico
What's your favourite art piece?
I've been following Koak since I stumbled upon her work during CONDO Mexico City back in 2018. Her technique and her shapes were very appealing to me, they are so effortlessly defiant and I love that. To me, her work represents a fresh gaze on the feminine. I like how she portrays femininity as something vulnerable and powerful, and I like even more how those two qualities are not presented as antagonists.
What's your favourite MASSIVart's project?
Indigenous Crossroads: Canada – Oaxaca. It was an outstanding effort in terms of curation, production and management. However, what means the most to me is that this project gave a place to silenced voices and allowed to build bridges between people of two regions that otherwise would not have as much contact. To witness the power of art as a means to create community was incredible.
Jessica Pignataro, Project Manager, Mexico & Toronto
What's your favourite art piece?
Ame Hidalgo's mud clay wall installation has been my daily viewing ritual for over a month. It's made a lasting imprint on my psyche. Her artistic commercial name is Pak'Luum which is Mayan for "Earth Wall". Using only sustainable materials and traditional building practices that promote everything from thermal comfort to visual interest and contemplation of the ancient techniques being applied in modern-day has made this a favourite piece that is also functional. I'm a big fan of architectural treatments that double as biophilic art. This particular carved design is inspired by the traditional needlework patterns of Querétaro, Mexico on this scale of geometric form, is a soothing and satisfying visual that has inspired me while improving my immediate air quality.
What's your favourite MASSIVart's project?
Monument Lab x ArtworxTO because it celebrates and elevates the ideas of one of Toronto's favourite afro-futurist, Quentin VerCetty while creating the platform for change in a constructive way to have discourse about an often controversial subject such as monuments (via Monument Lab out of Philadelphia) and while doing so reveals more questions. The point is to start engaging people to ask questions and how do we actually go about moving forward.
Our team helped produce and facilitate the multi-day series of events around the city of Toronto.
Alice Pouzet, Art Consultant, Montreal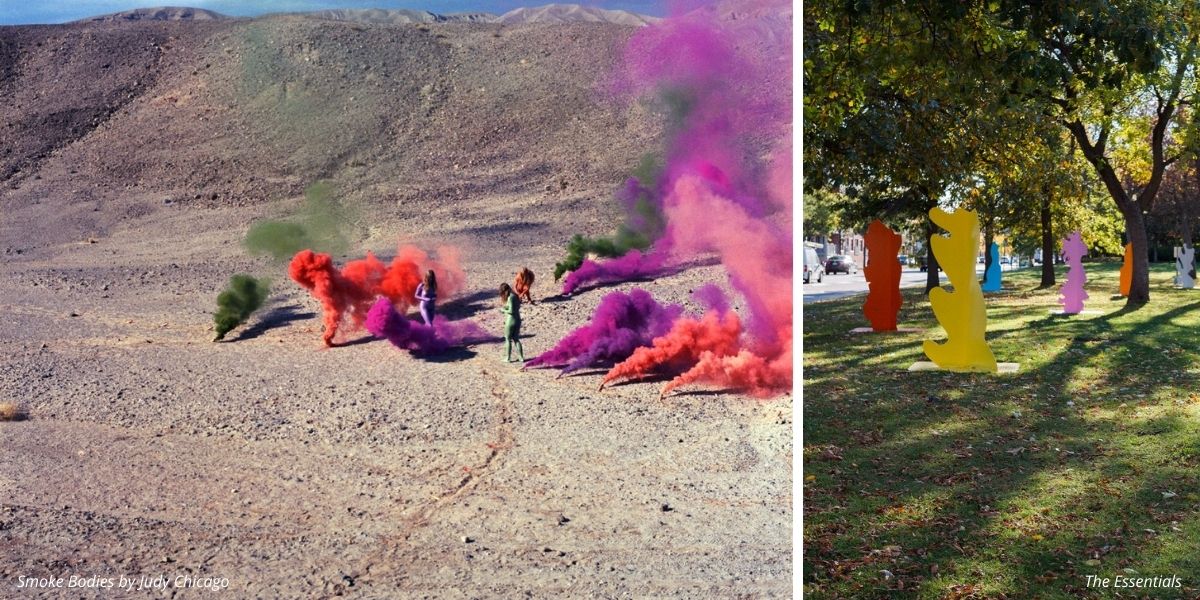 What's your favourite art piece?
Judy Chicago's colourful smoke performances, which she began to produce in 1967. Judy Chicago is an artist, author, educator, humanist and feminist. She is a minimalist artist of the land art scene. She developed the first Feminist Art Program at the California Institute of the Arts.
With her series of coloured smoke performances, her goal, she says, is to "soften the macho land art scene," since most of her colleagues in the 1960s and 1970s were men. Unlike her male contemporaries who, she says, created works by "digging up" nature and modifying it, she comes to emphasize the inherent beauty of nature with something ephemeral: tinted smoke that plays with the sensibility of the landscape.
The series is mostly focused on women, and Judy Chicago uses coloured smoke to "feminize" her subject.
Through her committed work, Judy Chicago questions the place of women in the art world and their representation. She also wishes to reflect on culture and gender relations and raise questions about the human condition.
What's your favourite MASSIVart's project?
The Essentials project is one of my favourite projects. This project reflects the essence of what MASSIVart does, which is to collaborate with an artist to create a work of art for the community. What is inspiring is the fact that we have created a temporary public art piece, in collaboration with artist Laurence Philomène, that is accessible to the public at all hours of the day and night. The work highlighted the diversity of the neighbourhood in which it was installed and also offered a technological aspect through the integration of QR codes.
Beyond the community aspect, this installation aimed to democratize art and to move on from institutional places so that everyone has access to it. I think this is a necessary step and that public art projects should be designed to reflect and respond to the needs of the community they address.
Emilie Dulas, Marketing Manager
What's your favourite art piece?
I discovered this beautiful and meaningful installation during the Mecarõ exhibition at MO.CO. in Montpellier, France, highlighting Amazonian artists and their relationship with their social, economic and mental environments. I really loved Sol Calero's installation, Amazonas Shopping Center, taking as a model a typical hair salon, which refers to a personal memory of the artist. It questions the idea of a safe space, the hair salon where the community dynamic is often created in Latin America, and which extracts women from their marginality.
What's your favourite MASSIVart's project?
My favourite MASSIVart's project is the Winter Station. I think that it's the best representation of how creative placemaking and public art can transform vacant spaces and engage the community. It's also a sustainable project which had a positive social impact as the structures were constructed with local recycled wood by apprentice cabinet makers from a social and professional integration course.
We received tons of positive feedback from local residents and business owners. This place, which was completely empty and unused, has been brought back to life thanks to this project.
–
We hope that you have been inspired by this moment of sharing. Be sure to celebrate the women around you, today and every day!