Nous vous invitons à faire le tour du monde avec nous pour explorer des canopées amusantes et colorées. En activant le ciel, elles enchantent l'espace et plongent les visiteurs dans de magnifiques oasis. MASSIVart a choisi les cinq canopées suivantes comme étant ses préférées parce qu'elles transforment réellement l'environnement où elles se trouvent.
The Crocheted Canopy by Eva Pacheco and Students in Alhaurín de La Torre, Malaga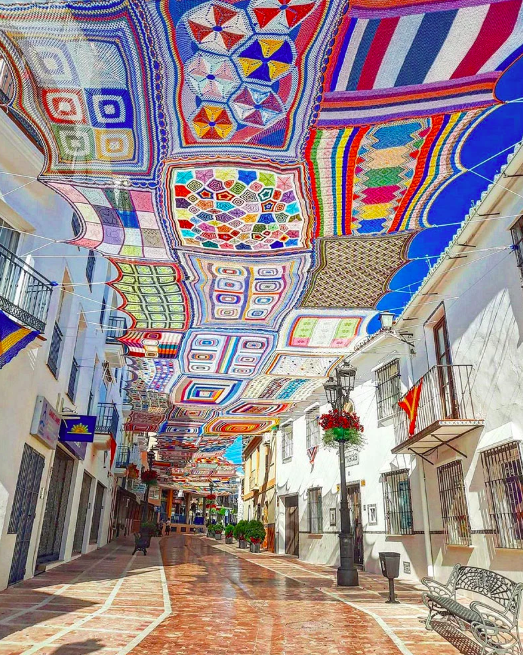 Comme cette rue piétonne était à l'origine recouverte d'une énorme bâche en plastique, le conseil municipal d'Alhaurín de La Torre, à Malaga, a voulu réaliser une activation écologique et communautaire. La ville a donc fait appel à la professeure locale de crochet Eva Pacheco et plus d'une douzaine de ses élèves pour créer une impressionnante mosaïque crochetée afin d'ombrager la principale rue commerçante. Pacheco et son équipe entièrement féminine y ajoutent régulièrement de nouveaux carreaux, ce qui crée un espace rayonnant pour la communauté locale et les visiteurs.
Pamela Poh Sin Tan's Endless Frames in Kuala Lumpur, Malaysia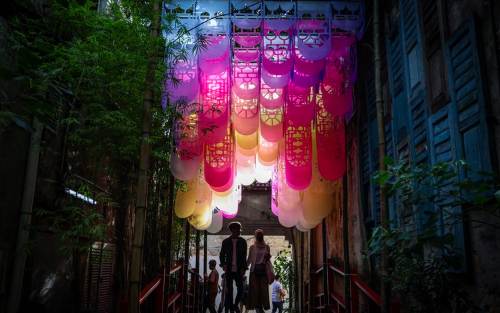 L'installation Endless Frames de Pamela Poh Sin Tan suscite l'imaginaire des visiteurs en les transportant dans un lieu qui se situe entre le tunnel et la caverne. Puisant son inspiration dans les portes et les cadres de fenêtres traditionnels chinois en bois, Tan a créé conjointement avec Kwai Chai Hong cet espace intemporel. Les artistes voulaient ainsi amorcer une réflexion sur l'importance de préserver leur patrimoine culturel dans un monde qui évolue rapidement.
Emmanuelle Moureaux's 100 colors in Japan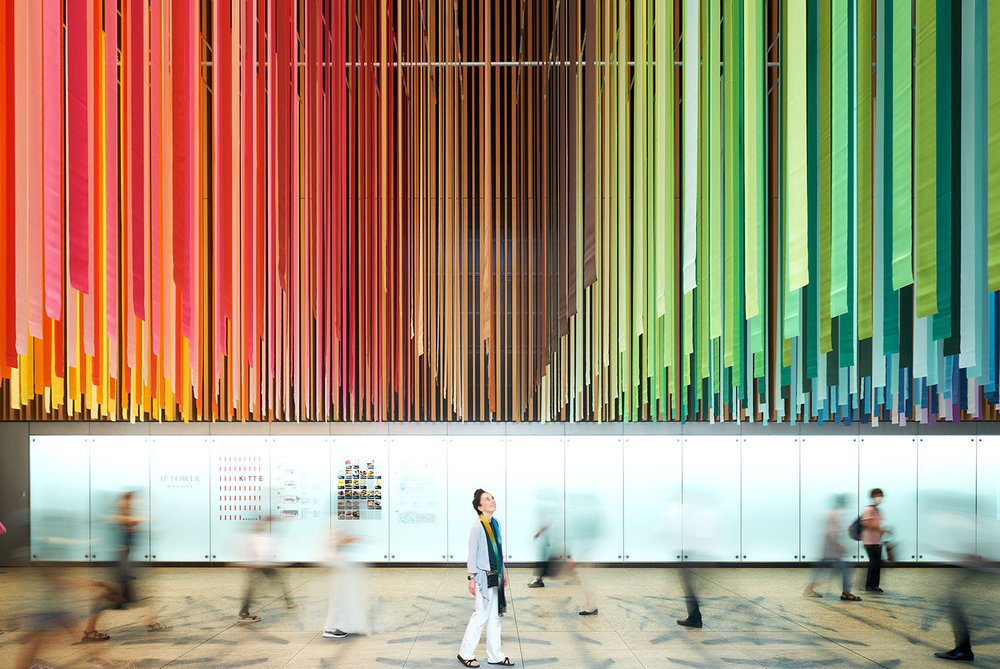 Emmanuelle Moureaux a créé la série d'installations 100 colors en 2013. Avec une centaine de nuances, cette artiste active des espaces en s'inspirant des couleurs flamboyantes de Tokyo. Elle invite ainsi les visiteurs à voir, toucher et sentir les coloris avec tous leurs sens pour prendre conscience de la chromatologie de leur environnement. Cette œuvre n'est pas toujours installée en canopée, mais chaque itération en canopée de la série invite le regard à se tourner vers le haut pour admirer l'œuvre. Moureaux en est maintenant à la 40e œuvre de la série !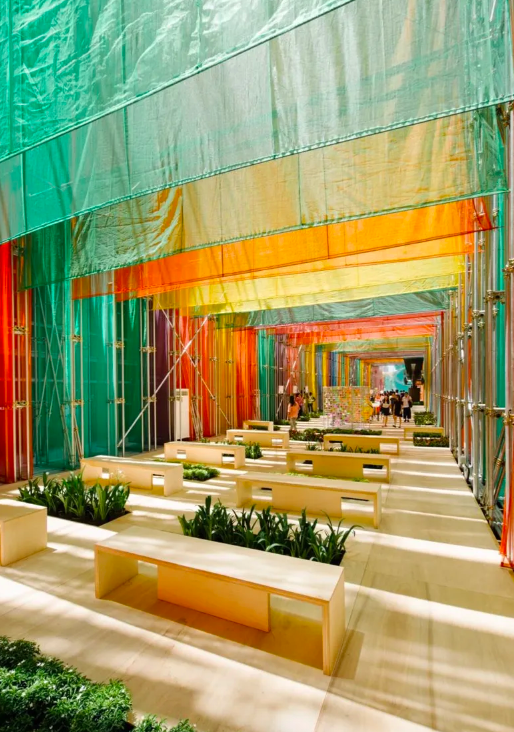 DP Architects a créé le pavillon Zero Waste Playground lors d'Archifest à Singapour en 2016. Il s'agit d'un festival qui donne à la population locale l'occasion d'admirer d'imposantes installations artistiques. En 2016, le thème reposait sur le verbe « expirer ». On a décrit le pavillon de DP Architects comme un « jeu de contrastes ». Il se trouvait dans le parc Raffles Place et son filet de sécurité était peint avec des couleurs primaires ludiques, ce qui avait pour but de perturber le paysage environnant. DP Architects voulait ainsi explorer le pouvoir de la couleur sur l'humeur et la psyché humaine.
Quintessenz's Follow Long in Beijing, China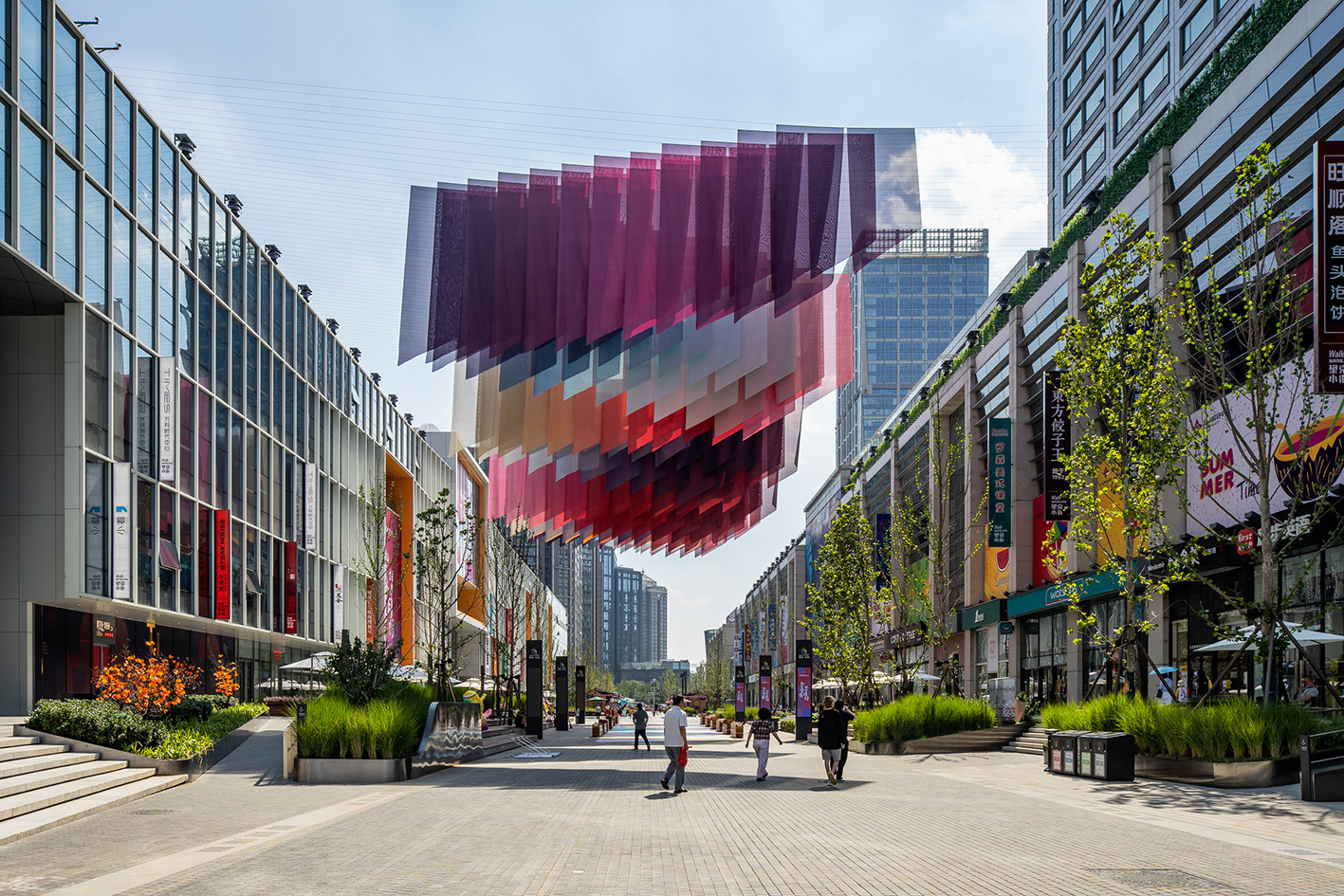 Duo d'artistes multidisciplinaires de Berlin et de Hanovre, Follow Long in Beijing de Quintessenz est un régal pour les yeux. Dynamique et spécifique au site, le travail de Quintessenz invite les piétons à marcher en regardant les douces nuances du tissu de couleur. Les ombres de cette verrière projettent leur ombre sur le trottoir en fonction du vent et du soleil.