Take a trip around the world with us to explore fun and colourful canopies. A canopy is a unique way to add artistic elements to a space, by activating the sky and enveloping visitors in a lovely oasis. Exploring how artful canopies can transform a space, MASSIVart has collected and discovered our top five picks for fun and playful canopies:
The Crocheted Canopy by Eva Pacheco and Students in Alhaurín de La Torre, Malaga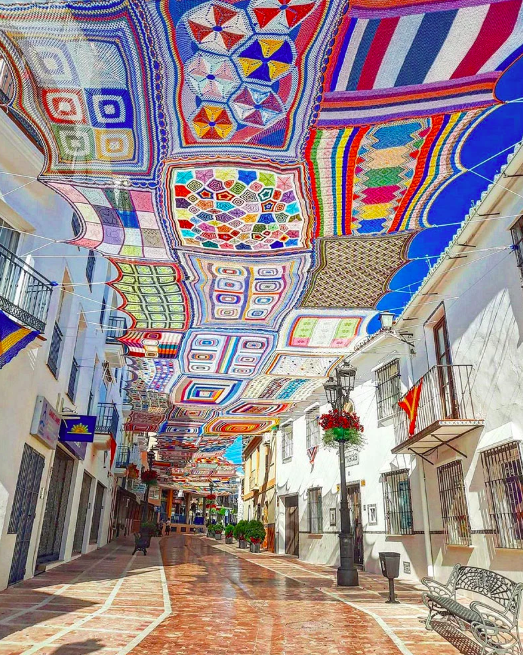 Originally covered by a huge plastic tarp, the city council of Alhaurín de La Torre in Malaga decided to create an eco-friendly and community-based activation. Local crochet teacher Eva Pacheco and more than a dozen of her students were commissioned to create a massive patchwork of crocheted squares in order to shade the main shopping corridor. Pacheco and the group of women continue to expand their textile tarp, creating a radiant space for the community and visitors to gather.
Pamela Poh Sin Tan's Endless Frames in Kuala Lumpur, Malaysia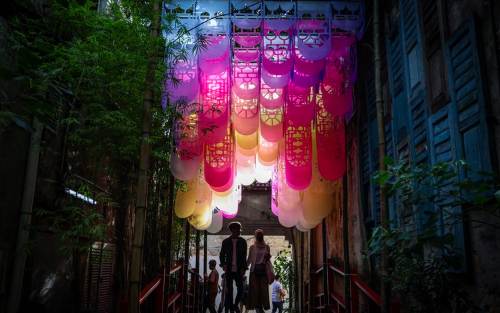 Endless Frames by Pamela Poh Sin Tan invites visitors to engage their imagination, transporting them into a "cavern-like" tunnel. Inspired by traditional Chinese wooden doors and window frames, Tan collaborated with Kwai Chai Hong to create this historical time tunnel. Their intention was to stimulate a conversation on the need to preserve their cultural heritage in a rapidly changing world.
Emmanuelle Moureaux's 100 colors in Japan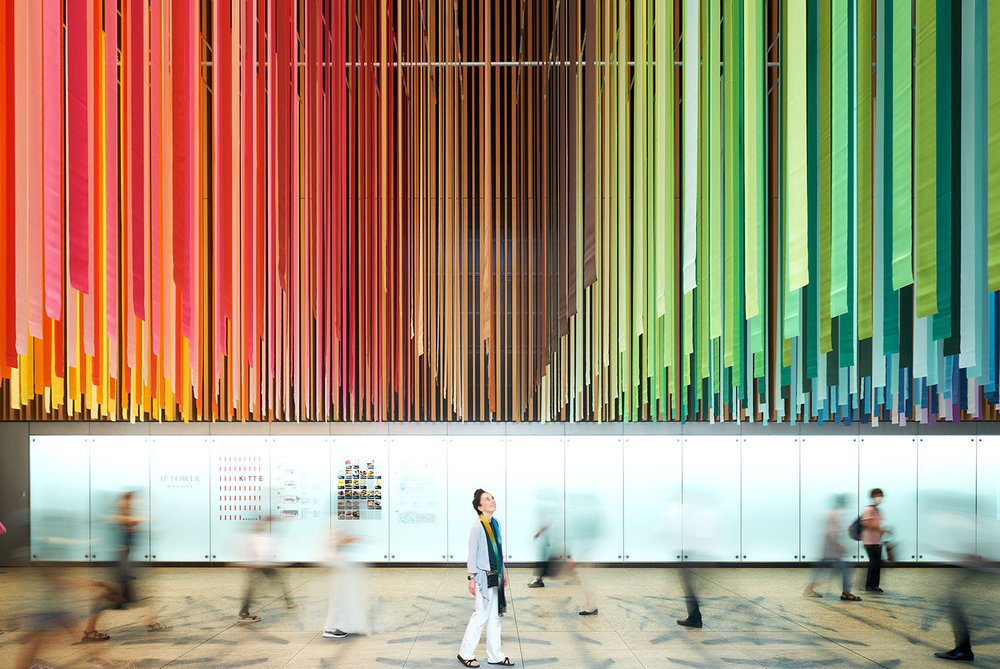 Emmanuelle Moureaux's 100 colors is an installation series that began in 2013. Using 100 shades of colours, Moureaux activates spaces drawing her inspiration from the overflowing colours of Tokyo. Her intention is to invite visitors to see, touch, and feel the colours with all of their senses and to become more conscious of the colours that already exist around them. Not every version of 100 colors is a canopy but the canopy manifestations of the series welcome visitors to look up as they experience her art. Moureaux is now up to series 40 of her 100 colors installations!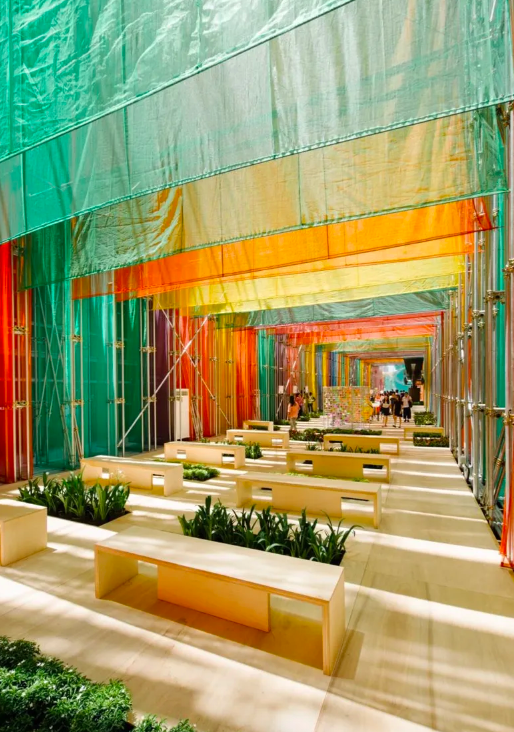 DP Architects created the Zero Waste Playground for Singapore's Archifest in 2016. Archifest was created for Singaporeans to stop and enjoy big art installations as they move throughout their days. The theme of Archifest 2016 was "exhale." DP Architects Pavilion has been described as a "play of contrasts." Constructed in Raffles Place Park, the safety netting of their pavilion was painted with playful primary colours and was intended to disrupt the surrounding landscape. DP Architects' intention was to explore how colour has the power to change moods, uplifting the human psyche.
Quintessenz's Follow Long in Beijing, China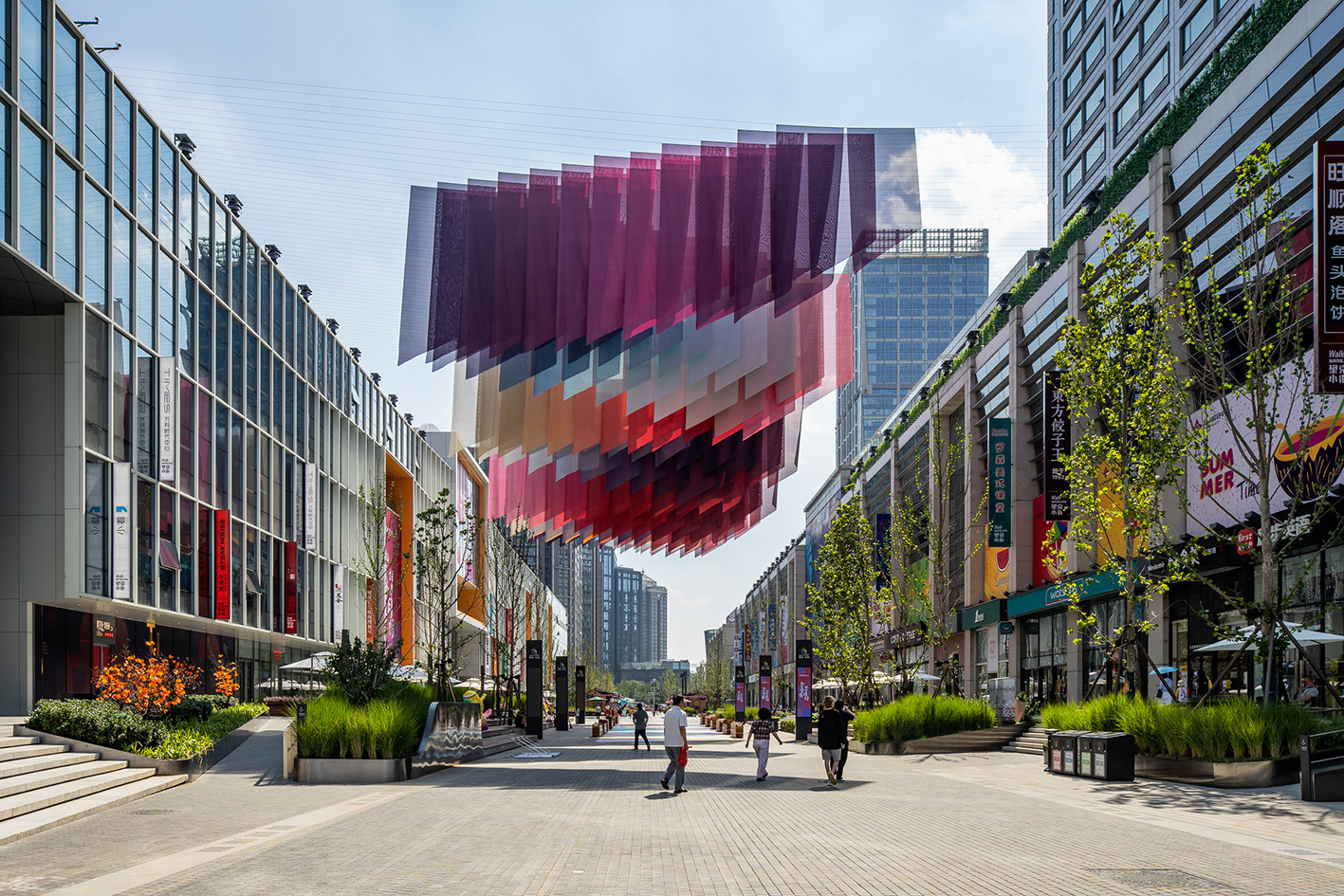 Multidisciplinary artist duo from Berlin and Hannover, Quintessenz's Follow Long in Beijing is a feast for the eyes. Dynamic and site specific, Quintessenz's work invites pedestrians to walk looking up at the gentle shades of colour fabric. The shadows of this canopy cast their shadow on the pavement according to the wind and the sun.