Currently exhibited in the heart of an office tower in Dubai is the hybrid architectural art installation DATAMONOLITH_AI from the international award-winning studio, Ouchhh. The public art installation will be on display at ICD Brookfield Place until March 23rd, 2021.
With the purpose of fostering a greater sense of community and connection, ICD Brookfield Place entrusted MASSIVart to bring this public art installation to life in these complicated pandemic times.
For MASSIVart, it was a privilege to work with a client whose visions for the future align with our own: Brookfield Properties, one of the largest real estate groups in the world, has received outstanding recognition for its arts programming, "Arts Brookfield."
Ben McGregor, Investment Director of ICD Brookfield Place says, "We are incredibly proud to launch our public art program with DATAMONOLITH_AI. ICD Brookfield Place has always aspired to be a creative, forward-thinking community and cultural institution, and this striking installation is the first in a program of world-class cultural experiences. We hope the installation will inspire not only those in our immediate community of Dubai but also foster further creativity and growth in the burgeoning art scene here in the UAE."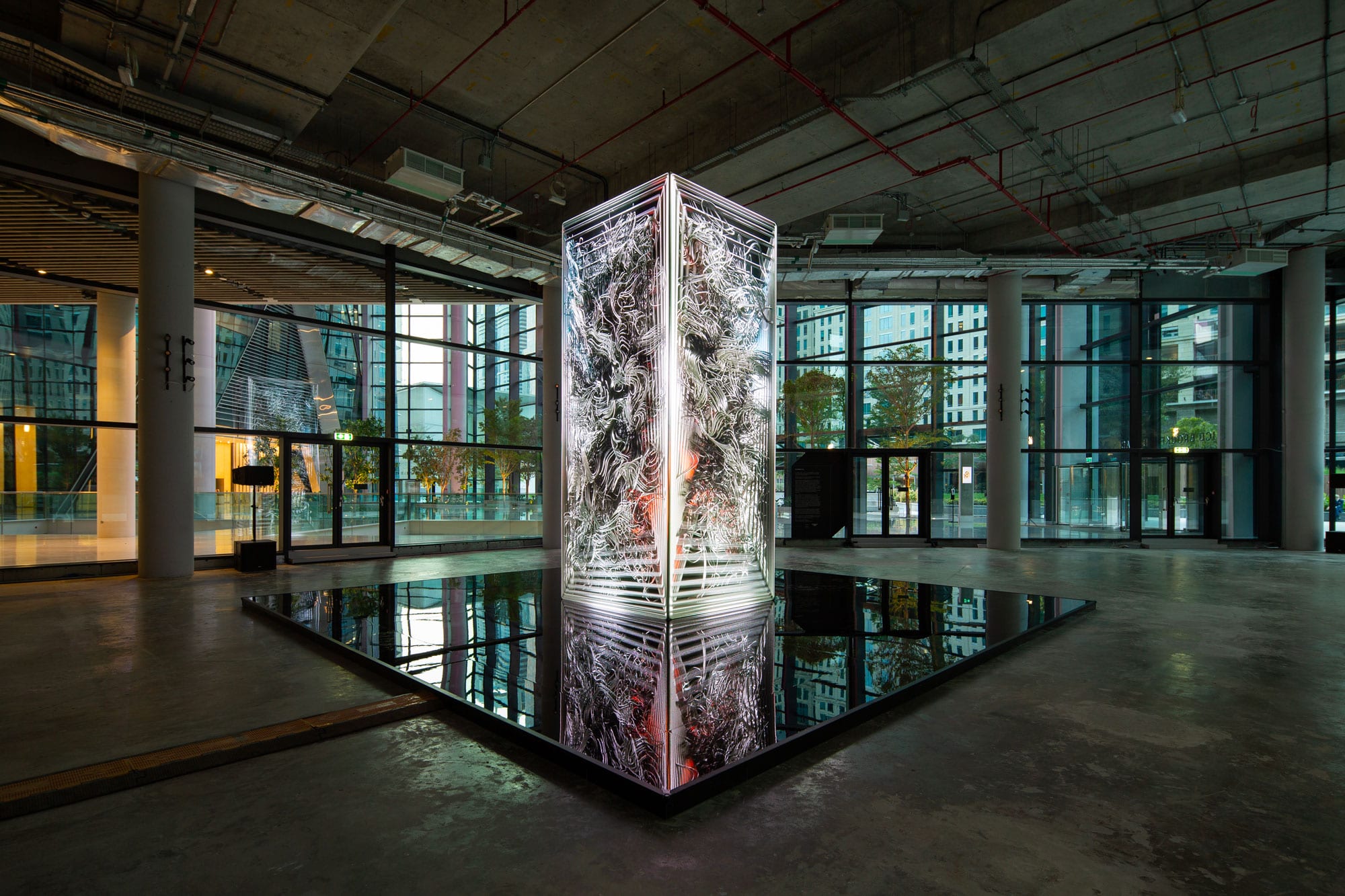 DATAMONOLITH_AI by Ouchhh. Curated and produced by MASSIVart for ICD Brookfield Place, Dubai.
To follow up on all this, we wanted ICD Brookfield Place to tell us more about their relationship to public art as a real estate developer. Here are their answers.
---
As a leader in the Real Estate Industry Brookfield has been at the forefront of the integration of art and cultural programming. Why is it important to bring your spaces to life through art?
We believe the industry needs to worry less about bricks and mortar, and concentrate on creating places where people want to visit, live, work and play. Attention to placemaking and the experience, is a real estate value proposition and it's a human proposition too. It creates better places and cities. At ICD Brookfield Place, we care a lot about creating special places and so our mission is to present free for the public, world-class cultural experiences.
What effect does this have on the space, public, clients, employees?
Public art, whatever the medium, enriches places for people. Art can trigger the imagination, tell a story, make us happy or simply create a beautiful visual display.
How do you measure the ROI of art integration and why is it important to invest in placemaking?
We are creating a community. By investing in our place, we are investing in our tenants and visitors. We champion the fact that great places attract more tenants, and more tenants equate to greater profit all while supporting artists and young creators.
Can you tell us about the recent art installation DATAMONOLITH_AI that we collaborated on with Ouchhh?
Our objective was to kick off the art program at ICD Brookfield Place by featuring an established regional artist. We wanted to feature an immersive installation which tells a story. Ouchhh's DATAMONOLITH_AI is so rich in experience that anyone can enjoy it regardless of age, background or nationality. It is universally accessible.
What were the challenges you faced when you imagined this project?
During the time of the pandemic, it is difficult to travel and coordinate a project of this scale from across the globe. However, MASSIVart executed this project flawlessly and managed to coordinate for the artist to fly in and out of Dubai. The line of communication was always very clear, so we were able to predict and solve any challenges before we faced them.
In this pandemic context and after, what can be the role of public art in improving people's daily lives?
Public art is important in so many ways. It enriches the soul and provides a cultural context and completely changes the way people interact with a space. Now more than ever we need to support local artists and our communities.
The art scene in the Middle East is rich and public art is developing more and more. In what way do you think it would be strategic to position yourself at the forefront of this artistic sphere?
We are so lucky to have so much talent coming from the Middle East which we need to highlight and support! As cultural placemakers, it is our duty to offer our building as a platform for emerging and established regional artists. In some ways we are connecting our talent with our tenants to create a wholesome ecosystem and future opportunities for these artists. Most importantly, all of our events and exhibitions are free of charge and open for the public to enjoy.