This is a story of transformation, of how a ground-level parking lot and rail yard became a park with venues for performance, art, sculpture, architecture, and landscape architecture plus a multi-level parking lot (the world's largest "green roof") with a total of 4,000 cars, and a commuter rail line.
Millennium Park is a world-class example of how placemaking can elevate a community and visitor engagement. Not only to frequent the park, but to engage them into novel, healthier lifestyle practices while boosting the local economy.
Urban Context & Economic Impact
Based in the historic Chicago loop area, Millenium Park is located near two waterfronts: the Chicago River and Lake Michigan; it is also based near a mixture of new high-rise, commercial and residential buildings, as well as historic landmarks such as the Chicago Department of Cultural Affairs and the Art Institute of Chicago.
The Park is proximate to major arterial roadways and is easily accessible by public transportation. Once inside, the design of the park promotes pedestrian activity, public transportation use, and alternative transportation methods.
The combination of these factors have made the surrounding area a promising ground for new investment, succeeding to attract a variety of new and renovated high rise condominiums, shops, restaurants, and office buildings.
Set against a $490 million cost, Millennium Park's economic impact on a year-to-year basis has increased real estate values to nearly $1.4 billion and resulted in tourism revenues of $2.6 billion.
Creative Placemaking, Art and Architecture
The grounds of Millenium Park hold twelve installations created by well-known artists and designers that support the free cultural programming each year: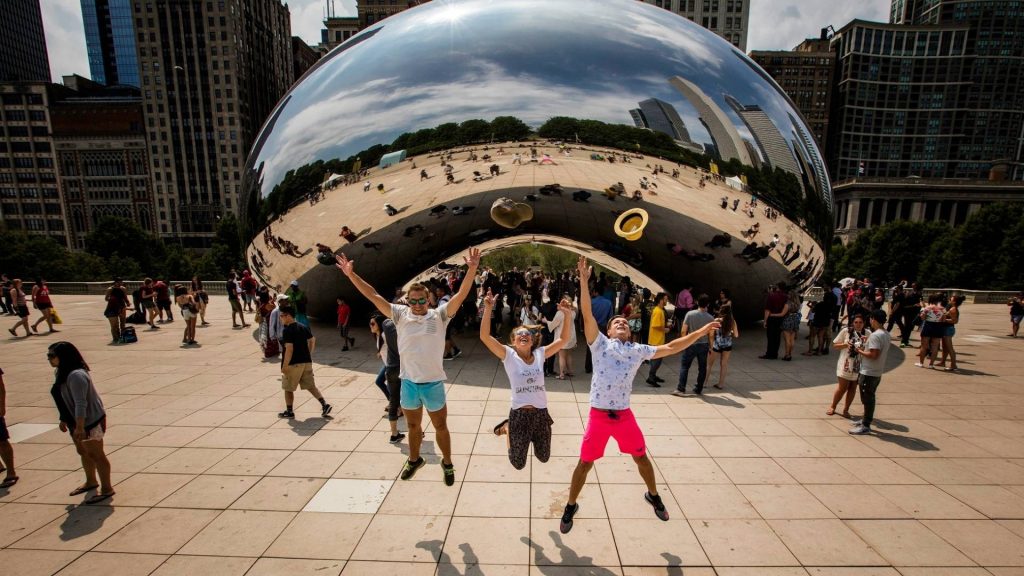 AT&T Plaza
Located at its core, the plaza features Cloud Gate. Artist Anish Kapoor conceived this bean-like sculpture with the scale and character of Chicago in mind. When he was asked if he could make the sculpture smaller, he responded by saying "I can make it smaller if you can make Chicago smaller," as the artwork's size is intended to be seen from several vantage points that reveal the relationship between the city and the Park.
Paying a visit to this monumental sculpture is a must in the Windy City! With its novel shape, the public art piece engages the curiosity of both locals and tourists alike, making it a concurred spot where visitors are constantly taking selfies, pointing, wondering, and discussing. The Bean encourages public participation and brings people together from all walks of life.
Boeing Galleries
The Boeing Galleries, which are respectively flanking the park, offer permanent outdoor spaces for rotating art exhibitions. The exhibition terraces are lined with a row of sycamore trees that offer shade from the sun, and a series of black granite steps for sitting, which run along their eastern edge. The Galleries are designed to accommodate temporary exhibitions and the contemplation of outdoor sculpture.
BP Pedestrian Bridge
The BP Bridge extends across Columbus Drive and connects Millennium Park to the Daley Bicentennial Plaza. Designed by Frank Gehry (who also designed the Guggenheim), the bridge extends with a unique and curvy form that holds his groundbreaking design staple, offering a breathtaking view of the city's skyline and waterfront.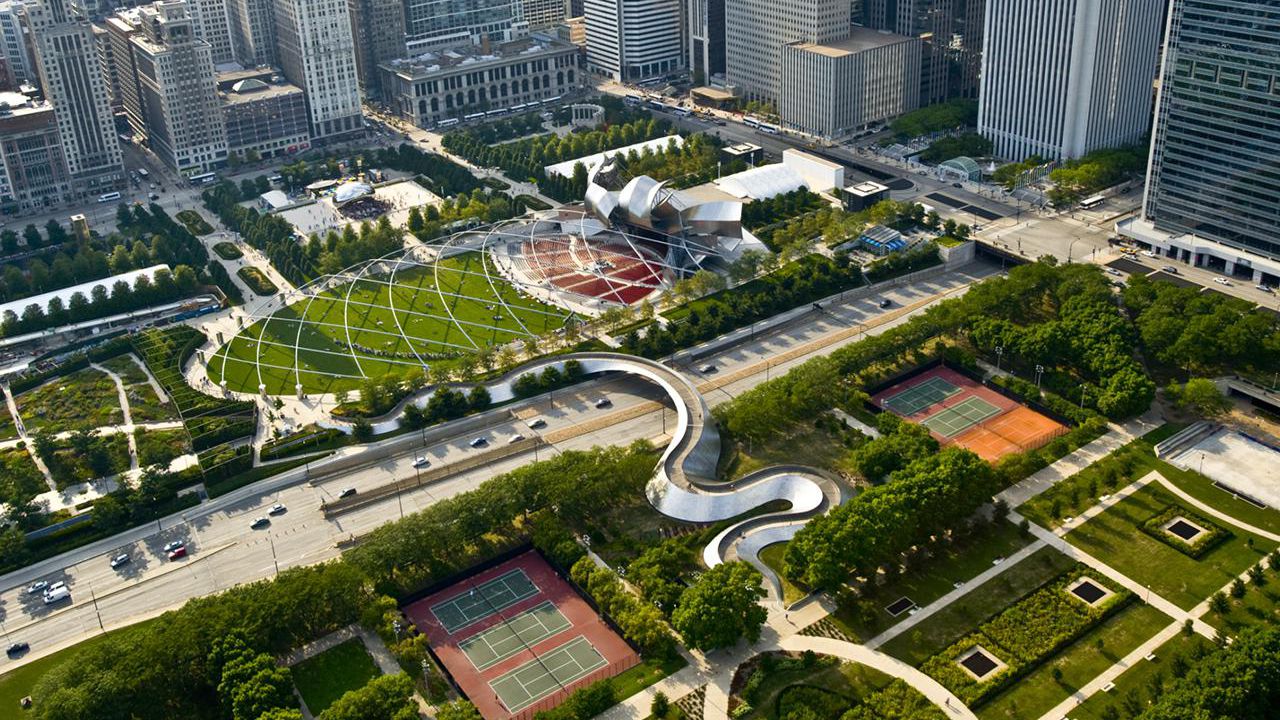 Chase Promenade
The Promenade is lined by almost 200 trees and is used primarily to accommodate exhibitions and festivals. Depending on the circumstances and seasons, a large tent is made available for special events and the Promenade plays host to a variety of art fairs, festivals and temporary art installations.
Joan W. and Irving B. Harris Theater for Music and Dance
The Harris Theater, designed by Hammond Beeby Rupert Ainge architects, features a 1,525-seat indoor center for the performing arts. It is located predominantly underground. The site and profile of the theater was one of the test cases of the requirement for the Park to be "open, free, and clear of any buildings" – and the fact that a portion of the theater is above ground suggested some flexibility in interpretation.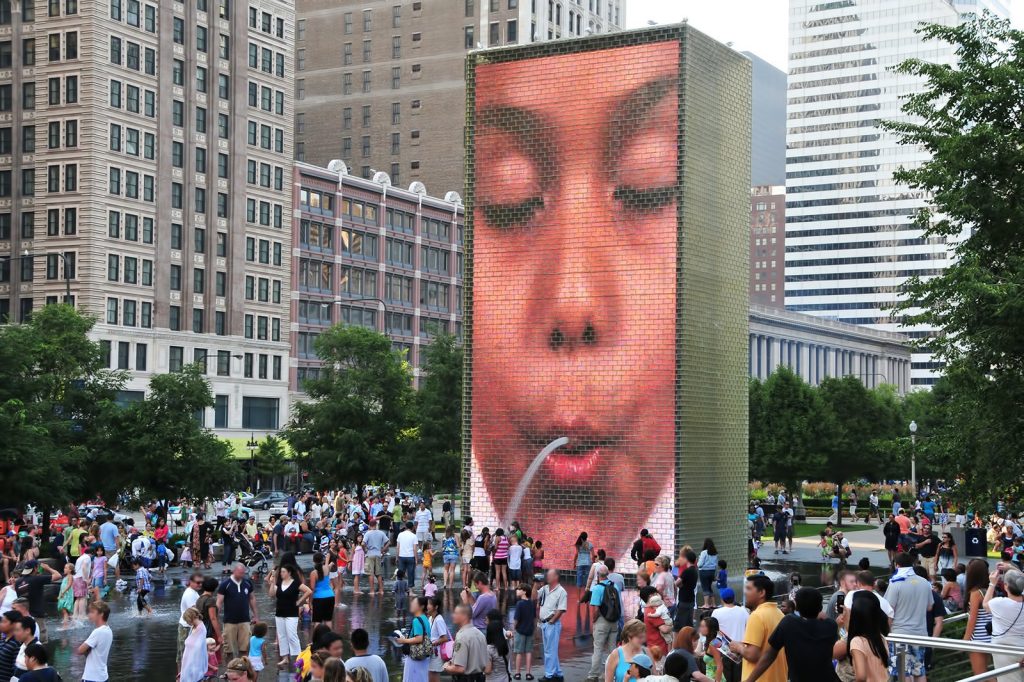 Crown Fountain
Designed by Jaume Plensa and built by Krueck + Sexton Architects, the Crown Fountain features two fifty-foot tall glass towers (fountains) separated by a reflecting and "wading" pool (the water is only a quarter of an inch deep). The front face of each tower holds a giant LED screen that displays randomized 5-7 minute video portraits of 1,000 ordinary Chicago citizens.
Exelon Pavilions
Two each on the northern and southern edges, four solar energy-producing pavilions were constructed within Millennium Park. The energy produced is fed back into the municipal grid, reducing the electric utility operation costs accordingly. Three of the four pavilions contain entranceways to the underground parking garage, while the northwestern pavilion serves as Millennium Park's Welcome Center.
Jay Pritzker Pavilion
The Frank Gehry-designed bandshell stands 120-feet above the ground. A "headdress" composed of individual brushed stainless-steel ribbons that frame the stage opening and connect to an overhead trellis of crisscrossing steel pipes. The trellis supports a state-of-the-art sound system that distributes the acoustics of concert events evenly across the outdoor seating area, which has 4,000 fixed seats and a 95,000 square-foot lawn that can accommodate an additional 10,000 people.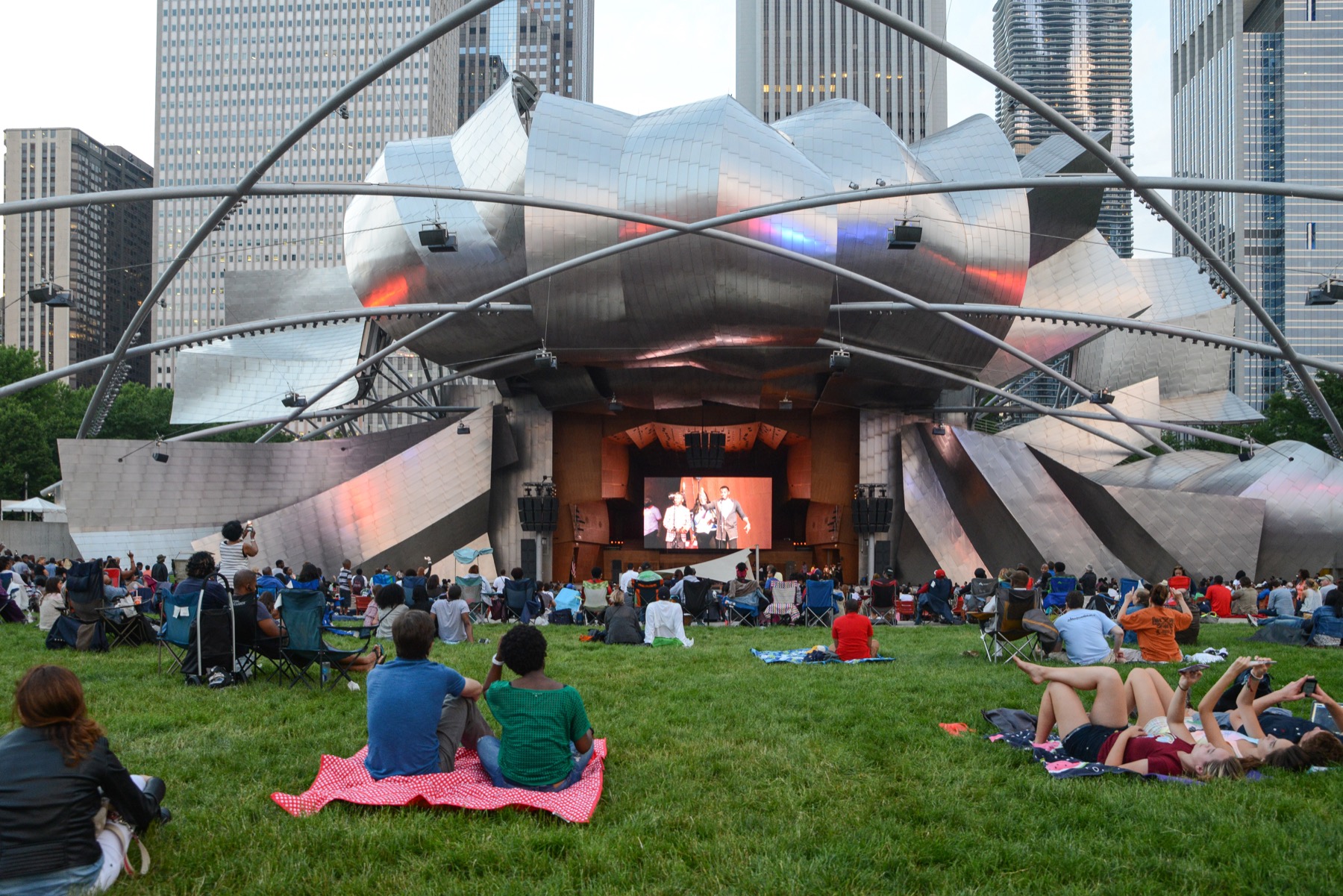 The Lurie Garden
Designed by Gustafson Guthrie Nichol Ltd, Piet Oudolf, and Robert Israel, the Lurie Garden is home to more than 138 varieties of plants distributed in a 5-acre space. The garden, enclosed by a 15-foot-high "shoulder hedge," is designed to have each plant group in a steel-framed pocket, where each one is divided by a footbridge over shallow water.
McCormick Tribune Plaza and Ice Rink
This 16,000-square-foot ice skating rink is free to the public! The rink is open from November to March; however, during the warmer seasons, the space serves as Chicago's largest outdoor dining space and hosts an array of culinary events. The restaurant venue supporting the rink is open year-round and adds to the range of dining choices along Michigan avenue.
McDonald's Cycle Center
The Cycle Center is a 300-space indoor heated bicycle parking garage built to encourage alternative transportation methods for people cycling to the loop area. The Center features lockers, showers, a snack bar, a bicycle repair shop, and a rental area.
Wrigley Square and Millennium Monument
Wrigley square offers a passive open space for Park visitors. It features the Millennium Monument, a replica of the neoclassical peristyle that stood roughly in the same location from 1917 to 1953.
Community Engagement & Social Impact: A Placemaking Success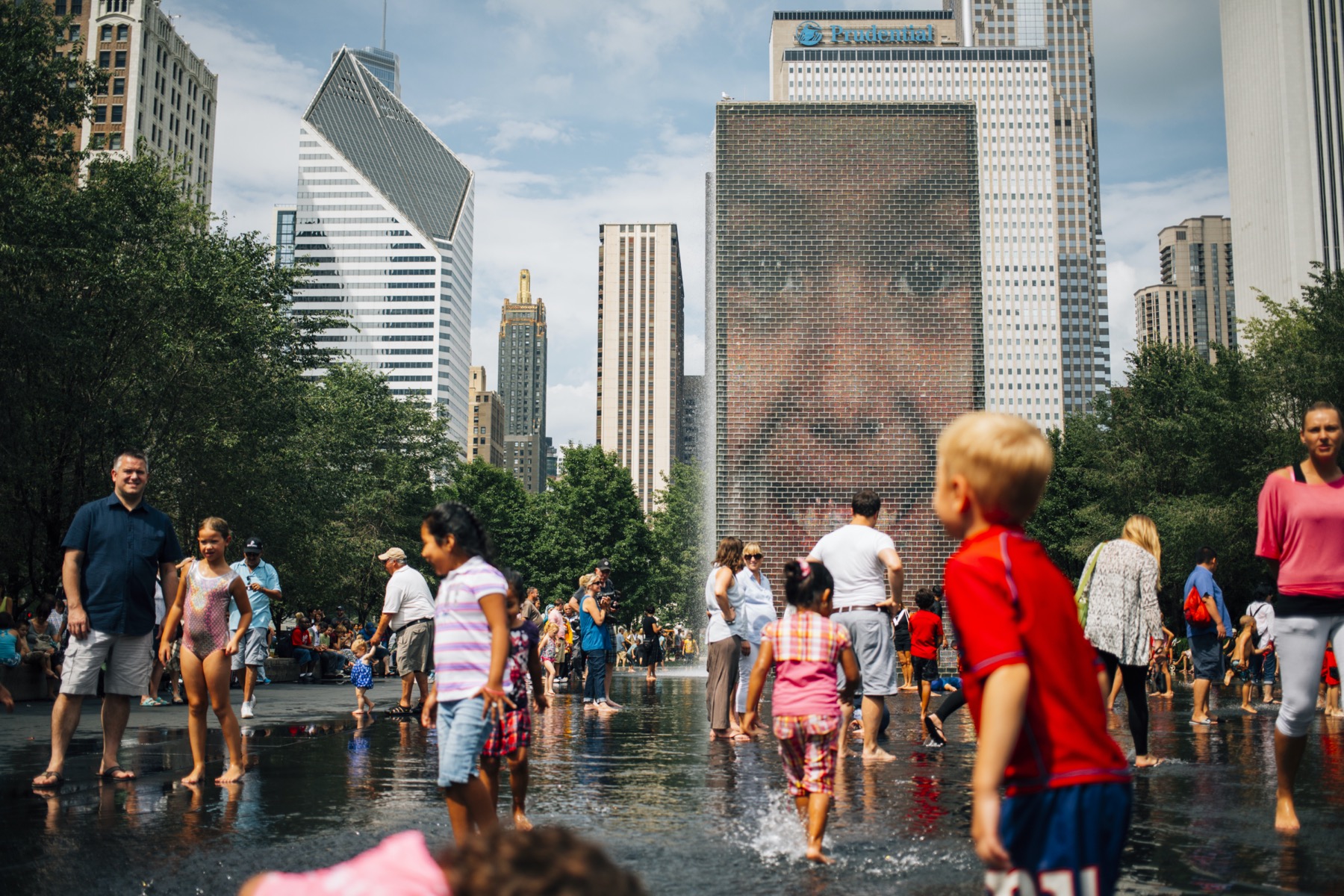 The park is open daily from 6 AM to 11 PM and is always free. This is a policy that reflects the nature of the gift offered by patrons and the recognition of the city's investment in culture, it also creates an environment conducive to fundraising.
Parting from this fact, and stemming from the park's origin story, it was the community's wishes that transformed the commuter railroad tracks, surface parking, and degraded parkland into a scenic venue for free public programming, concerts, and events. From here on, Millennium Park serves the community with over 500 free events per year.
This operation is managed by the Department of Cultural Affairs and Special Events (DCASE), which is in charge of enriching Chicago's artistic vitality and cultural vibrancy, they do so by fostering the development of Chicago's non-profit arts sector, independent working artists and for-profit arts businesses, which propel the City's future cultural and economic growth.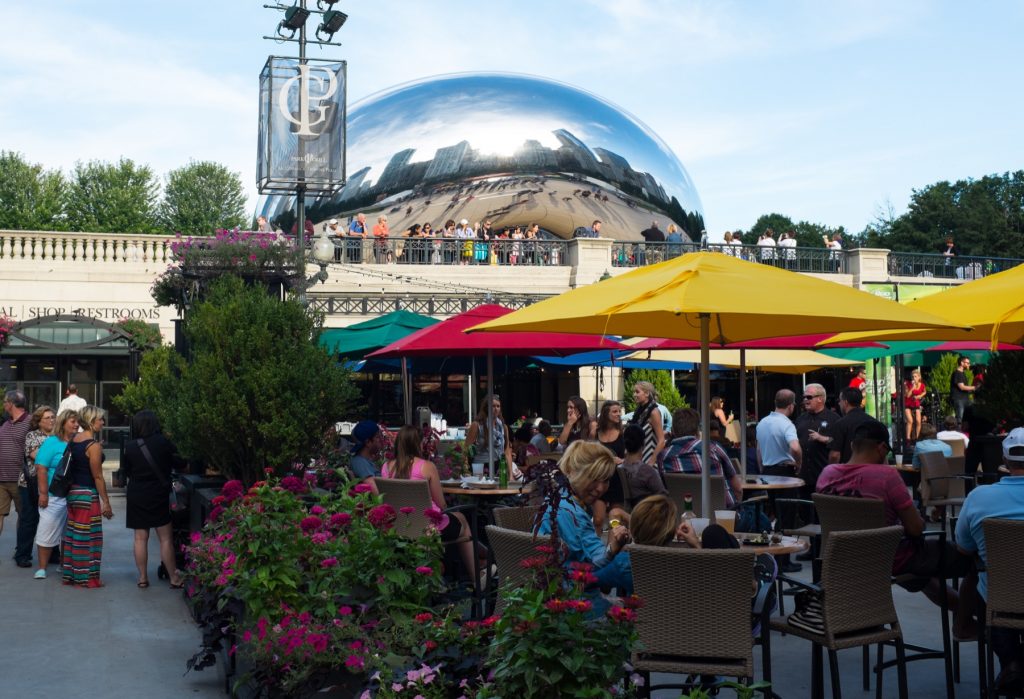 As the DCASE sets the framework of how things are to be managed, it is the volunteers in the community who see that things are carried out. They cater not only to Chicagoan's, but to the domestic and foreign visitors as well. The activities they perform range from passing out programs during various cultural events to giving tours of the different sites that assemble this beloved place.
The care invested in the park brings value to the community, not only by enforcing its cultural fabric, but also by catalyzing significant economic growth in the downtown area.
Just a year after the park's opening and through a span of 10 years, Millennium Park has caused a major increase in property and sales tax revenue, stimulated real estate development, attracted tourists, and boosted local businesses.
The prosperity of this area in the city is intertwined with how Millennium Park has served as a destination that can shape the community and be shaped by it in return. This place has become highly engaging as the community finds value in the place's offering.
Beyond the beautiful skyline and its astonishing artistic integrations, the park is successful thanks to the human-scale experience it provides.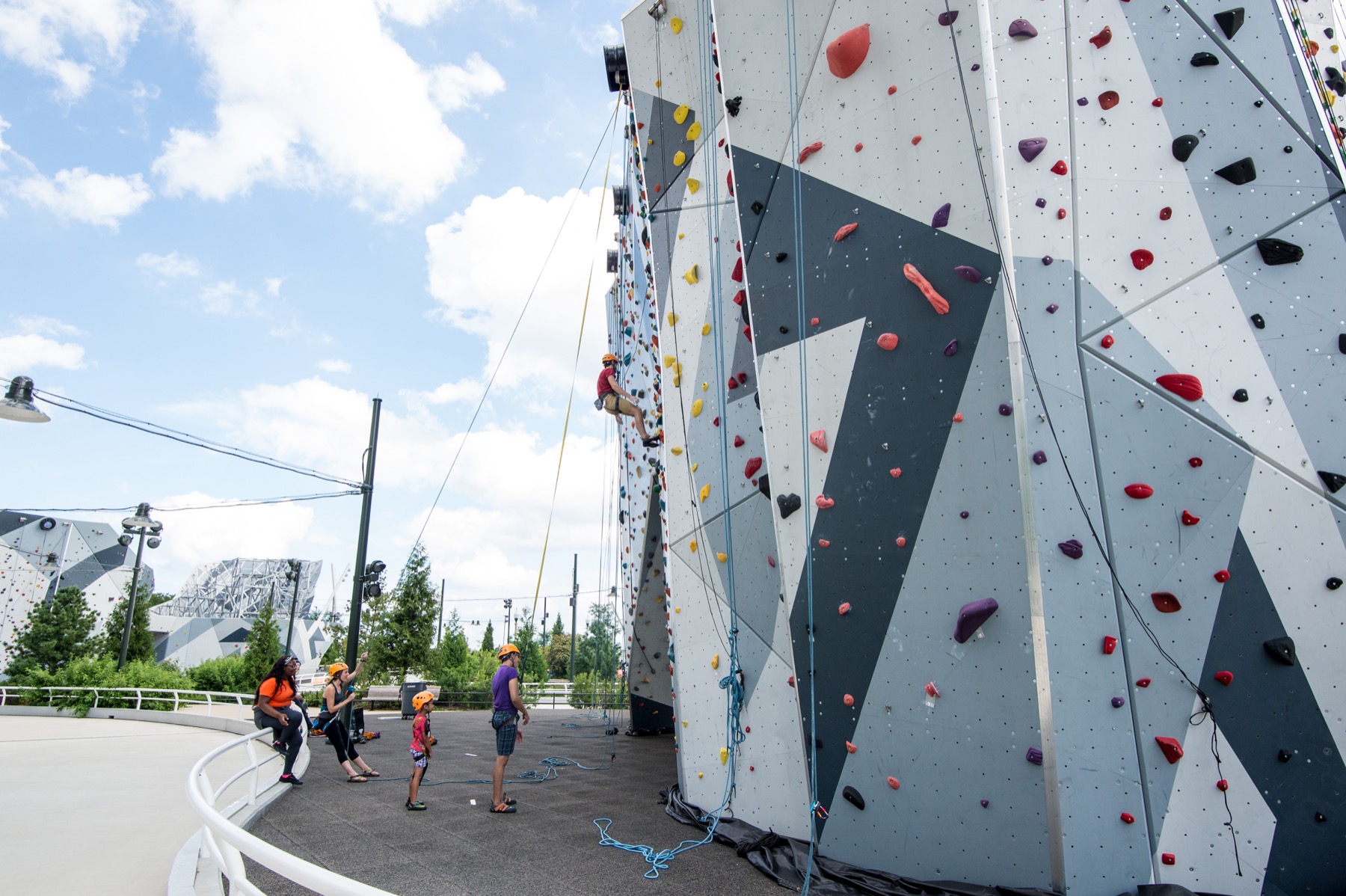 The park has done a good job in attracting people which in turn has attracted a wide variety of businesses, giving both parties even more reasons to be there. This cycled interaction over an extended period of time has led the place and the community surrounding it to prosperous results. Which is the main goal Placemaking has: to create public spaces that promote people's health, happiness, and well-being.
It is through successful Placemaking that Millennium Park further secures Chicago's position as a major American center of art and culture. At MASSIVart, we are firm believers that creating destinations where culture, business and community meet lead to powerful outcomes that can be fostered through the transformative power of art and culture.
---
Credits
1. Photo by Walter Martin
2. Cloud Gate by Anish Kapoor. Photo by Adam Alexander Photography
6. Photo by Clayton Hauck
7. Photo by Adam Alexander
8. Photo by Abel Arciniega