As the world opens back up, real estate developer Cadillac Fairview (CF) wanted to partner with seven pan-Canadian artists to create fun, colourful art installations in seven of its retail destinations locations across Canada.
This art series is a part of CF's Capture the Moment campaign which aims to bring light and colour to the summer season and inspire Canadians to engage with their community spaces.
MASSIVart collaborated with North Strategic to curate the artists, advise on the art direction, and assist them in the creative development and production of their concept in order to provide art direction and design continuity.
Unveiled in June 2022 and exhibited for a period of 3 months, the murals are unique and specifically created for each location, anchored in each respective community, but united throughout. We asked some questions to the diverse artists about their inspirations for the creation of the murals:
Nasarimba – CF Market Mall (Calgary)
Nasarimba, meaning 'playful mischief', is the ongoing collaboration of multidisciplinary Calgary-based artists, Mikhail Miller and Rachel Ziriada. They have established themselves across Canada and Mexico, engaging in a broad range of projects including screen-printed editions, assemblage sculptures, acrylic paintings, and large-scale public murals that explore spatial and colour relationships.
Their mural is playful and vibrant while honouring elements of nature, which connect directly to gratitude. The text on each mirror incorporates references to the beauty found within and self-love in the present moment.
Tell us more about your mural.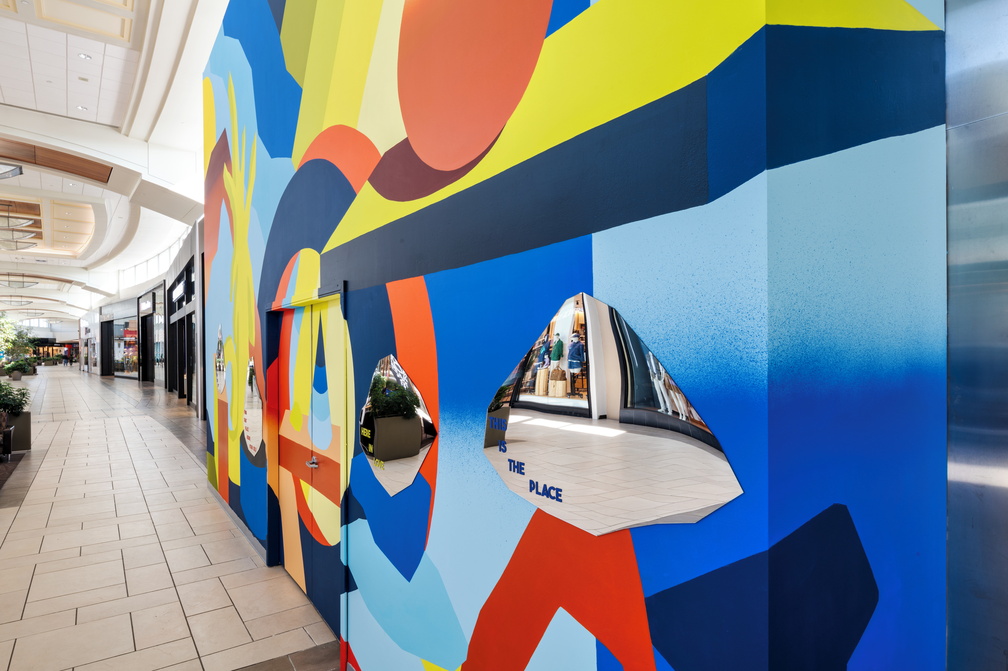 We were really excited to be contacted by MASSIVart for this collaboration with Cadillac Fairview. The goal of this project was to create a mural that is bright and colourful while promoting positivity, self-love and community wellness. Other than that, we had total artistic freedom with our design, which we think is what has made this project such a success.
Our mural stands over 30 feet long and 18 feet tall which gives it a strong presence within the mall. There are skylights in the corridor where it's located which bathe the artwork in bright, natural light. We used primary colours; red, yellow and blue, with multiple shades of each to create depth and dimension. The yellow shades bring feelings of positivity and optimism, blue brings a sense of calm, and red brings excitement and energy.
Our mural is playful and abstract while honouring elements of the natural world. We feel that spending time with nature is part of the self-care cycle. Respecting and taking care of our environment is a step forward in community wellness.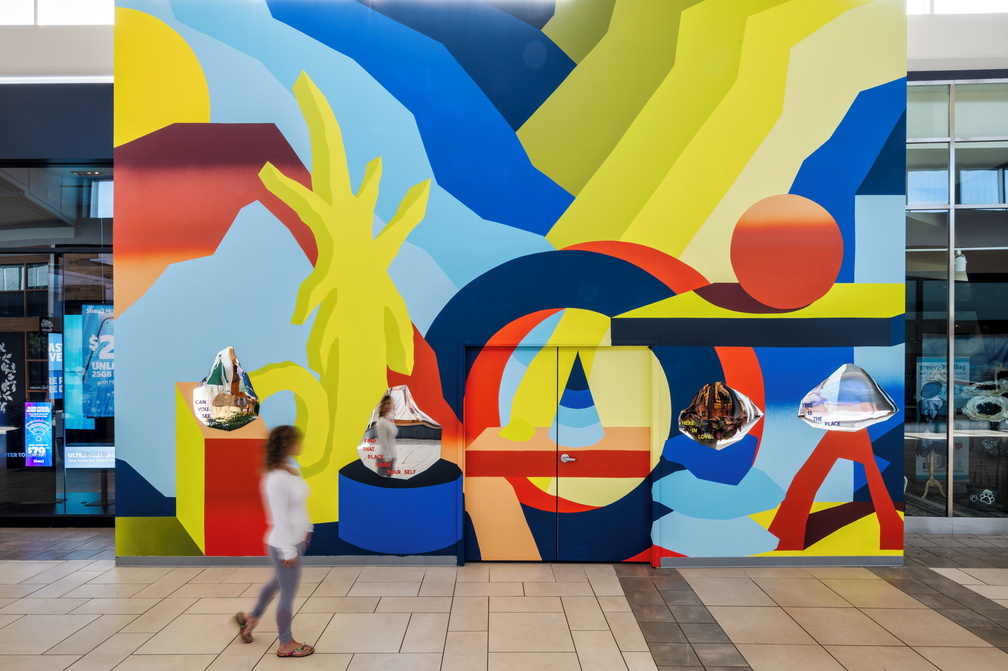 We are grateful to have been selected to showcase our artwork in a place where so many people will see it. Part of why we do public art is so that our work will be accessible to people from all walks of life- not just people who chose to visit art galleries or museums. We think art should be integrated into every part of our society and can help increase our collective quality of life.
Our mural has several reflective mirrors integrated within the composition. We hope that when people see themselves within the artwork they will recognize their own value within the community. We hope that they enjoy the experience of coming across a playful work of art as part of their day- and see it as a gift! Overall, we hope that people seeing our mural will feel some of the excitement that we felt when creating it.
Francorama

– CF Fairview Pointe Claire (Montreal)
Franco Égalité is a Montreal-based illustrator and artist. He learned to hold a pencil and draw a line long before he could walk. The play of bright colours in his work emphasizes the movement of forms and blurs the line between abstraction and representation, immersing the viewer in a fascinating graphic universe. For the artist, to live an experience, at its essence, is to savour time in all its moments. The mirrors installed in the mural are a reminder of time and contemplation, like a watch in which our reflection appears.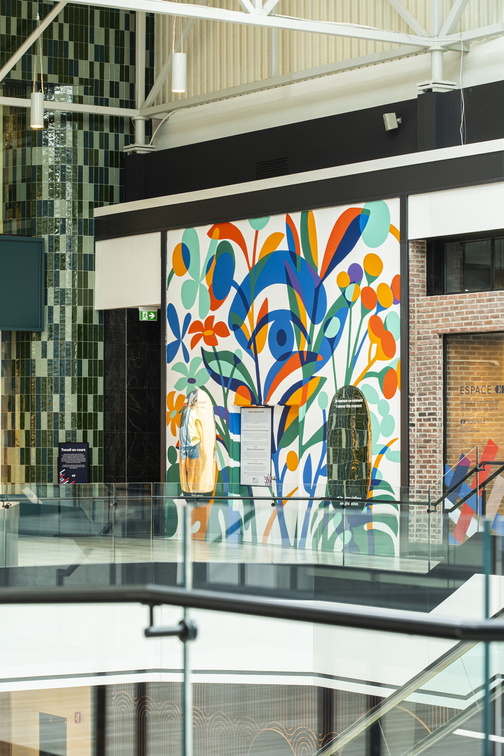 Where did the inspiration for this project come from?
It came from coming back to Montreal after travelling Europe for three months. Far away from the city, I missed its magic spring bloom. When I arrived I got the great treat to witness Montreal with fresh eyes and it made me reconsider the ways we all experience and appreciate the passing of time through the seasons.
What is optimistic about your piece?
Nature has always been a metaphor for optimism and hope. It's the name I give for everything that chooses to move and grow. Just by representing nature at a larger scale, it resituates the viewer as if they were an ant and dares them to revaluate all opportunities for growth that come our way when we take the time to enjoy the time.
What do you hope viewers will feel and take away from your artwork?
I hope they get fresh energy from it and take the time to appreciate the present in all its simple details, colours, accidents, and moments.
Jacquie Comrie – CF Shops at Don Mills (Toronto)
Jacquie Comrie is a Toronto-based multidisciplinary artist whose vibrant body of work intersects contemporary art and wellness on a global scale, using colour as a medium of social impact and mental health. Whether as murals on buildings, large-scale structures, or canvases, her body of work is a dynamic exploration of the science of colour as the universal language of human emotion. Her work aims to contribute to much-needed spaces of mental elevation and reset, to ultimately help improve the quality of life of all individuals – one wall at a time.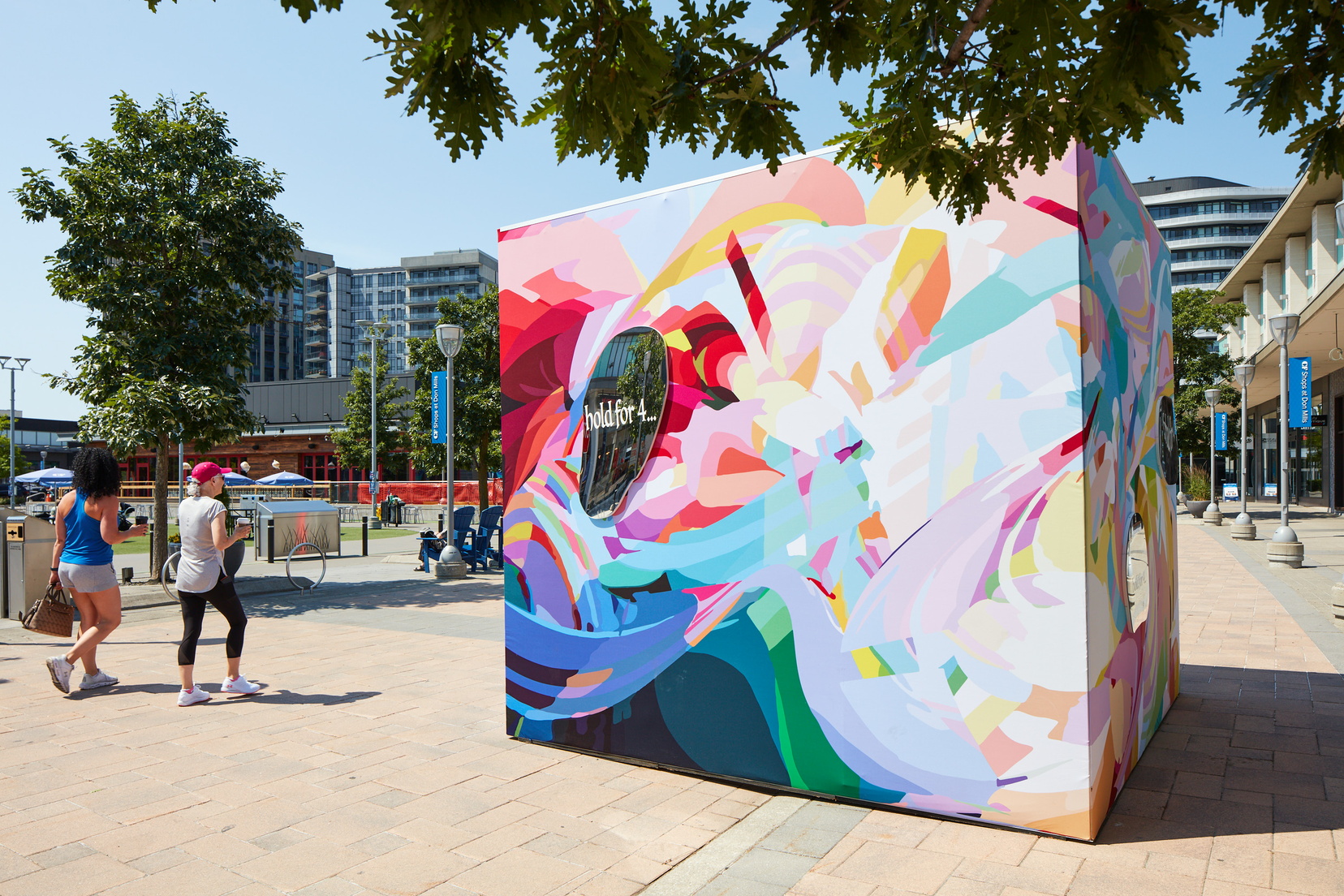 What's your favourite thing to do in the summer?
Absolutely love Toronto in the summer. The city comes to life with creativity and colour as mural artists take the streets to produce art installations everywhere. Such a vibrant time to reimagine public spaces and create.
What are you hoping the public gets from your piece?
Through colour, and mindfulness, this installation "Guide to Box Breathing" teaches viewers about Box or Conscious Breathing, a powerful relaxation tool that helps our breathing return to its normal rhythm when experiencing stress or anxiety. This installation reminds patrons of the importance of mindful breathing, especially in our current social climate. Breathing is the most natural process of human life and yet we often forget to breathe… This work is an exploration of the psychology of colour, and its powerful effects on the human body and mind, holding space for much-needed mindfulness and reminding us all to pause and BREATHE.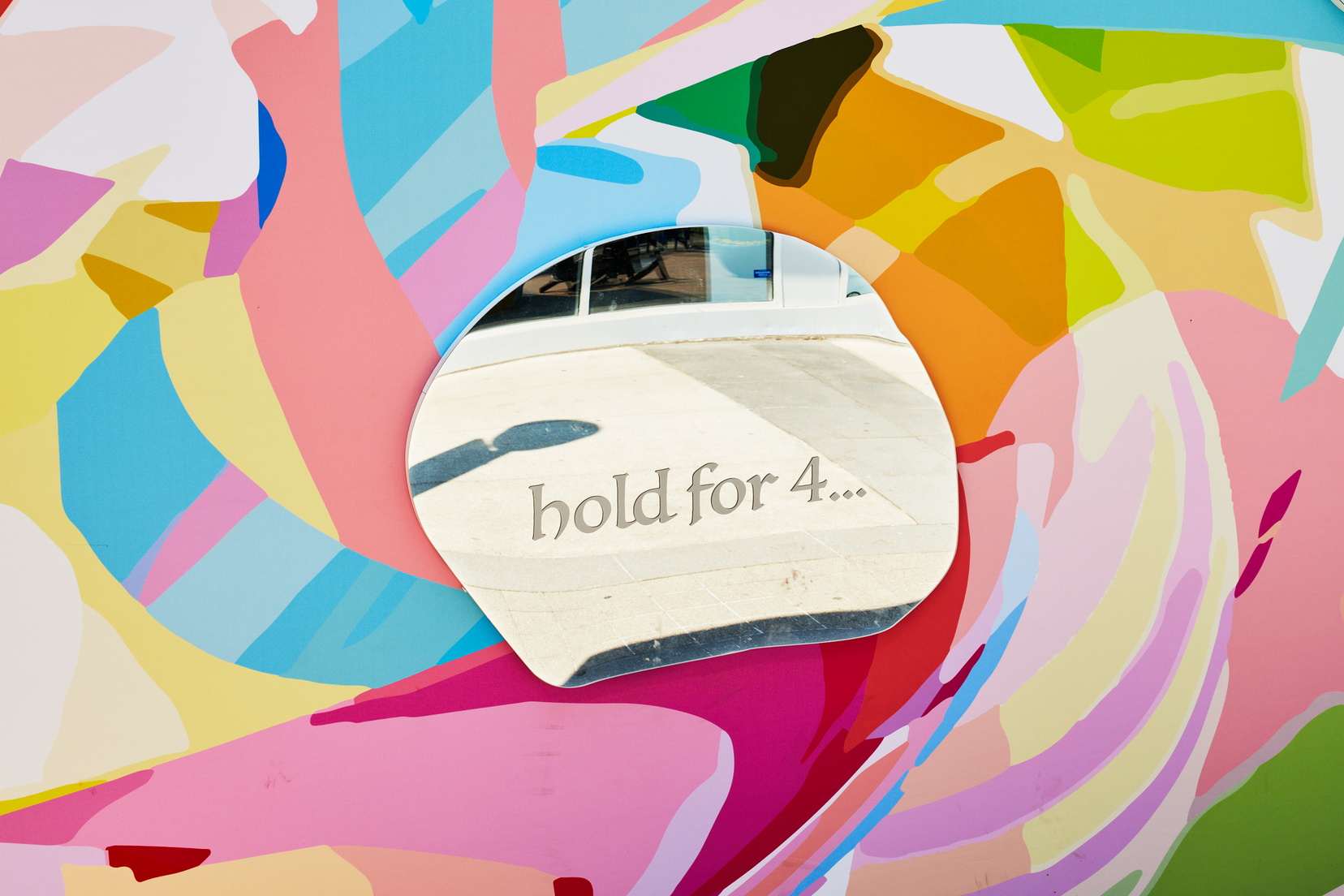 Why do you think it's important or meaningful to be able to interact with artwork?
It's so meaningful because it creates an individual personal experience for the viewer. To be in the presence of colour is to feel and experience emotions that can help our mood, thoughts and state of mind for the better. We don't think of colour – We feel colour. Grateful to be able to do this work and to hold space for people who are struggling to experience the healing power of colour.
---