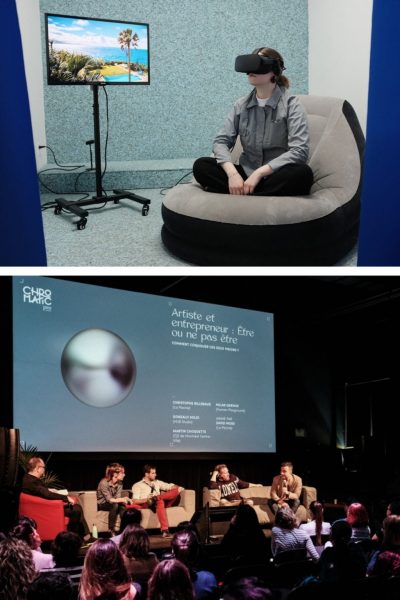 The Chromatic Festival is back after a hiatus, returning with Chromatic Pro on July 6th at Centre Phi —a day-long event of symposia and professional meetings for the creative community. Delving into the possibilities, challenges, and impacts generated by artificial intelligence technologies in art and culture.
Chromatic Pro invites attendees to join an exceptional lineup of esteemed speakers from diverse backgrounds and artistic disciplines. Through a captivating keynote, a thought-provoking panel discussion, and a practical workshop, participants will gain valuable insights into the multifaceted perspectives within the creative community regarding integrating AI technologies into the creative process. This event serves as a dynamic laboratory of ideas, fostering innovation and encouraging collaborations between the arts and cultural industries.
MASSIVart x Chromatic will be welcoming the following luminaries who will share their expertise: Adam Basanta, Erin Gee, Nicolas Reeves, Filip Dukanc, Valentine Goddard, Duc Tran, Calvin Maighan, Marine Theunissien, and Nicolas Grenier. With their unique insights and artistic perspectives, they will shed light on the intricate relationship between AI and creativity, inspiring attendees to explore new frontiers in the realm of art and culture.
Join us on July 6 at the Phi Center in Montreal for a day of learning and discussions, ultimately expanding your horizons, forging new connections, and being part of the exciting dialogue surrounding the intersection of artificial intelligence and creativity.
All photos by Bruno Destombes