The Réseau express métropolitain (REM) is the biggest infrastructure project in Quebec in the last 50 years. A 67-km integrated public transit network of 26 stations will link downtown Montréal, the universities, the South Shore, the West Island, the North Shore and Montréal–Trudeau airport through a fully automated, electric light rail system.
The public transportation project is led by one of Canada's biggest investment funds: Caisse de dépôt et placement du Québec and its CDPQ Infra subsidiary.
Making construction sites more enjoyable and appealing for the community
The construction site of the future McGill REM station, situated in the heart of downtown Montreal, was the target of a lot of graffiti on its construction hoardings (the wooden walls that surround the site). To minimize the impact on Montrealers, CDPQ Infra selected MASSIVart on this multi-phased project to enhance graffiti-covered hoardings with an impactful and engaging art installation.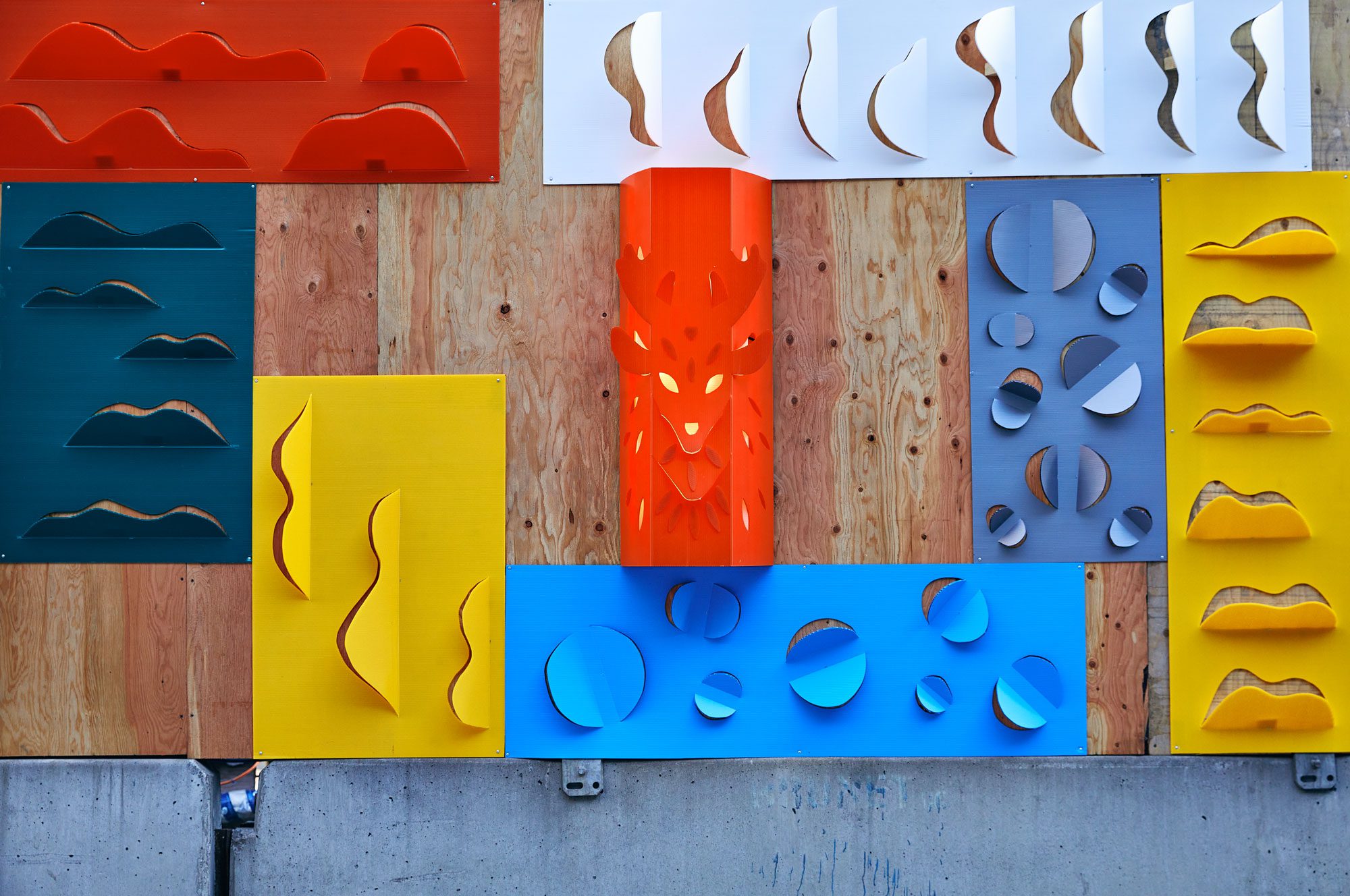 In collaboration with the CDPQ Infra's team, we developed a turnkey solution to revitalize the worksite, using creativity and art to transform the hoardings into a programmable canvas, evolving each season. With a northern theme, the hoardings first took on a boreal forest look during the winter and we are now making room for the fauna and flora of Quebec with a colourful concept, created in collaboration with La Camaraderie.
Today, a unique pedestrian experience has been created. The hoardings are not just physical barriers but the current works create connections between the REM's project and the passers-by, through relevant artistic interventions.
We are proud to have collaborated on this project reflecting the sustainability of the REM's infrastructure project as a whole.

A major investment in Québec public art
We also salute the innovative public art program for the Réseau express métropolitain (REM) that was unveiled in 2021. This public art collection will enhance the experience of REM users, foster the next generation of artists and help build important cultural legacies. CDPQ Infra has also committed to making an additional contribution in support of Québec public art.
Art can play a crucial role in the main transit and transportation infrastructure of municipalities, creating value by shaping, enriching and contributing to the identity of these public places.