MASSIVart recently collaborated with artist Laurence Philomène on a unique sculptural installation which helped foster a sense of community across Montreal neighborhoods through the inclusion of a unique digital, interactive component. It is from this idea that was born The Essentials project for the City of Montreal's safe active transportation circuits.
Inspired by this sense of achieving a creative connection, The Essentials was an installation of eight interactive sculptures linked to a series of photo portraits celebrating 8 local essential workers.
The colourful and playful nature of the installation invites the public to interact with the artwork and discover each photographic portrait and the story behind each essential worker's life through a QR code and specially designed online platform.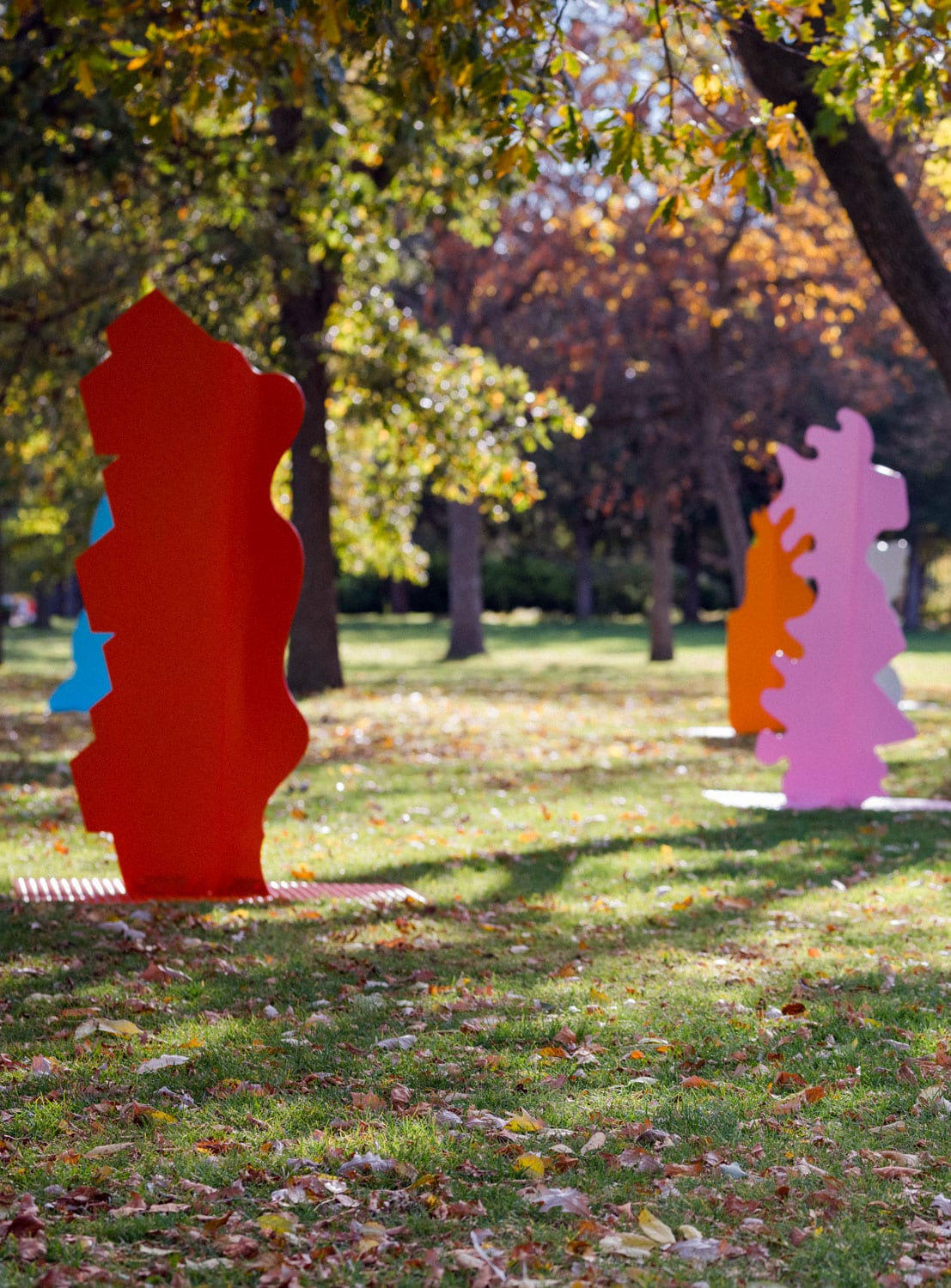 While artistically displaying the diversity of the neighborhood and the people who live there, this celebration of the neighbourhood's essential workers also acts to mitigate the fear of our neighbours in the context of the COVID pandemic. The portraits also explore the premise of who is essential and makes us reflect on the crucial, varied roles we all play in our communities.
For Laurence Philomène, this project was a way to repay their gratitude and celebrate their own Villeray-Saint-Michel-Parc-Extension neighbourhood – a place they call home. Through each piece, Laurence wishes to thank and elevate the proud characters who give this multicultural working class neighborhood its authenticity.
For MASSIVart, it was an essential opportunity to make art more present and accessible while supporting an artist who fosters critical conversations via their images. The project allowed the mission and values of MASSIVart to also come together through the contribution of their extensive knowledge in creating memorable, community powered experiences through art.

---
As Laurence asked questions to their participants for the project, we thought of inverting the roles and interview the interviewer. Here is what the artist has to say:
What do you love about what you do?
I love getting to create the kind of world I want to live in. I love sharing the beauty I see in everything. And I love using photography as a vehicle to meet and connect with new people, and to create images that make people feel good in their body.
How has the pandemic affected the meaning of your work?
Prior to the pandemic, I was doing a lot of studio shoots, which I've stopped doing almost entirely. It's been a good excuse to do more outdoor portraiture like I did for this project though!! Aside from that, the way I exhibit my work has shifted as well, to outdoor projects like this, and online galleries.
My personal work is largely autobiographical / self-portraiture so that aspect of my practice hasn't changed much, and it's given me an opportunity to dive deeper into making work about routines, domesticity and the mundane.
Where do you find community?
I mostly find community online. I grew up with a chronic illness which means I spent a lot of time indoors / by myself, and I found a community of young photographers and queer artists I connected with at the time who got me where I am today. Similarly, most of my close friends and collaborators today are people I met through sharing my work online – mostly on instagram.
What does essential mean to you?
In the context of the pandemic, essential means acknowledging our interdependence as humans in community with one another, and respecting the value of each others' needs and skills no matter what they are.
How did the collaboration and the creative process work with MASSIVart?
It went so well! It was really great to have a team motivating me to get the project going & stay on track since the timeline was quite tight. It was also great to have Massivart coordinate the fabrication and installation of the sculptures. I felt like they really encouraged and trusted my input through every step of the project and I hope we get to work together again!
Anything else you would like to add?
Don't forget to add some colour into your life to make it through the grey days ahead!
---
A little bit more about the artist
Laurence Philomène is a photographer based in Montreal, Canada. Laurence makes colourful work that centres queer and trans experiences, often through long-form and autobiographical projects. Laurence's work is informed by their lived experiences as a chronically ill, non-binary transgender artist coming of age amid the rise of social media. Through high-saturated, cinematic and caring images, their work celebrates marginalized existences, and studies identity as a space in constant flux. Laurence aims to work in collaboration with every person they photograph – creating striking, intimate portraits that celebrate the beauty in every human being. Instantly recognizable by their signature use of colour and daylight, Laurence's photographs act as a love letter to their community.

We are inviting you to discover our collaborative project, The Essentials, physically while respecting social distancing measure at Parc Jarry, Montreal – on St-Laurent Boulevard between Villeray and Gounod streets till November 2nd or online at les-essentiels.co

Project funded through the Montreal Cultural Development Agreement and the Réflexe Montreal Agreement between the City of Montreal and the Government of Quebec.