MASSIVart se complace de ser parte de la exposición digital de este año organizada por el museo de la Fundación de Arquitectos con el proyecto "Suite 1742 John Lennon and Yoko Ono's Bed-In For Peace" en colaboración con The Fairmont Queen Elizabeth y Sid Lee Architecture.
El 26 de mayo de 1969, John Lennon y Yoko Ono comenzaron una encamada por la paz para hablar en contra de la guerra permaneciendo en cama por una semana en el hotel de Montreal The Fairmont Queen Elizabeth. Nuestro proyecto creó una experiencia única en la misma habitación en que John y Yoko condujeron su legendaria encamada.
La instalación fue nombrada ganadora en la categoría de Hospitalidad de los CODAawards 2020, un programa de premios reconocido internacionalmente que celebra los proyectos que mejor hayan integrado arte comisionado en espacios interiores, arquitectónicos o públicos
La habitación fue transformada en un museo único en su especie equipado con tres dispositivos interactivos, una película de realidad virtual y un archivero interactivo presentando fotos, documentos, videos y memorabilia. También contenía elementos ilustrativos, accesorios y música encapsulando el legado cultural de John y Yoko, así como obras de arte comisionadas inspiradas en su mensaje de paz.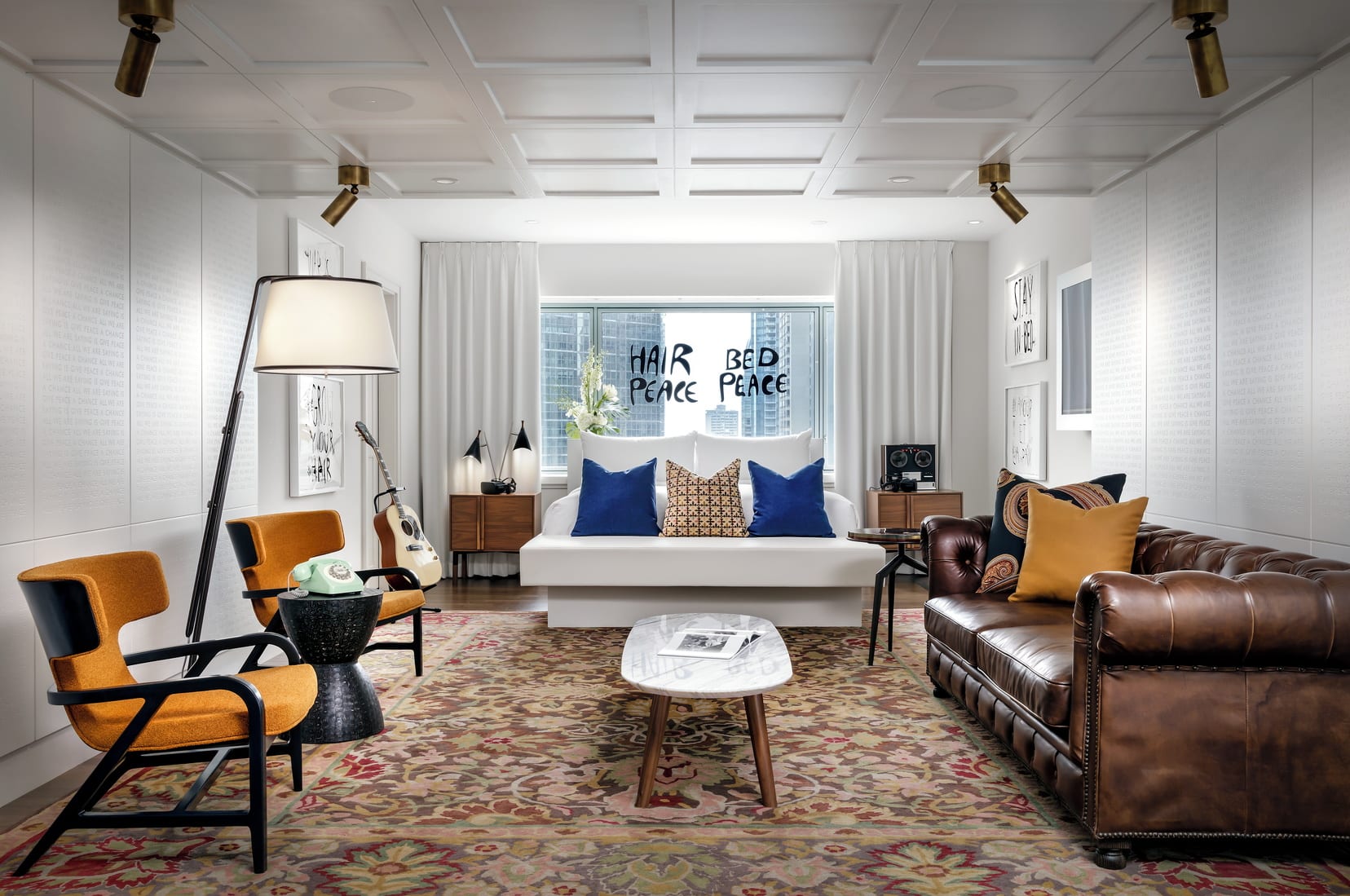 La fama de la habitación ha trascendido a la industria hotelera y continúa siendo una ubicación imperdible para turistas, fans, influencers, y prensa, impactando directamente las ventas del hotel, así como su valor general para Ivanhoe Cambridge. Y sobretodo, la recreación de este espacio histórico continúa resaltando el poderoso mensaje de paz que transmitieron John y Yoko y que resuena tan fuerte como lo hizo en 1969.

El Museo Octagon de la Fundación de Arquitectos, lanzó una exposición digital para los ganadores de los CODAaward 2020, producida por CODAworx, mientras el museo permanece cerrado al público. Da click aquí para explorar el proyecto de MASSIVart en la exposición digital de este año.
La fundación de Arquitectos, socio filantópico del American Institute of Architects, es el orgulloso dueño del edificio histórico Octagon en Washington D.C. La fundación aspira a atraer, inspirar e invertir en la siguiente generación de la comunidad de diseñadores a través de becas y exposiciones. Para alcanzar esta ambiciosa misión, el museo Octagon ofrece activaciones para demostrar el valor que los arquitectos y la arquitectura brindan a la cultura. Habiendo trabajado con talentosos arquitectos anteriormente, MASSIVart está más que complacido de ser parte de la exposición digital de este año resaltando a la comunidad de diseñadores y su impacto en la cultura actual.
Un gran agradecimiento para el museo de la Fundación de Arquitectos por tomar la iniciativa de mover la exposición al campo digital. MASSIVart no puede esperar para explorar todos los increíbles proyectos que seguramente inspirarán a muchos.