For the Armand Frappier Museum's new exhibition "Get Moving!", MASSIVart has developed a physically & emotionally moving journey. Artful installations & playful activities reveal how our perception of physical activity has changed & how social context has influenced the evolution of our bodies.
To transform scientific facts into an engaging, artful, edutainment experience, the MASSIVart team partnered closely with the museum collaborating on how best to illustrate and bring to life the historical, social and scientific issues around physical activity to create a journey that leaves all ages moved in a number of inspiring and informative ways.
To present this new project in their own words, we wanted to put our partner, the Armand Frappier Museum on the podium:
---
The Armand-Frappier Museum opened its doors in 1994 to showcase the scientific heritage of Dr. Armand Frappier. Today, the Museum's mission is to promote the understanding, for young and old, of scientific issues related to human health through exhibitions, laboratory activities, travelling workshops, boot camps and conferences.
Since 2017, we have been working on the "Get Moving!" exhibition, whose objective was to successfully demonstrate the importance of movement not only for our physical health but also for our mental health. Thanks to the collaboration with MASSIVart, we have been able to find various creative ways to popularize the physiological, psychological and social mechanisms related to the practice of physical activity as well as the most recent research data in this field.
The Museum made a point of integrating various artistic and creative means to bring not only a beautiful aesthetic to the exhibition but also different points of view on the subject of human health. It is a matter of combining the knowledge, know-how and creativity of artists and scientists alike to bring new ideas, unusual perspectives and innovative ways of doing things.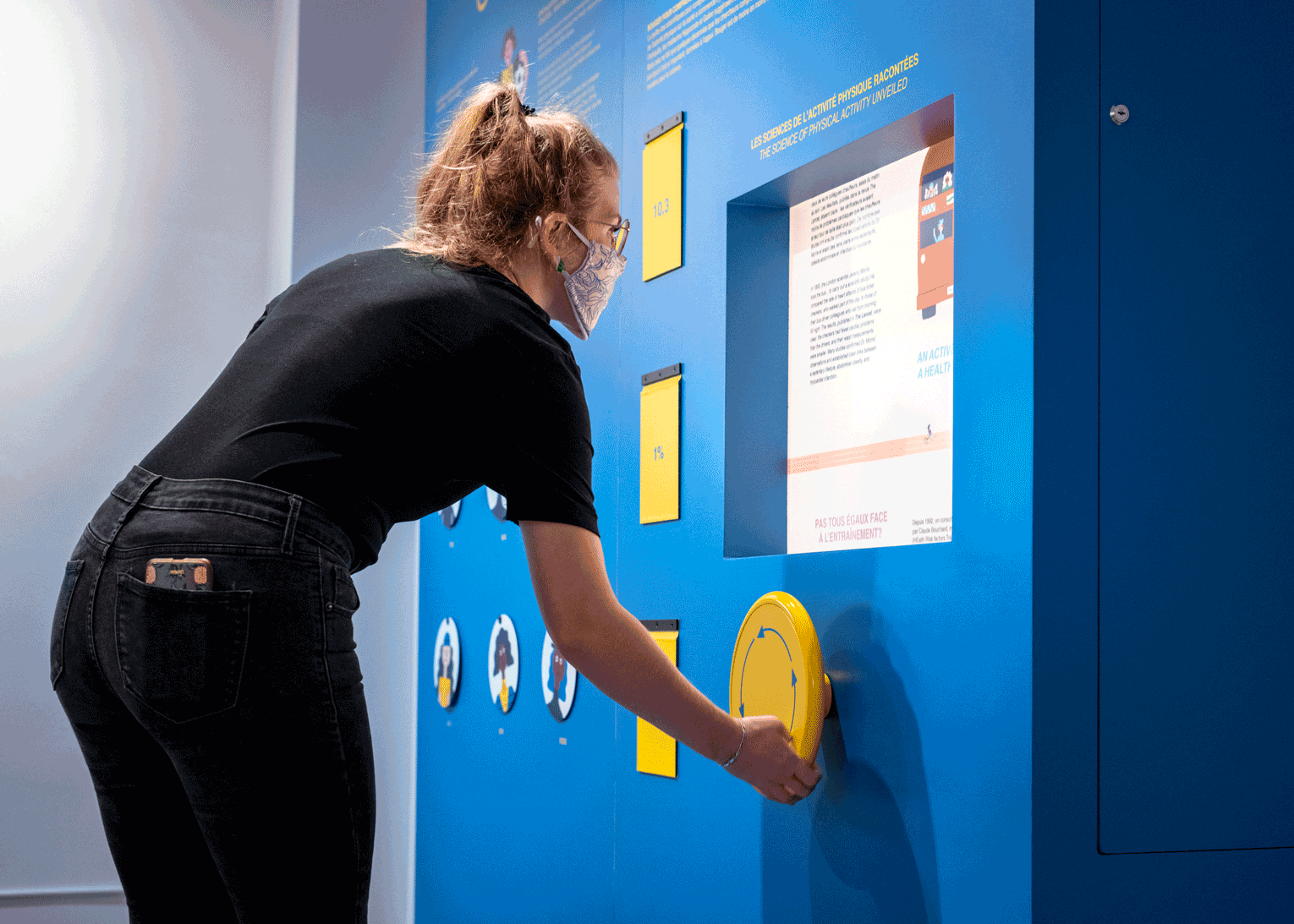 The major challenge encountered in the realization of this exhibition is undoubtedly the issue of managing the COVID-19 pandemic. To remain true to the message of the exhibition, "Get Moving!" was conceived from the beginning as an interactive exhibition where visitors would be encouraged to take action. In the context of a pandemic, where one tries to limit handling and interactions to the maximum, it was necessary to use ingenuity to comply with health rules. For example, we had to make sure that the surfaces and interactives designed by MASSIVart were resistant enough to be disinfected many times over!
In spite of this challenge, it was important for us to find ways to preserve the interactive aspect that characterizes the exhibition – our audience being mostly composed of young people aged 9 to 12 – it is necessary to rely on a variety of means such as games, animations, interactives and video capsules to convey scientific popularization content. Finally, by working with MASSIVart, we managed to make "Get Moving!" our most dynamic exhibition, in which the visitor is put into action from start to finish, in respect of the COVID-19 prevention measures.
Addressing issues related to human health is part of the Museum's DNA, so it was completely natural to mobilize ourselves to establish the best sanitary conditions and ensure the safety of our visitors. We have implemented a rigorous cleaning and disinfection protocol for the exhibition modules and equipment used during laboratory activities.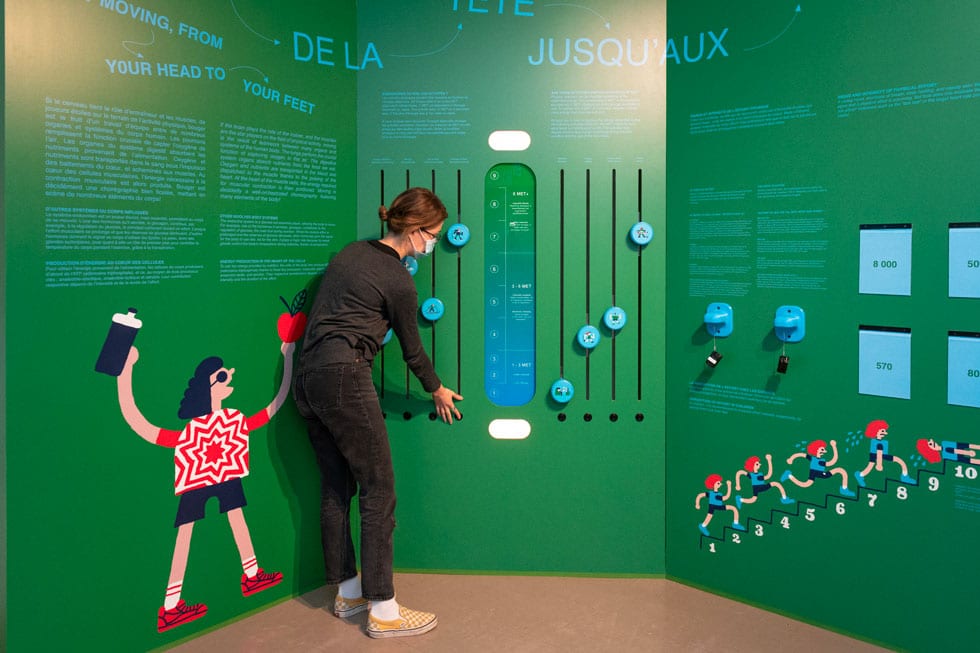 Today we continue to offer visits to the Museum for the general public and school groups, after a break due to the second wave of the pandemic. The contents of the exhibition have also been adapted to be released online through the Zoom platform, video clips for our YouTube channel and an interactive book of the exhibition prepared in collaboration with MASSIVart for classroom, face-to-face or virtual animations. In this way, we can continue to offer content, especially to school groups, when it is not possible to physically visit the Museum.
Learn more about the project
Learn more about Armand Frappier Museum