A few months ago, PME MTL turned to MASSIVart to pay tribute to its employees and entrepreneurs with a creative gift.
The idea? A mural inside each of the six PME MTL poles designed by Paprika, with QR codes integrated to present the entrepreneurs that their experts were able to support throughout the year. This interactive mural allows them to highlight their different stories in an engaging and fun way.
This project has a certain significance for MASSIVart, firstly because we believe that their mission is essential and also for the fact that we are happy to help in return those who have supported us before. It is thanks to the CDECs, the former name of PME MTL, that MASSIVart received its very first start-up grant in 2011.
This is why we are proud to give the floor to PME MTL to present you this project where creativity and design are once again effective ways to convey messages while embellishing spaces.
---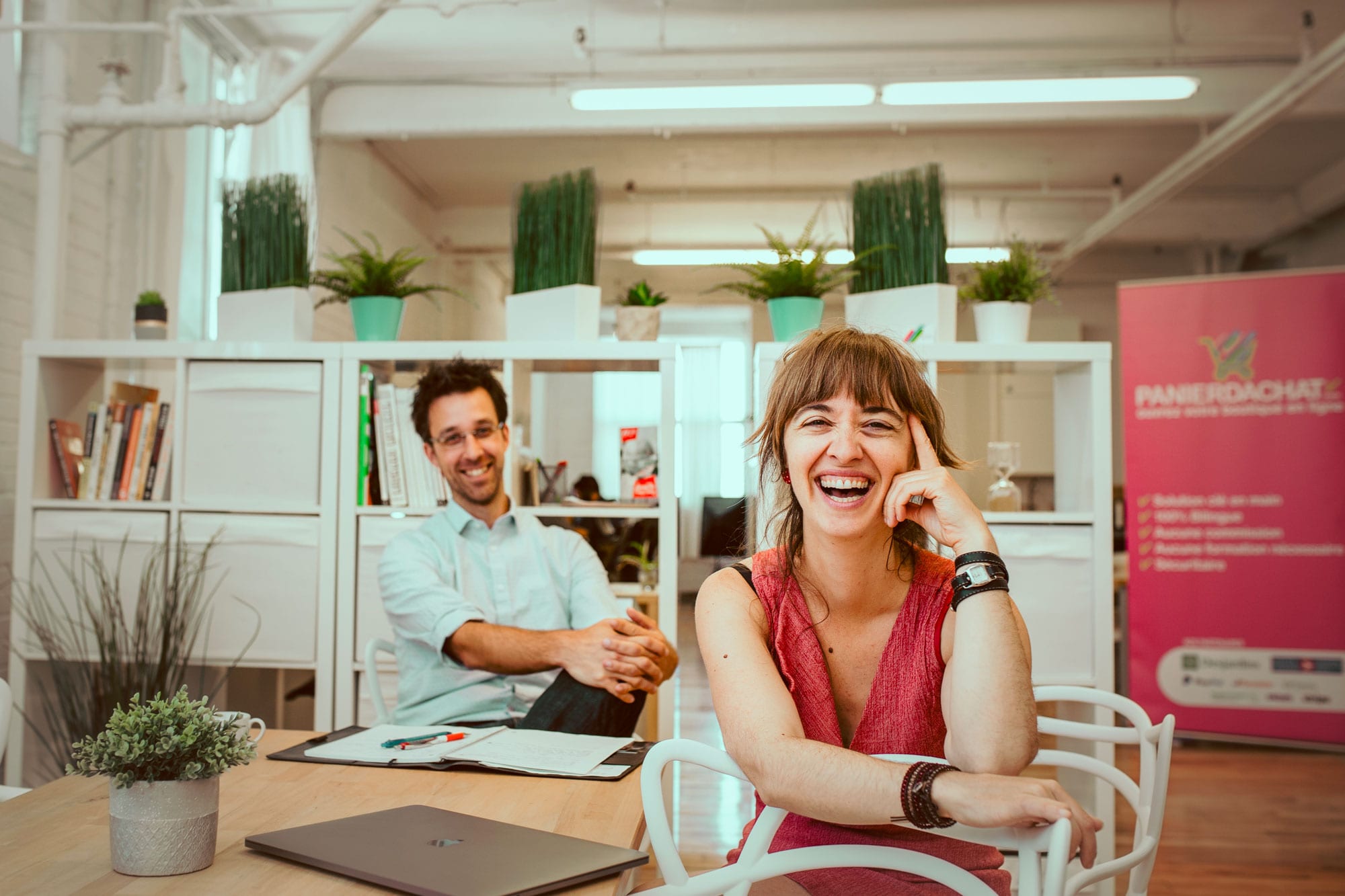 PME MTL is the City of Montreal's business support network. With 6 service centres on the island, our mission is to support Montreal's entrepreneurs through a support and financing offer adapted to their needs. In 2020, we celebrated our 5th anniversary!
The project we worked on with MASSIVart met two main objectives. First, to pay tribute to Montreal entrepreneurs, but also to highlight the importance of the huge amount of work accomplished by all the professionals of the PME MTL network since the beginning of the pandemic.
Like the entrepreneurs we have been supporting, we have rolled up our sleeves and worked hard to offer them help and advice since the month of March 2020. This project makes it possible to humanize the work of our experts, while still putting forward the Montreal entrepreneurs who are at the heart of our mission.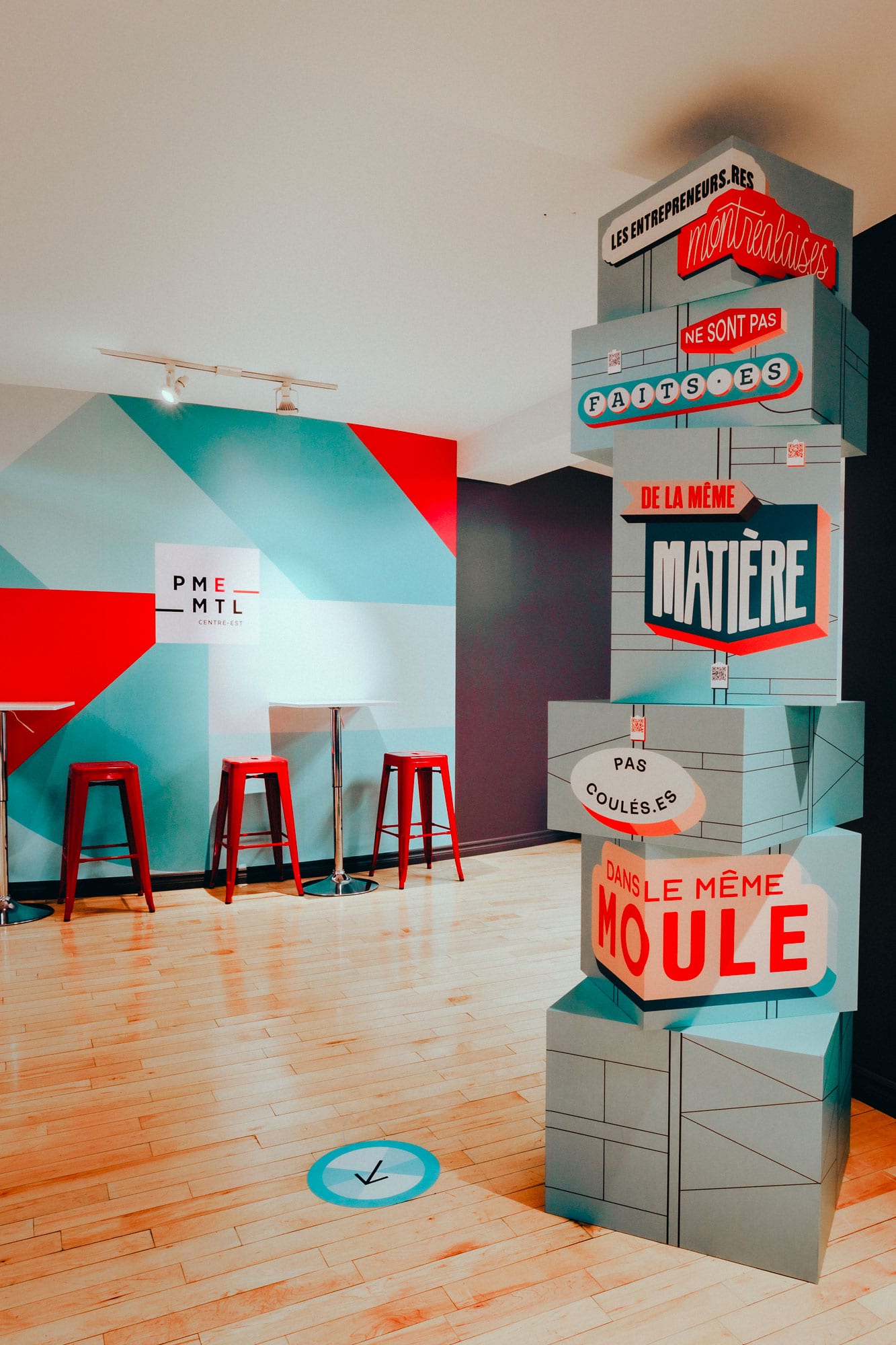 The challenge to realize this project? To highlight the territorial particularities of each of the PME MTL poles that represent the Montreal entrepreneurial fabric from east to west and north to south. In addition to quickly dispelling this apprehension, the MASSIVart team immediately understood the essence of our project. The mural allows us to bring a proposal that unifies and links our poles. It is a magnificent collaboration between the MASSIVart team and PME MTL's team.
We wanted to make an artistic and creative commission for this project because art and creativity amaze. They have a unifying effect, each eye finds its own interest. MASSIVart had a genius idea (!) by proposing to integrate QR codes to the murals, allowing each PME MTL pole to promote its own contents. They will be able to evolve over time simply by updating the QR code redirection links. Through blog posts, we can highlight the inspiring stories of our entrepreneurs endlessly.
This occupation of the space allows us to discover – and rediscover at each visit – the talent of creative Montreal companies – MASSIVart and Paprika – but it is also a way to remind everyone who passes by (entrepreneurs, partners or visitors) of the importance of supporting local businesses.
It is also a creative way for us to highlight the exceptional work that our colleagues have been doing for the past 5 years and the essential role they play with Montreal entrepreneurs. A role that is more crucial than ever since March 2020.
To quote one of the general managers of PME MTL, we often play a modest role at a critical time. For us, supporting entrepreneurs is not only about providing financing but also about helping them go through important steps, with the goal of making them stronger.
Photos: Myriam Baril-Tessier