In 2020, the City of Montreal's Bureau du design launched a request for proposal for the "Rethinking Public Space" qualification, with the ultimate goal of designing and building "winter stations" to improve the well-being of locals and embellish the neighbourhood with art and creativity in 17 Montreal boroughs.

MASSIVart, Aedifica, Körnelius and the Groupe Information Travail's woodworking workshop collaborated to design the winter station on the Place du Village-de-la-Pointe-aux-Trembles in Montreal. The urban promenade was illuminated and decorated with multiform structures reminiscent of the colours of cargo ship containers sailing the Saint-Laurent River.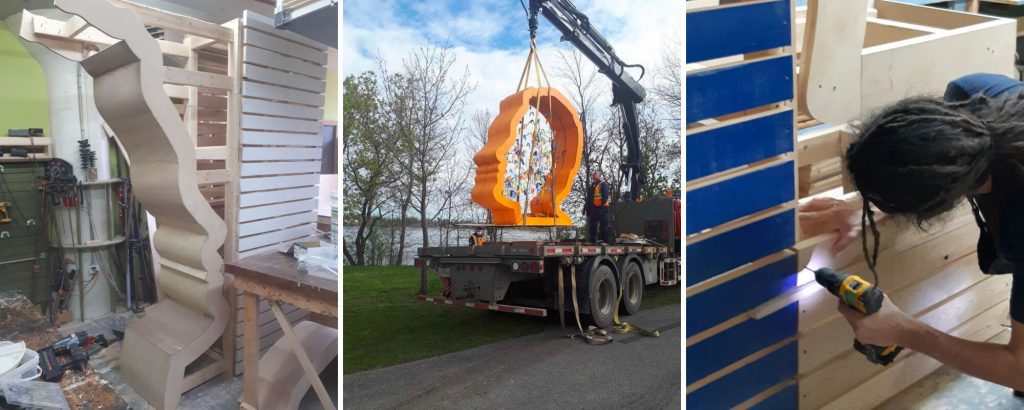 A sustainable project with a social and economic impact
To promote local business, passers-by were invited to collect ribbons from nearby stores to attach to the two participative arch installations. Joanne Paiement, a local retailer, fell in love with the installation and handed out ribbons to her clients with the promise that they would make a wish and send a photo of the action in return. To this end, the installation not only stimulated local commerce but also strengthened bonds between retailers and local residents.

As for its social impact, the winter station was constructed by apprentice cabinet makers from a social and professional integration course, allowing the highly motivated participants to contribute to the well-being of their community. The project also made use of local recycled wood, specifically ash trees, and environmentally responsible finishing products.

Due to the installation's success, its life has been extended throughout the summer season, where it is now located in Zotique-St-Jean Park. Why not continue to spread joy to local residents in the summer months, too? It is wonderful to see the placemaking project hold a special place in the hearts of Montrealers!


"The Garden of Hope is a lyrical experience in colour and light. The site and its magical setting provide a great feeling in these difficult times. The citizens have understood it well and have made this warm space their own, a place to walk, relax and play with their families. MASSIVart was able to create a unifying space that fits perfectly into the place of the Village-de-la-Pointe-aux-Trembles".
– Caroline Bourgeois,
Mayor of Rivière-des-Prairies-Pointe-aux-Trembles