The artistic tradition of the Indigenous peoples of Canada and Oaxaca is millenary.

Textiles, paintings, sculptures, and wood carvings are common to many of the Indigenous communities and reflect the cultural richness of both territories.
Within the framework of Indigenous Crossroads: Oaxaca-Canada that MASSIVart had the honour to orchestrate for the Embassy of Canada in Mexico, nine art posters could be discovered throughout the city of Oaxaca and online.
Each of them has its own story, explained by the artist themselves, which we wanted to share with you.
Filogonio Naxín (Mazateco)
Cuatro Dioses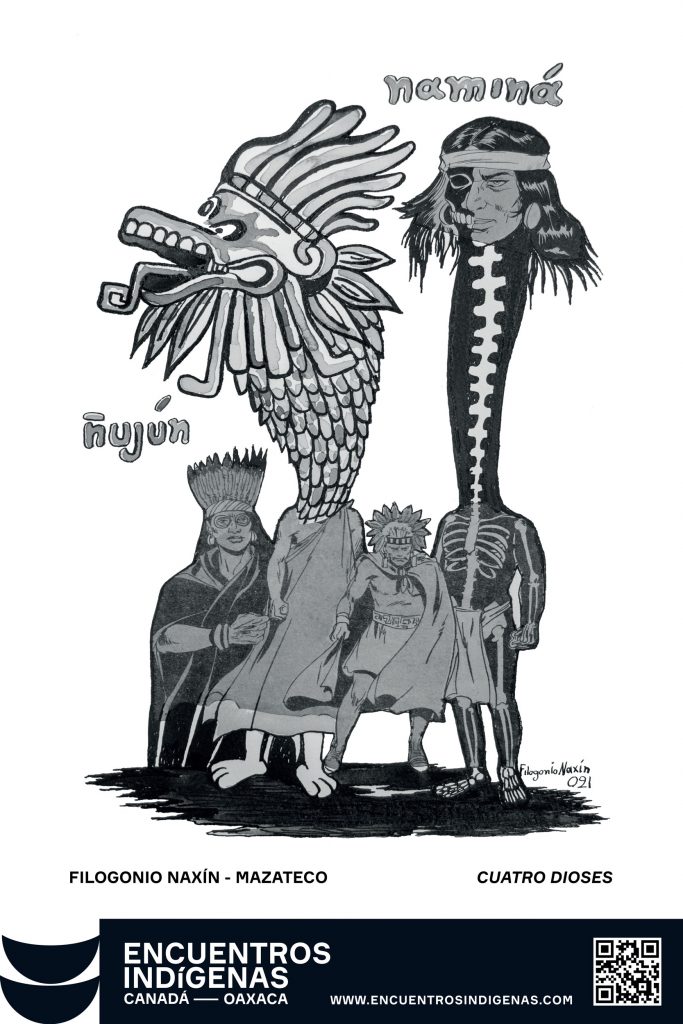 The series starts from the reflection on the 500th anniversary of the fall of Tenochtitlan. It is also part of a need as Indigenous people to be present in the history of Mexico to tell the vision of those who did not conquer us, of those who remained within a geographic space defined as alien to our cultures. But during this time, the scarce acculturation in Indigenous communities has made it possible for many people to live under their "uses and customs", maintaining their mother tongues, and under polytheistic cultures that have survived in the face of the Catholic religion.
I grew up in a town where the imagery of the group makes us believe as children that our Indigenous language is the only one; far from Spanish and other languages, and that the scarce public education distances us from the "universal knowledge". I grew up not knowing how the events of the fall of Tenochtitlan were, this is why I present this work questioning the newly acquired information. Finding so much nonsense in the official history, and with the absence of a colonized thought, allows me to question myself about the historical process of The Conquest.
Four Gods is part of this series composed of 45 pieces in collage, acrylic, and monotype technique. With this specific piece, I seek to represent the four Aztec brother gods, Tezcatlipoca, Xipe Tótec, Quetzalcóatl, and Huitzilopochtli, sons of the creative couple Ometecuhtli and Omecíhuatl. Bringing them back to the present moment with this representation is a way of showing them my respect.
Gabriela Morac (Zapoteca)
BËN ZUNNI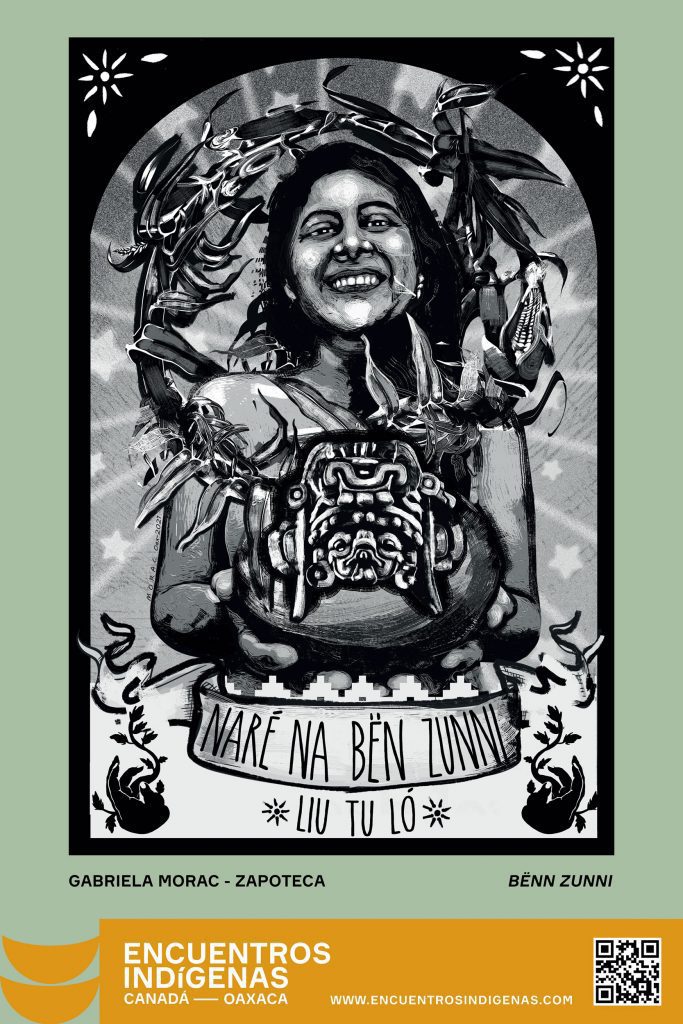 "I am a Zunni, who are you?" This is the closest translation into English of the text that accompanies the image of this poster.
This poster shows the importance of women in the cosmogony of the native peoples, of the mother cultures, and of the Zapotec in particular. From the philosophy of fertility, the act of offering and as a giver of life. Likewise, it represents the role of the woman from her perspective as a contemporary Indigenous woman, without attire, without distinctions at first sight that qualify her as Indigenous for having or not having a semblance or clothing.
Only from the possibility offered by her own origin, which is to be a bën zunni, a person originating from the "place where people sow", without the act of sowing being limited to the literalism of agriculture, the act of placing seeds in fertile soil so that they can fulfill their cycle, but from the possibility of sowing actions and ideas that germinate in the field of empathy to generate new knowledge, actions, affections, and forms.


Hazhe Is (Zapoteco)
Si llegamos a cometer un error…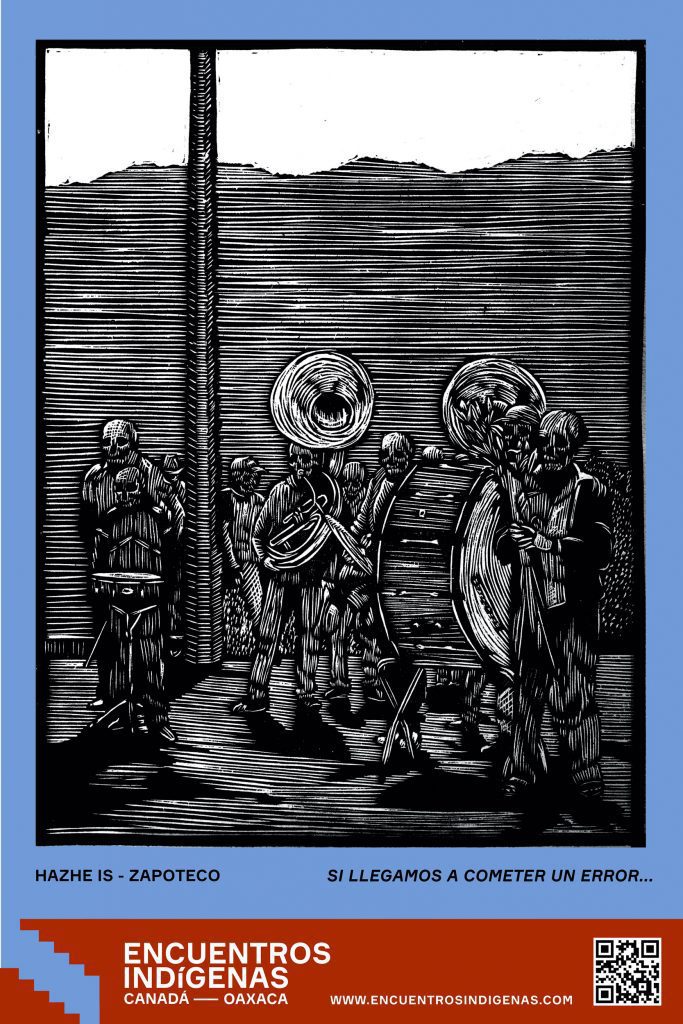 Music has been an essential part of every historical moment of the evolution of human life.
For the present time, music is only an ornament, an accompaniment, and a source of money, but in spite of that, people find in its moments of intimacy and connection with their thoughts and emotions, and fortunately, there are corners where music finds no place in the collective and subjective opposition and even resolves it.
In the Sierra Norte, it happens in a genuine way because wind music shares important moments for the life of each town and each person, sacred and profane moments, but always starting from the divine foundation, so much so that to be a musician one is born with a gift.
Jordan Stranger (Oji-Cree)
Mino-bimaadiziwin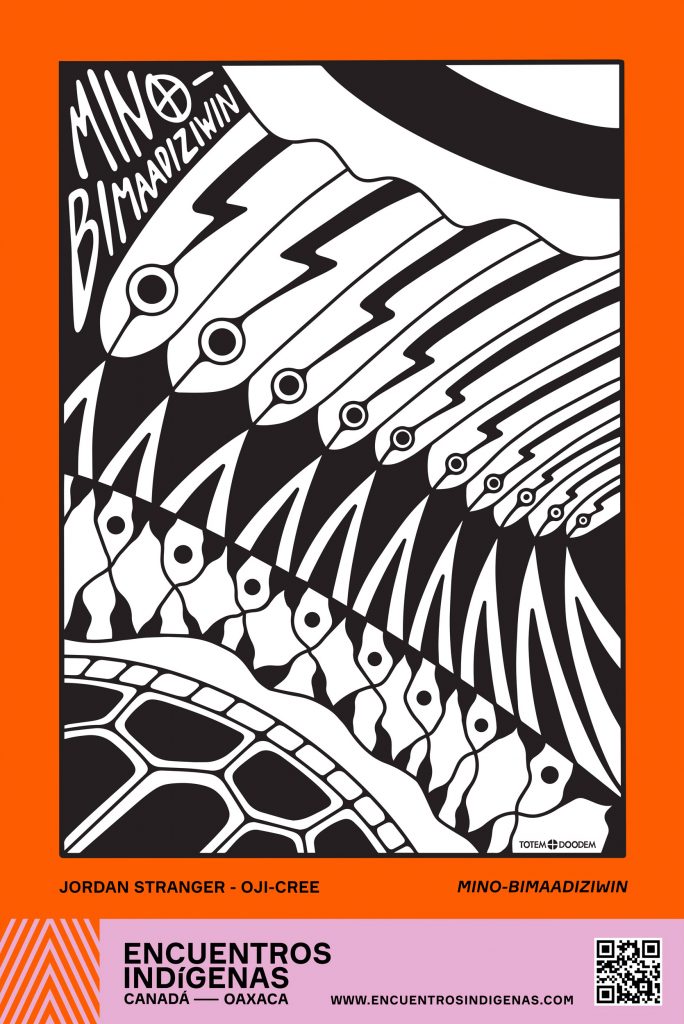 Mino-bimaadiziwin in the ojibwe phrase meaning "The good life".
To be mindful and respectful of all things of the Earth so that we can walk the earth (Turtle Island) in a good way. To heal and help. To grow and learn. We are born to be loved and to love.
Kailey Sheppard (Inuk)
Kudlik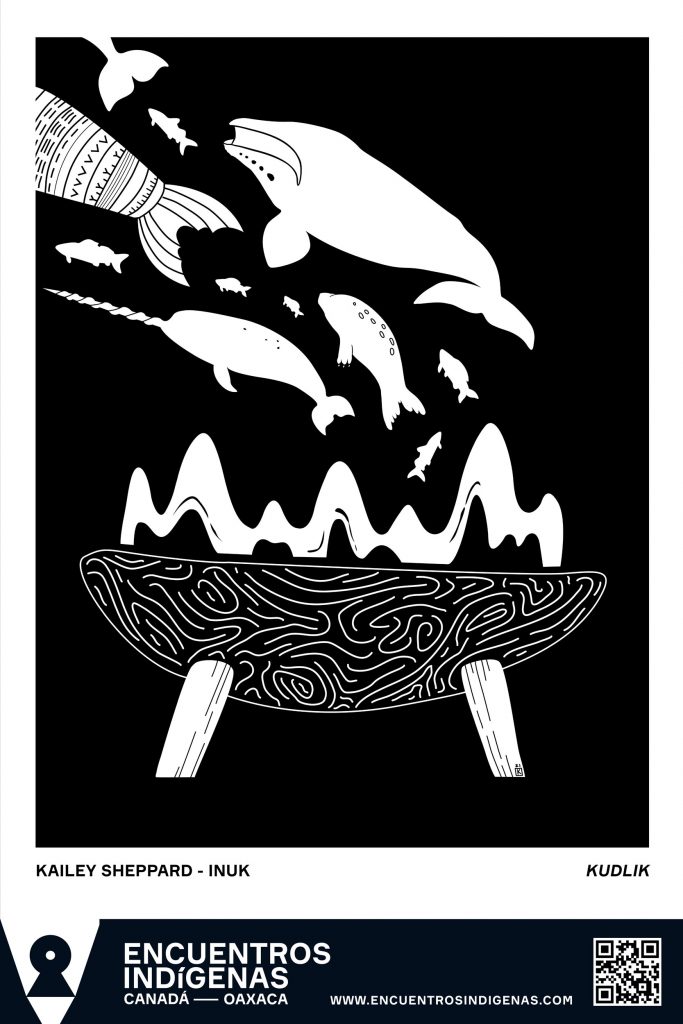 A kudlik or qulliq is a traditional Inuit oil lamp carved from stone and lit with seal or whale oil and Arctic cotton. This lamp is important because it provides warmth, light, and a form of cooking.
The way the kudlik's lights dance reflects the northern lights. From it flows marine life significant in Inuit culture, such as various fish, seals, a bowhead whale, and a narwhal, as well as the tail of the sea goddess Sedna.
Kaya Joan (Afro Kanien'kehá:Ka)
Celestials in council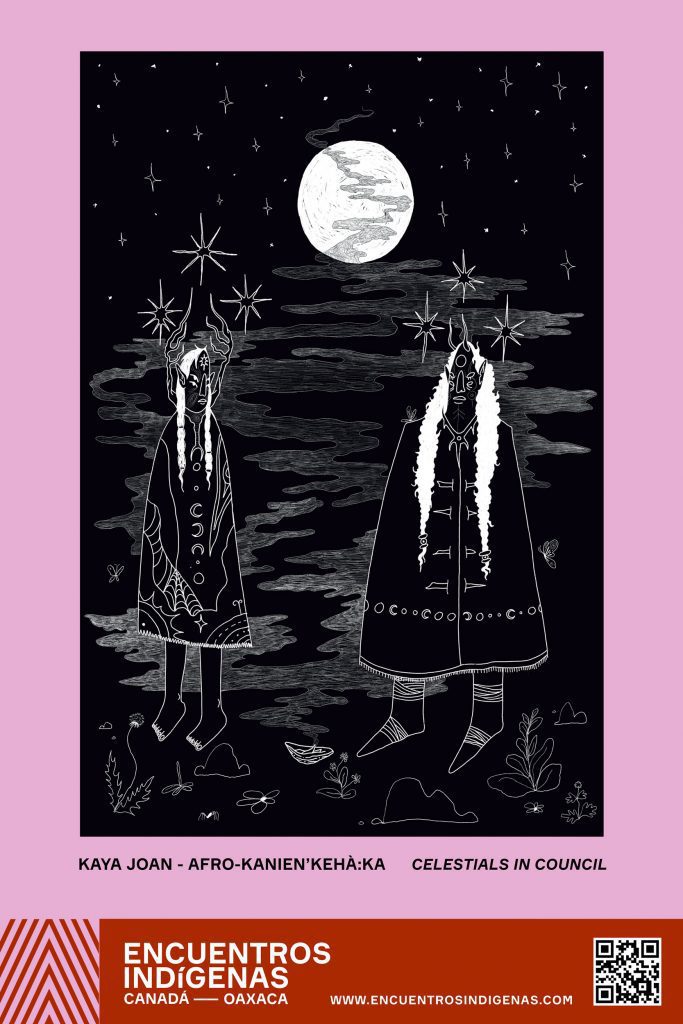 How do our most ancient ancestors in karonhià:ke (the place in the sky) reflect on what is unfolding here on earth?
As these ancient beings gaze gently at each other, held in each other's orbit for a few moments, to us it seems like months, years, even decades. Time is not linear for them but moves in all directions at once.
They offer their lessons and medicine in endless cycles, asking us to listen and maintain a deep relationship with gratitude in return. They formed our oldest teachers and pulled the oceans back and forth. I wonder what they are thinking of forming next.
Sr. Nía Jmá C (Mazateco)
Natsé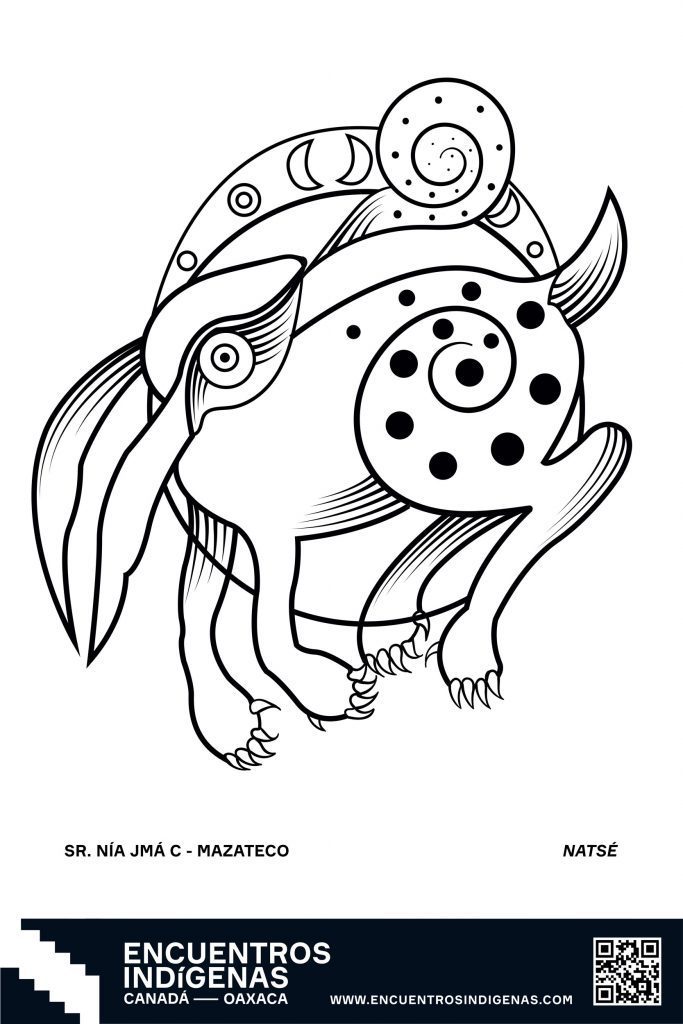 They say that once upon a time there was a rabbit named Natsé. A restless and very dreamy rabbit. Every night he would escape going to the Tomezona lagoon, where he would look at the stars and the moon, wishing one day to be part of the cosmos.
His friends and family would tease him about his greatest desire, to be part of the galaxy. "You're crazy" they all told him.
One October night, that rabbit went out as usual and went to the Tometzona lagoon where he hoped to find the guardian of the lagoon so that she, with her cosmic powers, would grant him his great desire.
So much was his faith that suddenly something illuminated him and with a soft and sweet voice said: "You will be the guardian of the moon. You will be illuminated by the moonlight and from there you will now be able to watch and care for your friends and family." With a final breath, the rabbit rose for his new journey to the moon.
Since then all the rabbits living near that lagoon, at every full moon in October, dance and whirl, and from the reflection of the water, Natsé looks at itself dancing happily illuminated inside the moon.
Sonny Assu (Ligwilda'xw)
Land Back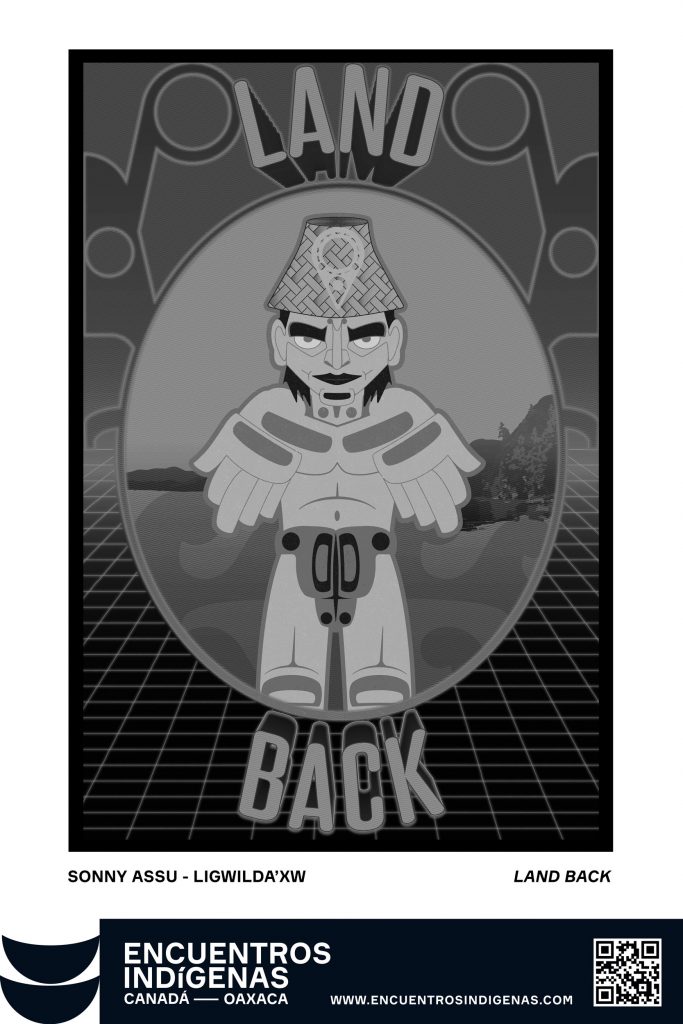 Land Back is a statement that came out of the Indigenous lead movements in Canada, in late 2019. It has become a mantra of Indigenous environmental stewardship, protection, and a call to action to rethink the soured and oppressive relationship that Canada has with the Indigenous people.
Victoria Gaspar (Zapoteca)
Mujeres Serranas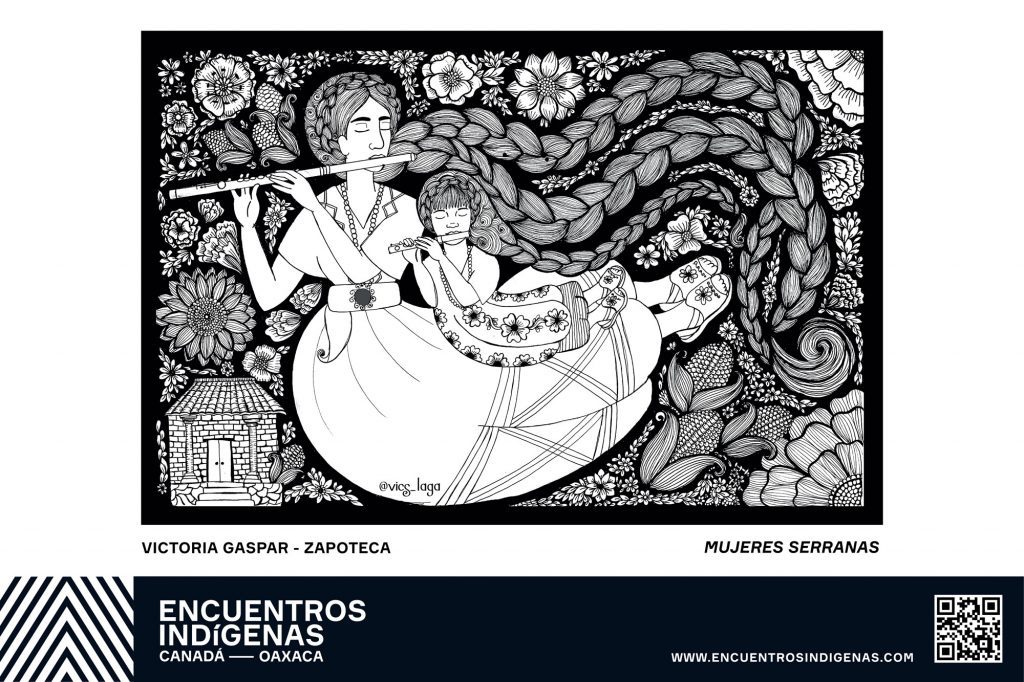 This illustration depicts two female musicians from the Sierra Norte of Oaxaca, from San Melchor Betaza and Villa Hidalgo Yalálag. Serrano music is identity, heritage, song, light, strength, joy, wisdom, memory, dance; it is history embroidered in huipil, in underskirt that will never cease to flourish in community.

Learn more about the artists.