Our team in Mexico is working on a major art integration for a real estate development project in Mexico City. FREL, one of the local leaders in the industry, called upon MASSIVart to integrate art into various spaces of their most recent project.
MASSIVart took care of the art direction and curation and is now in the production phase for two distinctive installations to be delivered in the spring. One of them is a large-scale art installation, for which we invited Canadian artist and designer Alexandre Berthiaume of Futil Inc. to create a 450sqm wall.
We wanted to give him the floor to explain all the ins and outs of this outstanding installation that we can't wait to experience in real life. An exciting discussion that we hope will make you as eager as we are!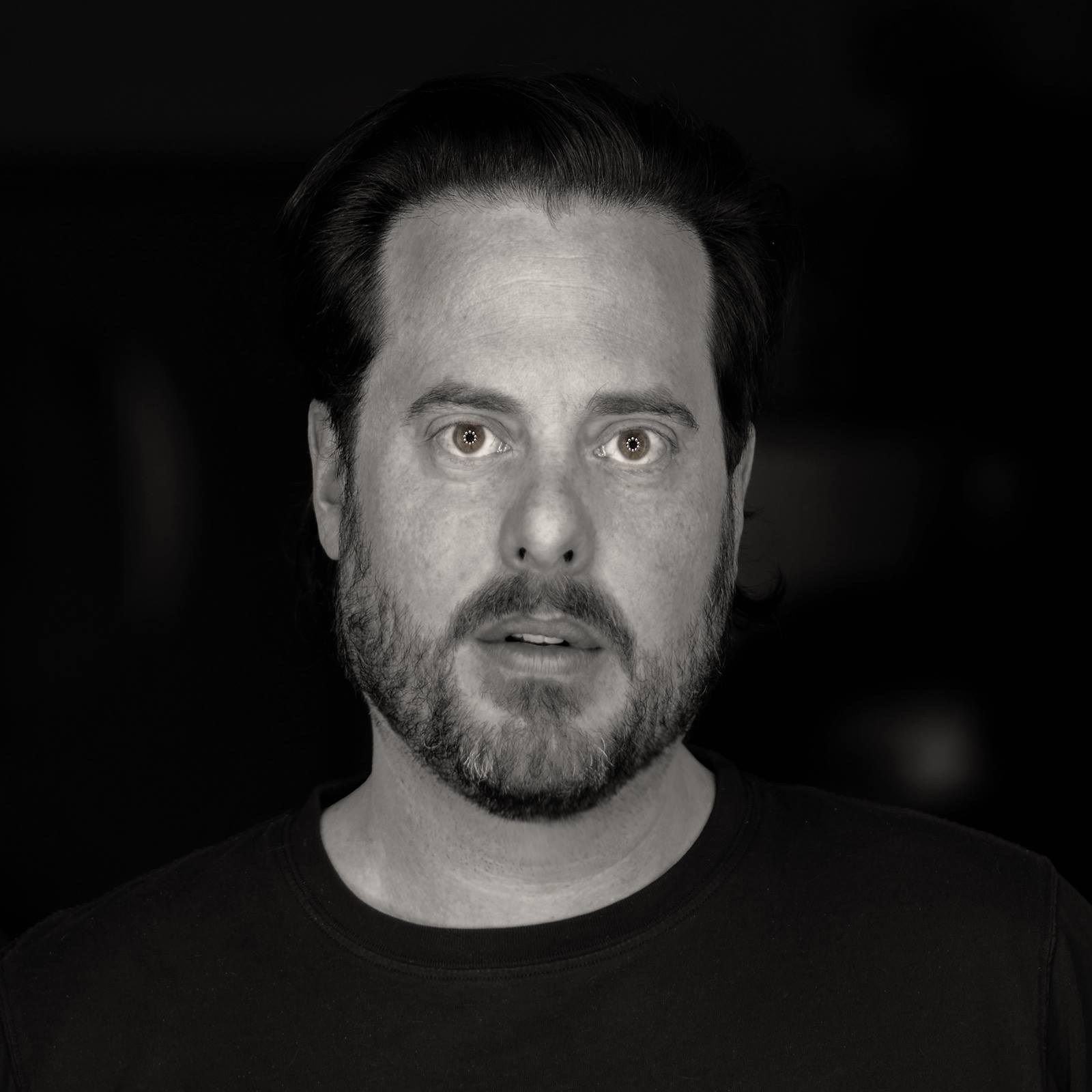 You work in a wide range of disciplines, going from industrial design to photography. For you, where is the line between art and design?
I've been blending disciplines for so long that it is almost natural to me. From my studies in architecture to building an industrial design office to developing in parallel a Live multimedia performance based on sound analysis through computer programming and all for a 10 year period. I stumbled upon photography organically and found it a great way to express myself. What combines all of these practices is my curiosity to learn and each discipline nourishes the other. I often choose artistic expressions that rely on some kind of technical challenge. To me, it is what excites and motivates me. When working on large-scale projects that have so many parameters to take into account, the emotion and message must never get lost in favour of the technical.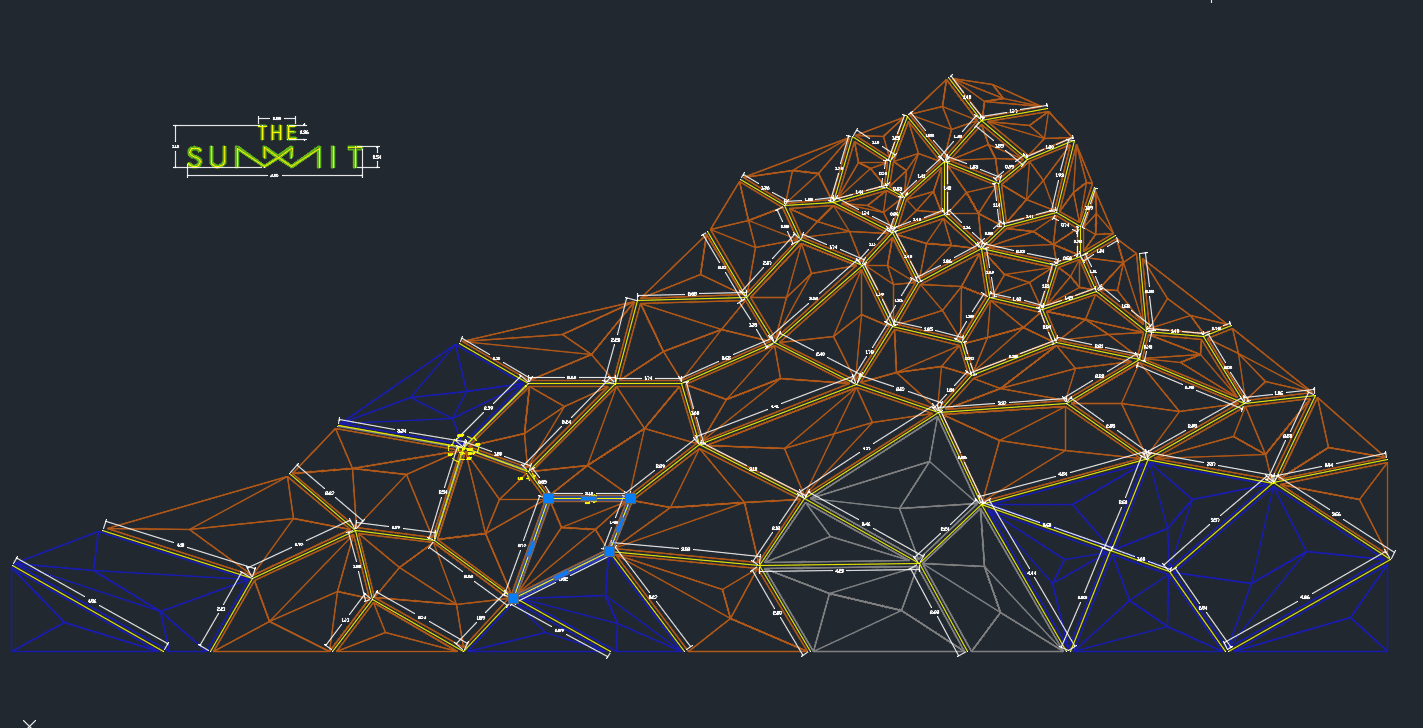 Can you tell us more about the artwork you created for The Summit? What is the concept behind it?
The artwork I created for the Summit is called Fragments. It is a geometric abstraction of a mountain. It blends complex shapes in the form of a 3-dimensional wall piece. I see it as a fragmented presence that imposes power, strength and stillness. It's meant to inspire and aspire for greatness. Its volumetry brings dynamism to the flat surface of the wall and imposes its place. I relied on the studies of Voronoi Tessellation, which is a type of geometric fragmentation found often in nature. This allows me to create a cell system that is then blown up in volume by triangular facets. The natural light of the sun and the complimentary artificial lighting complement each other to create a vibrant, dynamic presence. The mirror finish will amplify the luminous interactions, reflecting its environment in a fun and abstract way. People will be able to interact with the creation and see their own influence on the artwork. The artwork is composed of many dualities: heaviness vs lightness, man-made vs nature, mathematics vs organic randomness. I wanted to create a bridge between a futuristic vision and the enduring presence of a mountain.


How was your creative process for this particular project?
The process needed to be quick so I relied on past experiments. I developed a process that I use mainly on all my projects. It's a 3 phase process. Firstly, I analyze all the parameters in depth. The site, its surrounding area, the audience, the client needs and the core feeling that the artwork will have to evoke. I then lay out all the possible techniques and building materials that could be used and focus on one. This step is crucial and saves a lot of time. Creating something that will not be feasible is not productive. It is also at this step that the technical part will give me a language to express my message. Then for the last part and this is when the magic happens – I stop and let everything marinate in my head. It's always in the back of my mind for days. Solitude is necessary at this step and I also meditate. A solution that will bring everything together eventually emerges. I rely on my past experiences and reflections to come up with the right solution. Unbuilt projects are as important as the built ones because of the time spent reflecting on ideas. Fragments is a good example because it finalized a concept I initially came up with for another project. I spent quite a bit of time understanding how to generate Voronoi tessellation, but also how to interpret it in a 3 dimensional way. Turns out this project was the best fit to go deeper in these studies.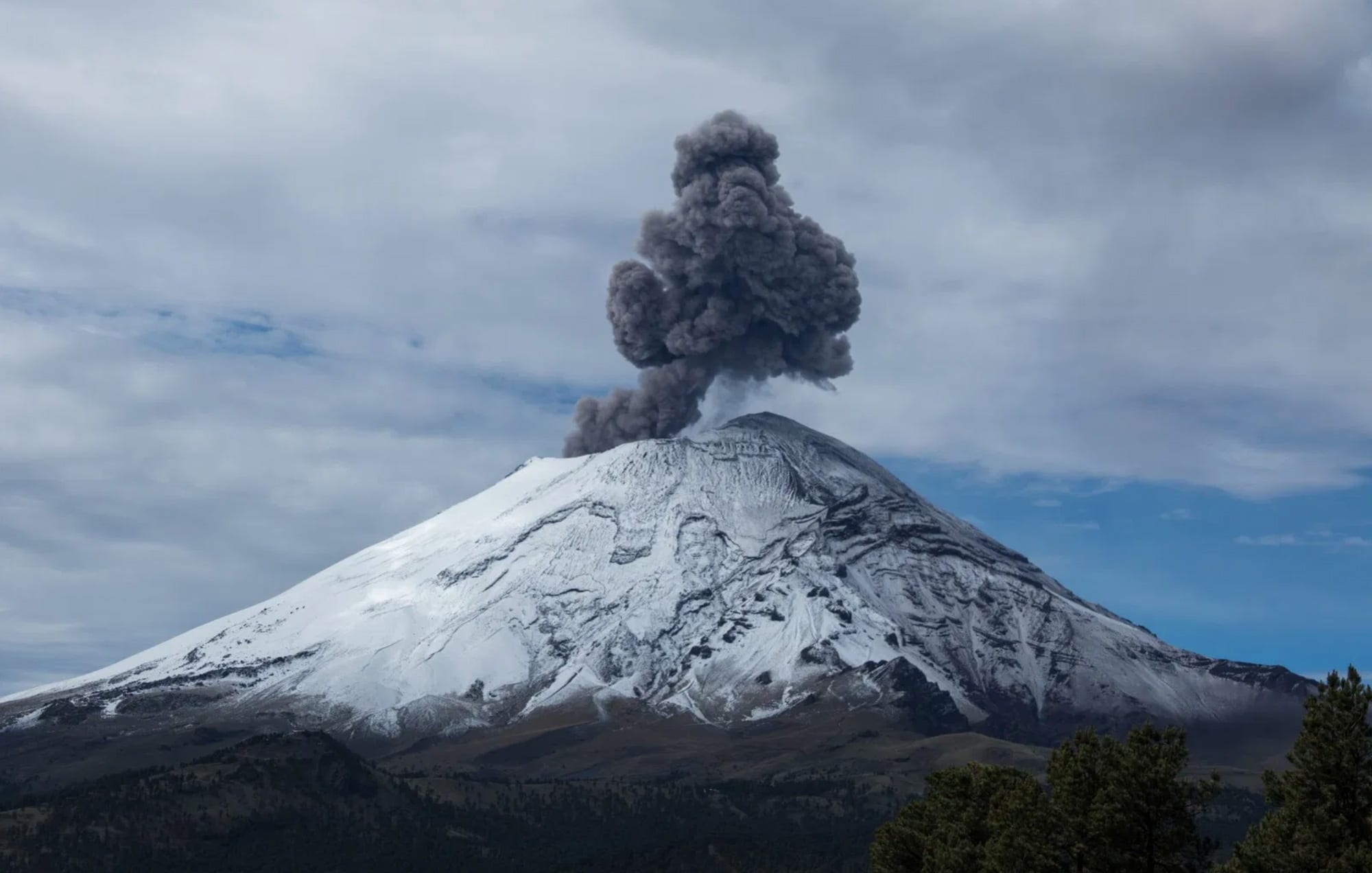 What is the link you find between the artwork, The Summit, and Mexico City?
There is quite a bit actually. I didn't mention it before but there is a resemblance of the artwork to the North face of Popocatepetl volcano close to Mexico City. When I was focused on interpreting a mountain, I started researching the geography of the region. I wanted to get a feeling of the landscape at large. I stumbled upon this volcano in my search and was touched by the mythology of it. In Aztec mythology, Popocatepetl was a warrior in love with a princess named Ixtaccíhuatl. Ixtaccíhuatl's father sent Popocatepetl to kill an enemy of their tribe, promising him his daughter's hand if he returned victorious, but knowing the impossible feat. Completing his task successfully, Popocatepetl died of grief upon learning that Ixtaccíhuatl had also died of grief upon hearing the false news of his death. Having pity on their fate, the gods covered their bodies with snow and changed them into mountains. The other link is a bit closer and it is actually the district of Santa Fe. I was charmed by the futuristic vision in this area. The embrace of a modern vision where skyscrapers are intertwined with superb contemporary parks. I knew that the blend of nature meets the technology of the artwork would be a perfect fit.

This is a huge mural, what type of challenges did you face for the creation of the piece?
The scale of it isn't a challenge by itself but it surely affects the choice of fabrication techniques and materials. Pre-constructed parts have to be planned ahead to minimize the work time onsite. This is the main reason that I broke the piece into cells that would mean each element had a more manageable size. It also allows flexibility and a margin of error, installation-wise. One thing that I do with all my creations is visualizing them at different distances. You have to think of the experience from far away and at this scale, it is really far away and the experience you get close by. So from the street, you can get the whole picture and the global composition. When you walk towards it you're beginning to get the sense of the scale of it. It's getting impressive. Once you get close to it, you get all of its 3 dimensionalities, its intricacy. Lastly, on the mezzanine, you get the overview of it all – the birds-eye view that showcases the reflectiveness of the environment enhanced by all the people passing by.
How important was the selection of materials?
Crucial! There aren't that many choices of material with a mirrored finish. And when you account for a reasonable budget and a low maintenance solution, only recent developments in composite material could do the job. We then needed to find a manufacturer that not only could work with the material but wasn't afraid of this complex challenge. The material also had to be relatively light because the structure doesn't touch the ground. We had to build upon one of the major structural components of the building. It's a massive thing but we needed to keep its integrity.
What emotions do you hope to convey with this piece?
I basically want people to feel like a kid again. I wanted to feel some sort of power and strength. One way by the pure magnitude of the piece and the other by the mystery of its fabrication. I see it like a clam and gentle giant. It is still but you can feel the passage of time in its reflectiveness. A mountain has significance for everyone. A challenge for the brave. A peaceful place for the nature lover. A majestic place for the painter. And even a scary place for others. A mountain is a stable and time resilient thing and a perfect analogy for a skyscraper.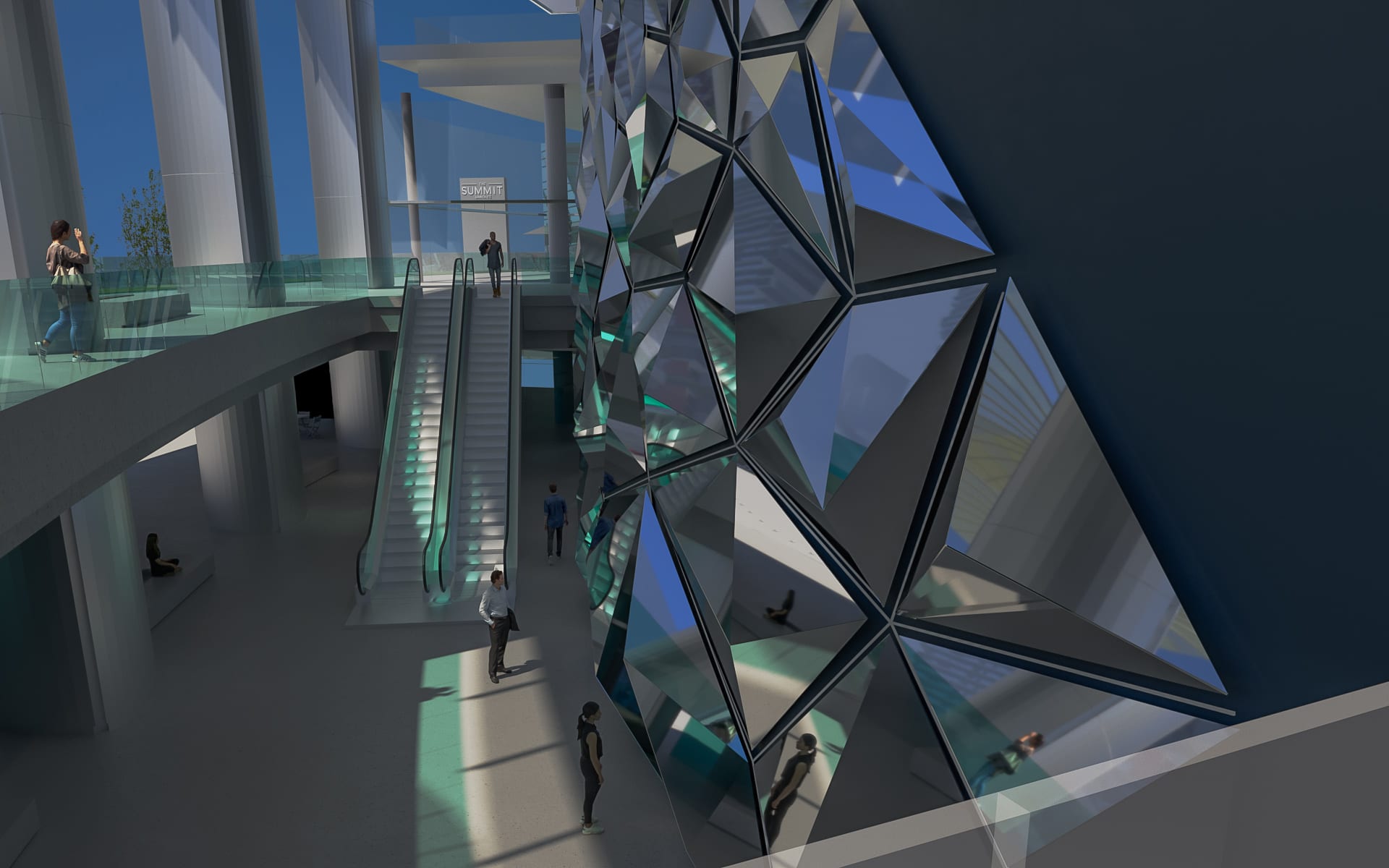 What does this artwork represent to you?
To me, the artwork is probably the best representation of what are my strengths at this stage of my career. Basically the amalgamation of 20 years of research and efforts. I spent countless hours learning how to work with the latest 3D tools to be able not only to create such things but also to communicate them to builders. My studies as an architect have allowed me to understand the context and physicality of the building. My work as an industrial designer led me to understand different materials and learn welding skills to better communicate with a builder. My work as a multimedia artist helps me to understand the time factor of an art piece and to make it evolving with its lighting. Lastly, it is to understand a client and their needs. It's important for an artist to express themself but on projects like these, one should always take into account the original purpose. And sometimes it leads you into interesting new avenues and makes you grow.