On this International Museum Day, we wanted to give the word to Jessica, MASSIVart's Production Director and Partner, who is our invaluable expert in all museum-related matters. Holder of a Master's degree in Heritage and Museums, another in Culture and Development and a degree in Art History and Archaeology, Jess has some interesting thoughts to share with you about the special situation that museums are currently experiencing.
–

The Future of Accessible and Inclusive Museums During & Post COVID-19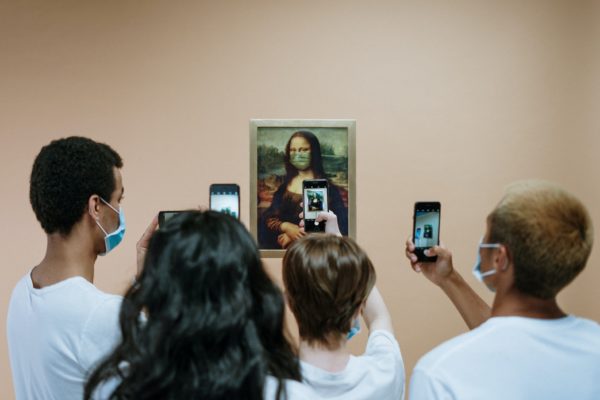 Museums, crucial for cultural democracy, are the Iceberg tip of a complex cultural and economic system. They play a key role in local economic development and are surrounded by a wide range of actors, artists, audiences, self-employed and freelance workers and creative companies.
At the heart of their social, educational and cultural missions, and in order to face the challenges of inclusion and diversity, museums have already set up numerous initiatives: community projects, travelling exhibitions, educational activities for all ages, visits adapted to people with disabilities, etc. However, despite the ambition to reach out to everyone, there is still a long way to go to have an offer that can speak to all the communities concerned. Museums must be flexible in the face of a constantly changing society. Who is our museum offer aimed at? Who decides what is of interest and how to present it? On what criteria are these decisions made? These are all questions raised by the theme of accessibility and inclusion.
These questions are all the more relevant in the context of an unprecedented global epidemic, which has seen all museums close their doors. In this period of containment, the digital offer has now become the only one available to museums, which have taken advantage of the tools they had to continue to make their services accessible to visitors. In just a few clicks, the public can access mobile applications, websites, social networks and virtual exhibitions.
In fact, there has been a remarkable increase of nearly 200% in the number of visits to museum websites since the beginning of the epidemic, which have successfully guaranteed the continuity of their museum offer.
Once this observation has been made, post COVID 19, museums will surely have to be even more creative, as the digital offer alone is not enough and visitors need different ways of experiencing and being in contact with arts and culture. If in recent years the visitor experience has been centred on participation, interaction or multi-sensory solicitation, it is easy to imagine that for some time audiences may be reluctant or afraid to move around the museum: touch screens, crowds, virtual reality headsets, audio headsets, enclosed spaces.
We are therefore entitled to believe that we will have to rethink the services offered by museums and the museographic means of sharing knowledge and heritage: a different way of plunging visitors into the heart of an experience, of engaging them, while adapting to new behavioural norms.
Even if we have to reflect on new strategies to be implemented and creative means to be put in place, it seems relevant to me to include in this discussion all the communities and actors concerned. A new generation of museums, combining cultural innovation, local economic development and social inclusion, may perhaps be born from a work of co-construction and listening, which will continue to support, as they already do, an indispensable ecosystem.
–
About Jessica Drevet
Jessica oversees the production department at MASSIVart with more than 40 large-scale productions every year. With over 7 years of experience in management and event production this rigorous and skilled producer leads projects with passion and integrity. Project managers, creatives and artists always rely on her technical and logistic abilities as well as her sensibility. In the last decade she's been in charge of high quality and landmark projects in China, Mexico, Europe the U.S. and of course Canada. Her expertise combined with her background in museology allows her to supervise, plan and succeed in various events and environments in the public (museums and cultural institutions) as well as the private sectors.