Recently, Be Grand® – one of the leading Real Estate Developers in Mexico – entrusted MASSIVart to reimagine the showroom of a major development project in the heart of Mexico City.
Be Grand's showrooms already set them apart from other real estate developers so we took this unique brand property to another level, reflecting their exclusive brand positioning & elevated lifestyle through art installations.
For this project, we had the chance to collaborate with artist Ignacio Aldana 'Soltero' to bring to life CLARO/OSCURO – a giant monochromatic mural. As well as being a stunning daytime art-piece, by night the mural transforms into a glowing, neon-infused spectacle creating a stunning landmark out of the wall within Colonia Del Valle.
On this occasion, we wanted to give Ignacio the floor so that he could tell us more about his artistic approach and the place that public art has in it.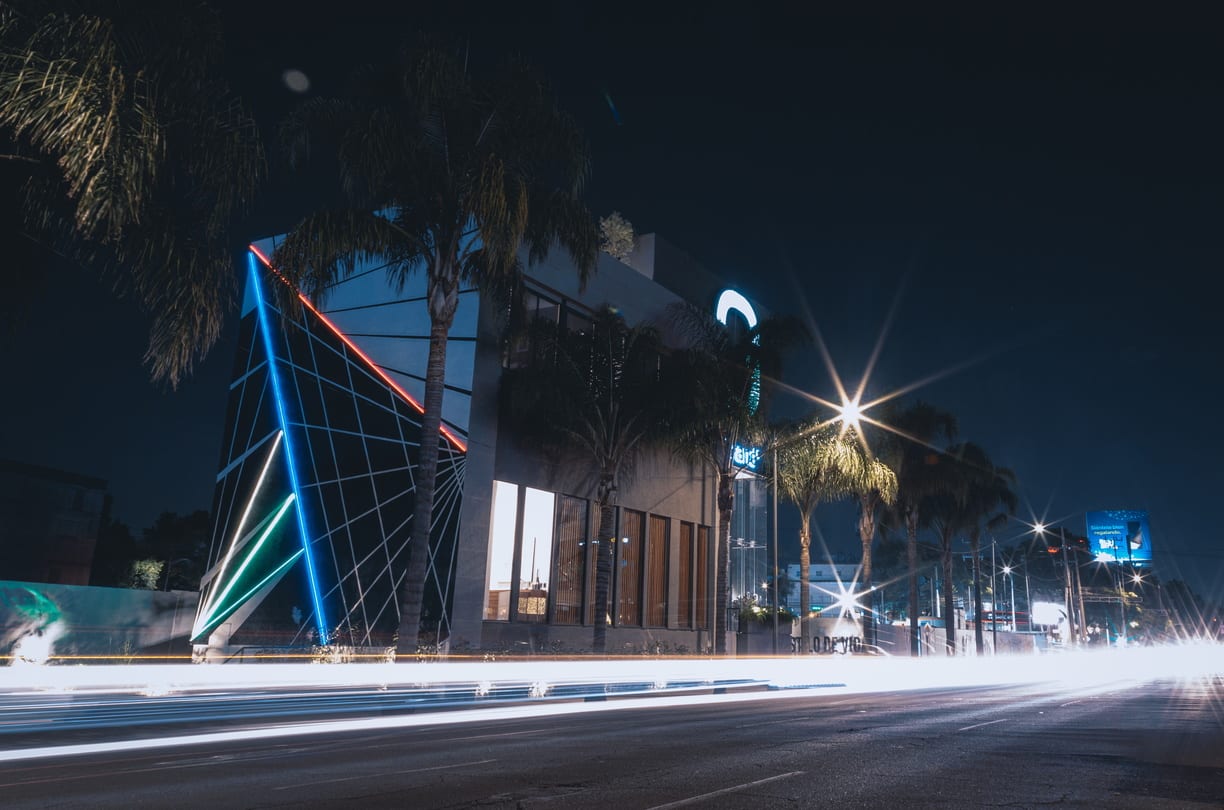 Can you tell us how you entered the art world? How did you decide to be an artist?
The major reason was the influence of my mother, who is a surrealist artist and she also plays the piano. She opened up the door to the art world for us. One key aspect of my work is something my mother used to tell us: "If we are starting something, we will finish it the best way we can". I follow that everytime, in each canvas and each mural I have made.
You have very different styles when working on canvas and walls. Why is that? Is there an intersection point between the two styles?
At the beginning, you care about having your own language and artists might become lost in the search for originality. Only practice and time can give you your voice, they show you where to go. In my case, I started with geometric murals just because of how friendly they are, they can fit in every space, they can transform every space. You then add colour and with more experience, one can start transmitting what the space is telling – in my case, with patterns, geometric shapes or colour palettes. The abstract language of my work on canvas came years after, when I felt capable to develop my own style. My objective was for people to understand the piece without reading the title or seeing the signature. I hope both styles will confirm my own personal brand.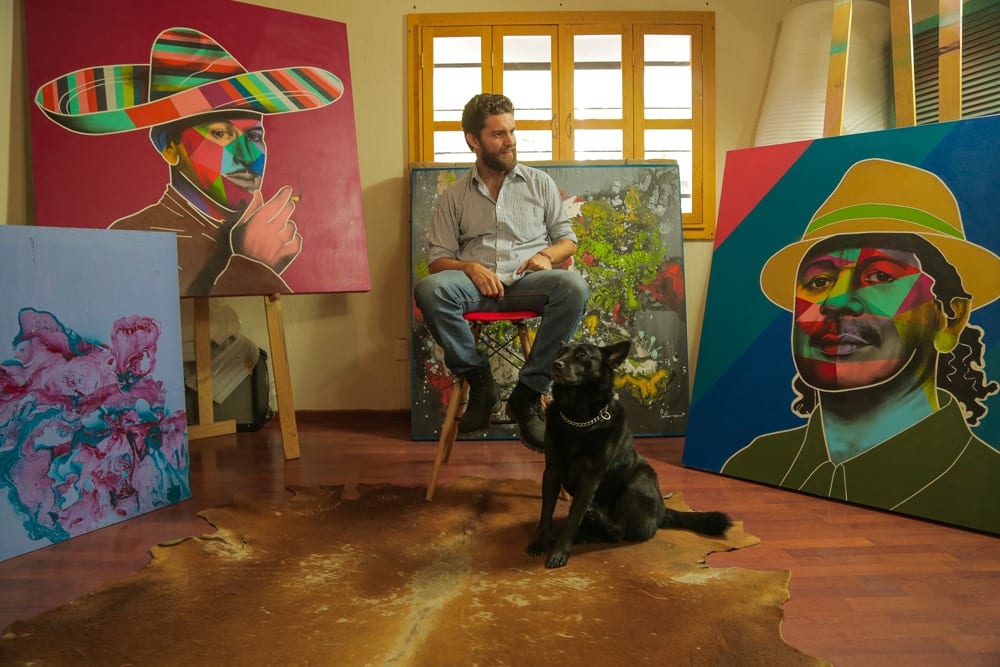 Focusing on your work on walls, how would you describe your creative process?
My creative process starts by studying the space. I like to know what is happening, or what will happen, in the space where the mural will be, and also to know what the surroundings are. I like to provoke change, so it is not just about painting a mural. With this in mind, if there is already an art direction, I start sketching my idea for the space. I like to create 3 different sketches, two following what the client wants and one proposing my own idea. I feel that when you have a pre-established idea, sometimes your creativity gets blocked and making this third sketch helps me to activate the full power of my creativity. In many cases some details that came up stay in the final mural.
After the final sketch is selected, I always create a skeleton of how I will paint. You don't always start from the top, it depends on the design and what is very interesting to me. Once we are ready to paint, I always go with blocks of colour, so the mural will never feel incomplete.
How did you start working on public spaces?
Illegally! I mean, at the beginning when nobody hires you or gives you a space to paint, you find your own spaces. I went to the outskirts of the city and this is where I practiced my lines, my shades, and later, thanks to social media, several businesses started contacting me to create small murals. I got very interested in trying to revive forgotten spaces or places where people spend a lot of time. That was when I started working with the DIF (Office for the Integral Development of Families) in Guadalajara, and the Black Coffee Gallery Foundation. Then the DIF Zapopan, Jalisco, and everything else grew when we realized that people wanted colour in their office spaces. We painted buildings in vibrant colours and the change in the people's state of mind was very noticeable. It is not just about the colour, it is about Mexican folklore and the idea is to transmit it worldwide.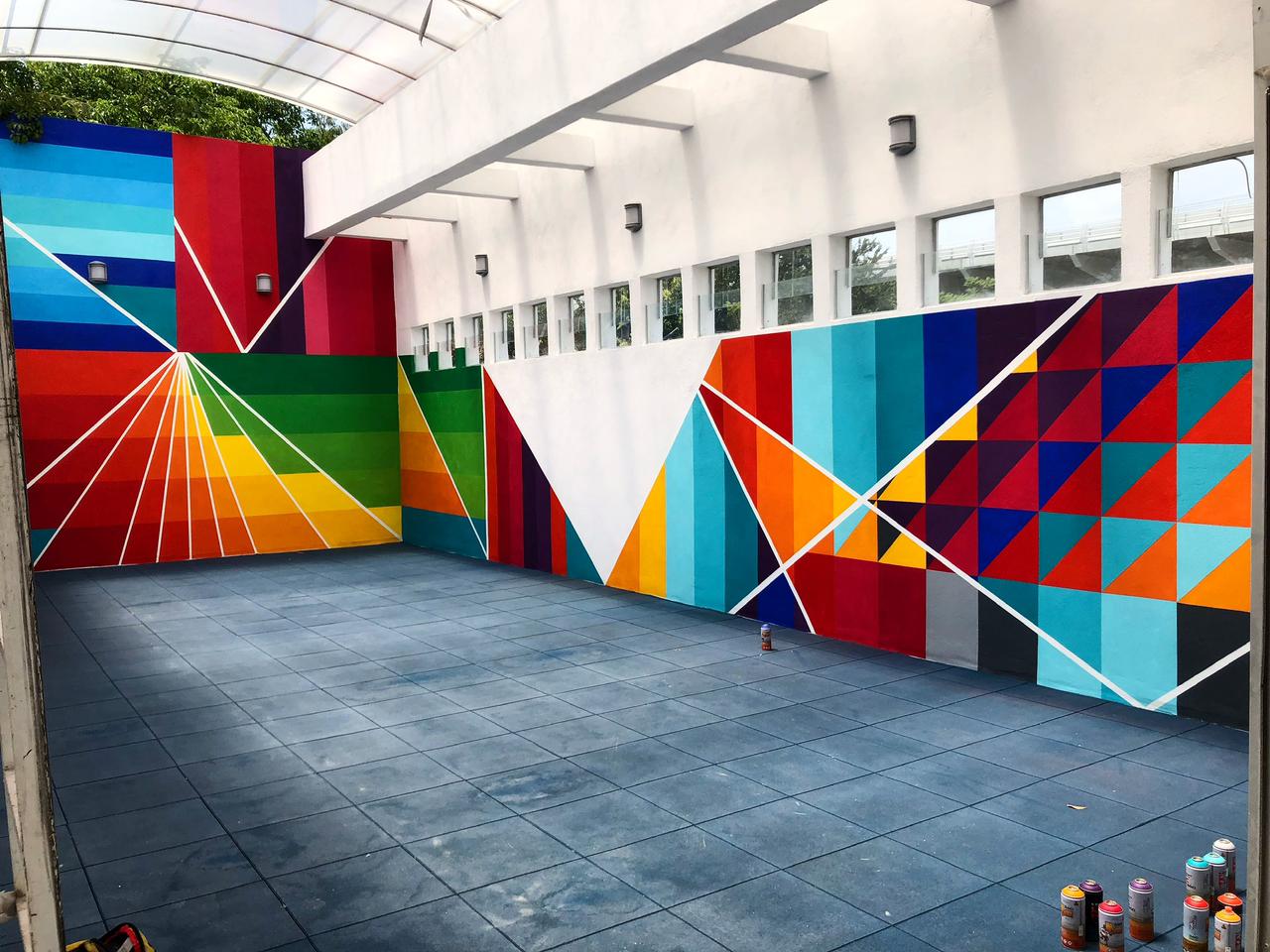 What is the biggest challenge when painting in public spaces?
For everybody to be satisfied. Sometimes the artist knows the mural could have been better, us artists are like that. Sometimes the public does not like it. Sometimes the colours did not turn out as expected. The beautiful thing is that all these things have a solution. But there is nothing like finishing a wall and seeing everybody's faces when everything turns out perfect.
In the particular case of the mural you painted for Be Grand in Mexico City, what message did you were interested in conveying?
To me, Be Grand is proposing the same thing I am trying to do with my work: to be ahead of the times with elegance and minimalism. The brand also talks about transforming and evolving, and I feel that the work I have conveyed those details. The idea was to offer a mural for the daytime that can be also enjoyed during the night. The neon lights transform the mural and provide the perfect spot to get a good photo or selfie. That is something I have always wanted to offer.
What impact do you wish your work has on the community?
The impact started with us painting there, because in those days we saw how everything was already changing. The neighbourhood is going through a great transformation right now, so the impact will be positive and I hope it can be an example of how art can provide a deeper value beyond the visual aspect.