How new media artists are using technologies like machine learning and artificial intelligence to create mesmerizing pieces of art.
We believe that something amazing lies in the intersection of art and technology – To celebrate the international day of creativity and innovation, we wanted to delve into the world of some of our favourite contemporary artists and creative studios who work with technology, data and artificial intelligence, achieving incredible, ever-changing pieces of art with hundreds of possible outcomes.
"Artistic expression has reached new potentials as technology grows in capability. Art advances the experiences of technology, while technology advances the possibilities of art." – Ari Melenciano, designer, creative technologist and researcher.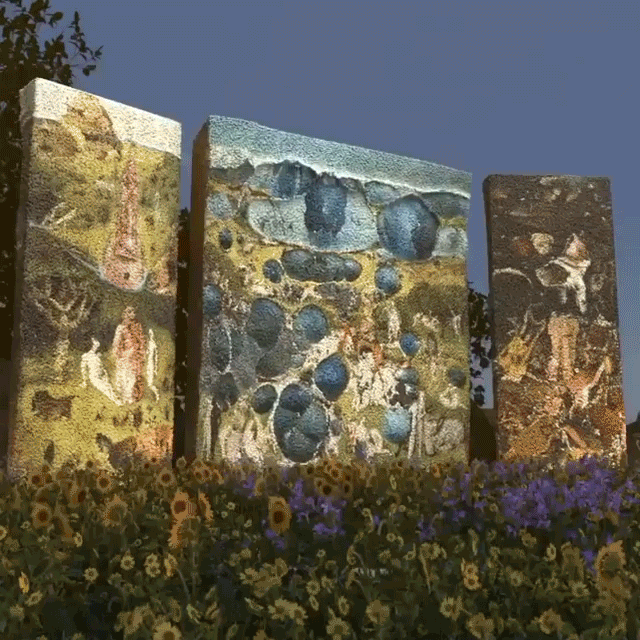 For several years now, we have been hearing terms like data, artificial intelligence and machine learning everywhere. We hear things like the correct use of data can help a company change radically, or that artificial intelligence will be the solution to global problems. We know, broadly speaking, the importance that these terms have in our technological present, and how data can be found everywhere, from hospitals to museums. However, we wanted to understand a little more deeply why, for some artists, the use of these technologies has been essential for their creations and how is it that by conceptually handling data and algorithms, a different and innovative art form has been created?
If we were to imagine what data looks like, we would possibly think on a list of numbers or complicated algorithms. Some might also think of complex spreadsheets and graphs. And mostly, we would be correct. Data can be visualized in many ways. Sometimes the information will be scattered and difficult to understand. At other times, the information will be highly organized -and- probably difficult to understand as well. But suddenly, magic happens, and there are occasions where we can visualize data differently and creatively. A way in which data becomes an extremely attractive, changing, and a totally new form of artistic expression for the human eye.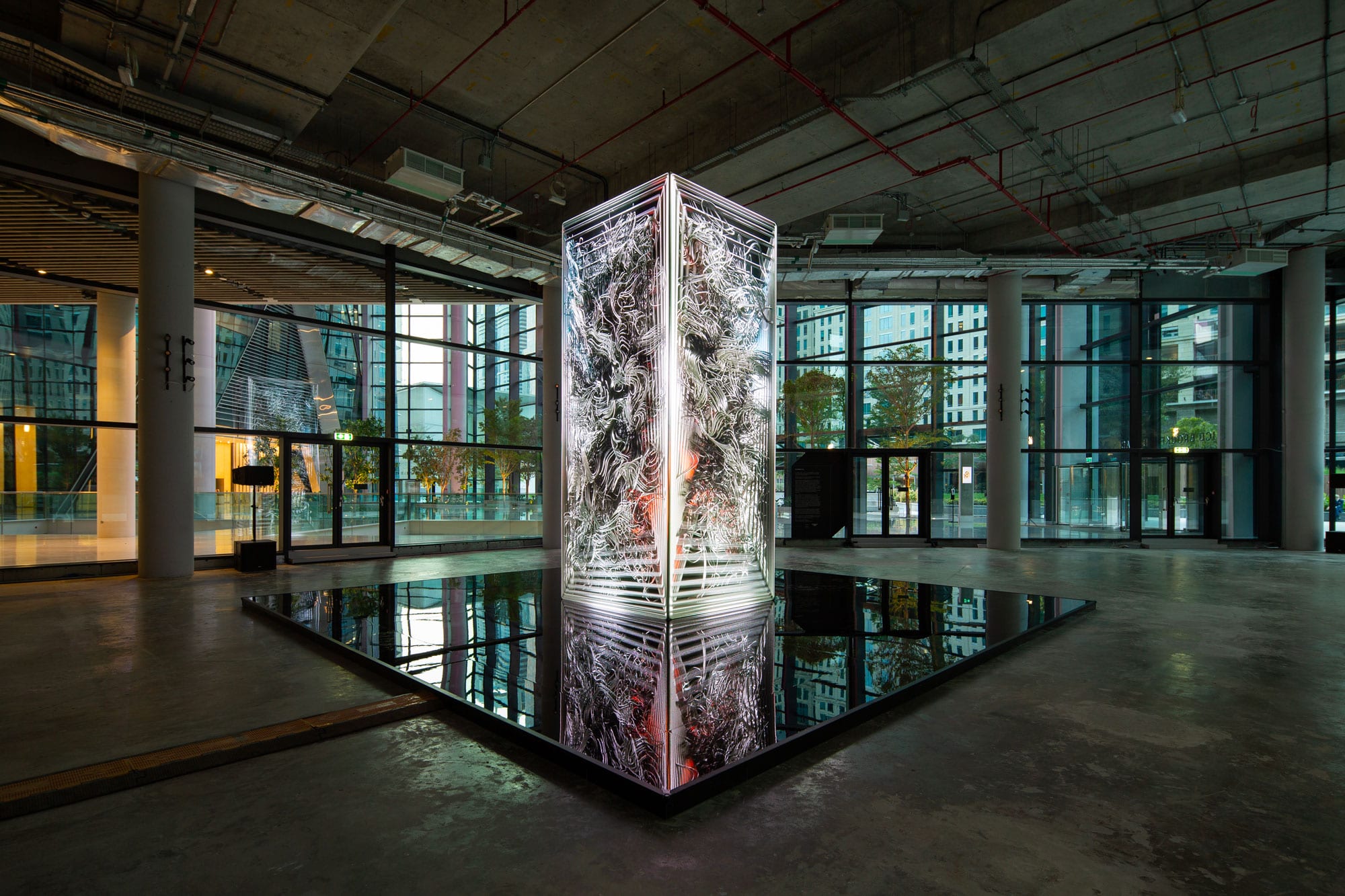 At MASSIVart, we love meeting and collaborating with artists who work with new media and who explore innovative forms of expression through complex technologies. Our most recent project is a great example of this: DATAMONOLITH_AI by Ouchhh Studio at the ICD Brookfield Place in Dubai. A cinematic experience that highlights the power of AI and the ancient origins that we all share.
The world changes constantly, and so does art. By merging technology with creativity, these artists invite us to question and explore the relationship between the real and the unreal, between the accurate and the inaccurate, and finally, the creation of a whole new art expression that is never the same and that has the ability to create all sort of emotions in our beautiful, imperfect human brains.
Cover photo: Sarah Meyohas – "Speculations"
GIF: Jesse Woolston – The Garden of Earthly Delights, a triptych masterpiece that reveals the immense creativity and imagination of Hieronymus Bosch.
Photo: DATAMONOLITH_AI by Ouchhh Studio curated and produced by MASSIVart for ICD Brookfield Place in Dubai
---
These are the artists working with technology who inspire us the most:
Refik Anadol
(Turkey)
Using machine intelligence, Refik Anadol keeps amazing us by creating surreal visualizations of information that turn into data sculptures. Through a machine learning algorithm that generates visual associations as it learns, he creates mesmerizing, immersive installations that remind us of a dream.
📹 Refik Anadol – Machine Hallucination. 30-minute experimental cinema, presented in 16K resolution, that visualizes the story of New York through the city's collective memories that constitute its deeply-hidden consciousness.

Sarah Meyohas
(France/US)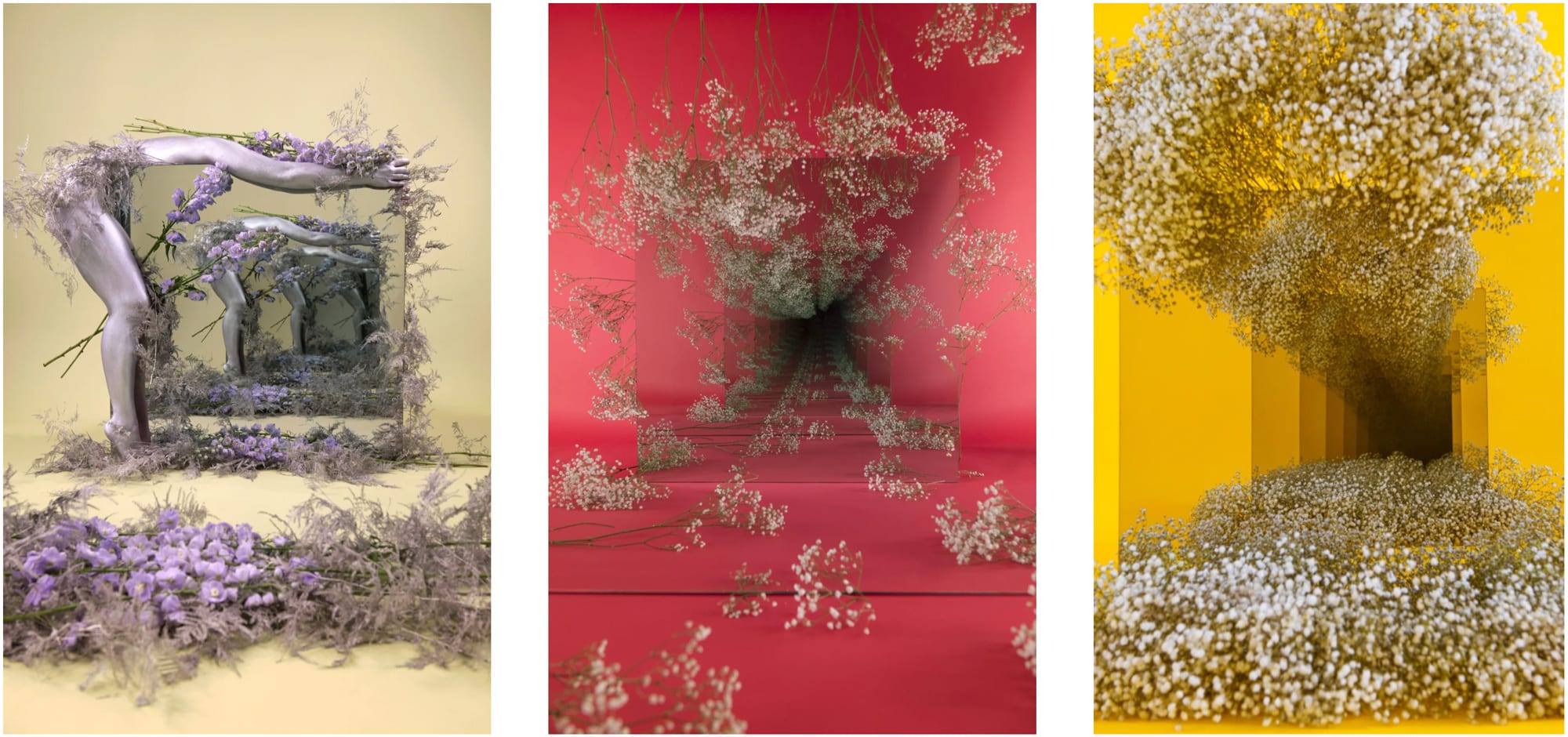 Sarah merges traditional objects and elements from nature with beauty and contemplation through contemporary digital mediums. She creates a whole new visual language and expression of systems, algorithms, and technologies that influence our daily lives by converting them into beautiful, metaphorical pieces.
📷 Sarah Meyohas – "Speculations". This series was initially conceived for BitchCoin, a cryptocurrency as an artwork that playfully constructed value. The coin needed to be backed by a photograph, and this photograph needed to create value visually, deliberately, and perhaps with an illusory expansion of space to reference "mining" and the idea of gold.
Rafael Lozano Hemmer
(Mexico)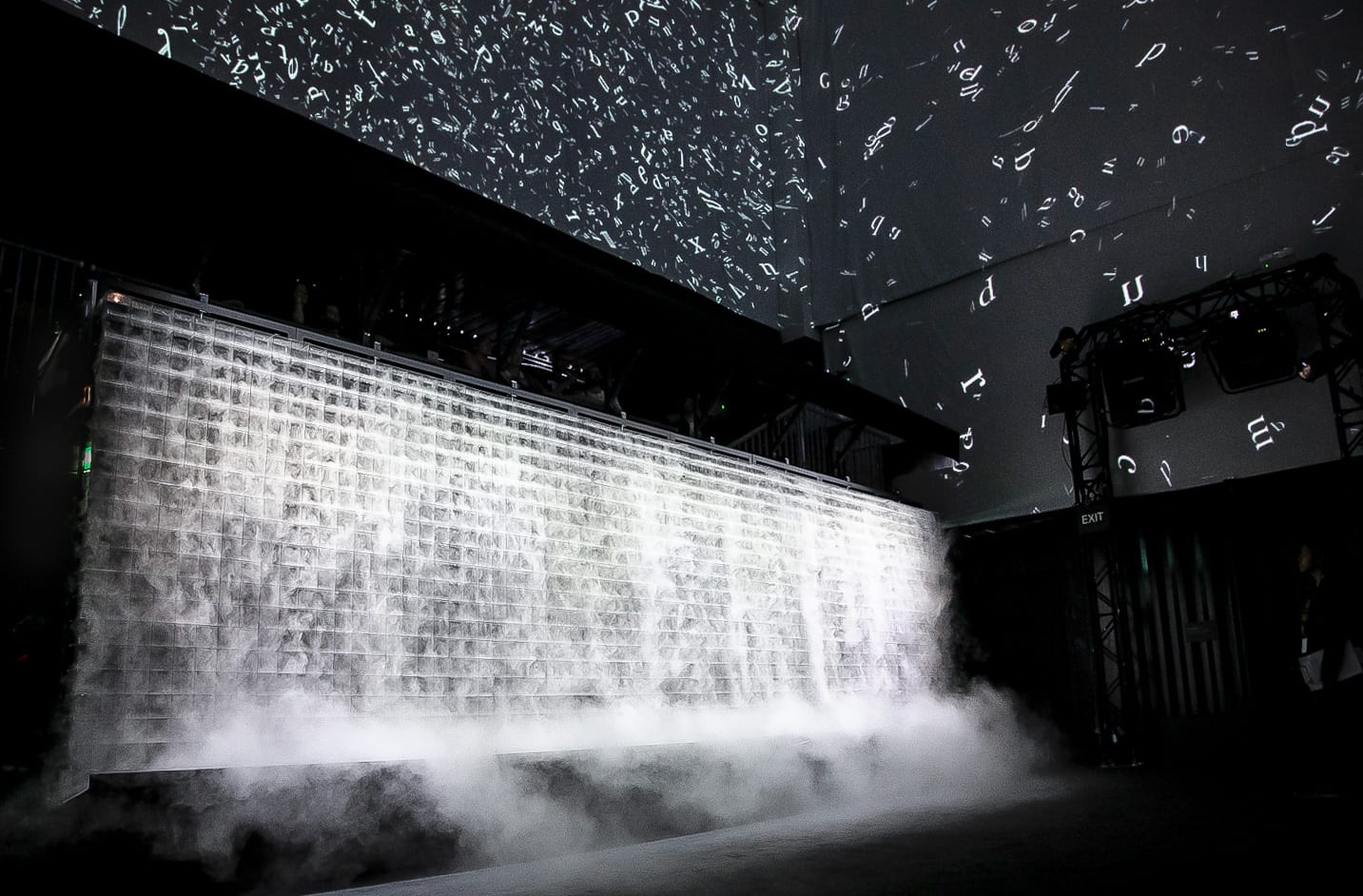 Working at the intersection of architecture and performance art, Rafael creates participative art pieces where he uses diverse technologies such as robotic lights, digital fountains, media walls, sensors, sounds, and projections. In his works, he mixes different realities and perspectives where he invites the public to interact, question and reflect on technology.
📷 Rafael Lozano Hemmer – "Cloud Display", a vertical water fountain consisting of 1,600 ultrasonic atomizers, controlled by a machine-learning voice recognition system.
Variable Studio
(UK)
A digital studio based in London that works with brands and organizations by helping them to experience data and information in a whole new way. By using algorithms and millions of data points, they are able to transform it into beautiful artworks that showcase the trends found in the data sources.
📹 Variable Studio – Fibers. Visualization of Nike FuelBand data from the trainings preceding We Own The Night – Nike Women's 10K run.

David Young
(US)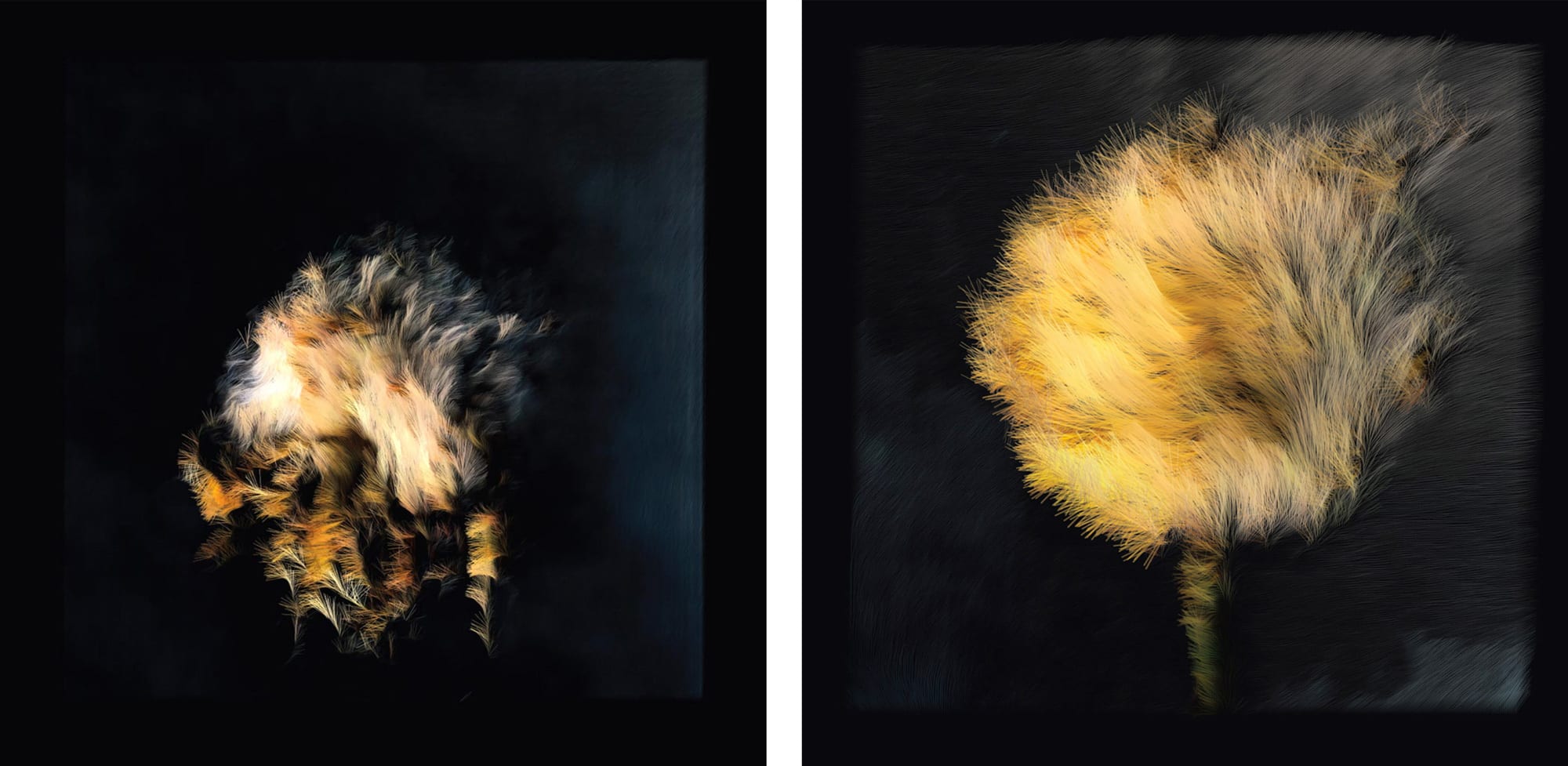 By working with Artificial Intelligence and using data sets like photos taken in nature by himself, this artist explores how aesthetic experiences can reshape the way we think about technologies like Artificial Intelligence. He creates unpredictable, non-perfect expressions of nature, creating a unique vision of our real world. Beautiful and perfect, in its way.
📷 David Young – Dandelions, AI / Machine Learning generated images.

Juan Pablo de la Vega
(Mexico)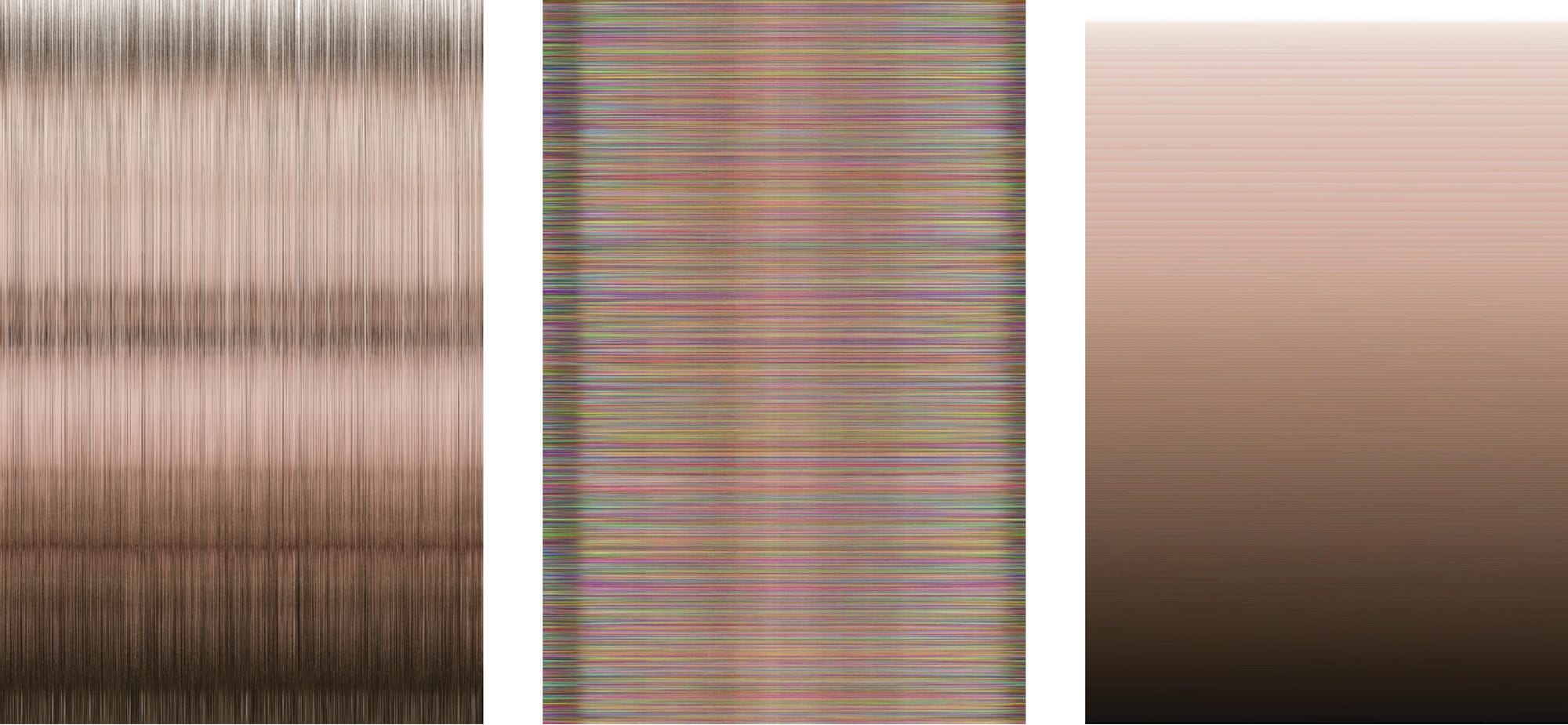 Artist, mathematician, and photographer. Juan Pablo's main research areas are knowledge creation and transfer via artificial intelligence techniques, particularly deep learning algorithms, computer vision and image ontology, and the struggle between technology adoption and the surrender of privacy. We are currently working with Juan Pablo to deliver a data artwork that combines cutting-edge technology and artificial intelligence with the traditional craft of Mexican weaving.
📷 Juan Pablo de la Vega – plaoSr-sefttri [Self-portraits] When we present ourselves online we are both randomised and sorted by automatic algorithms in order to maintain an online order of things. In this project Juan Pablo both randomized and ordered a self-portrait to visualize an abstract version of himself, emulating the abstract and carefully organized and randomized online versions of ourselves.

Mimi Onuoha
(Nigeria/US)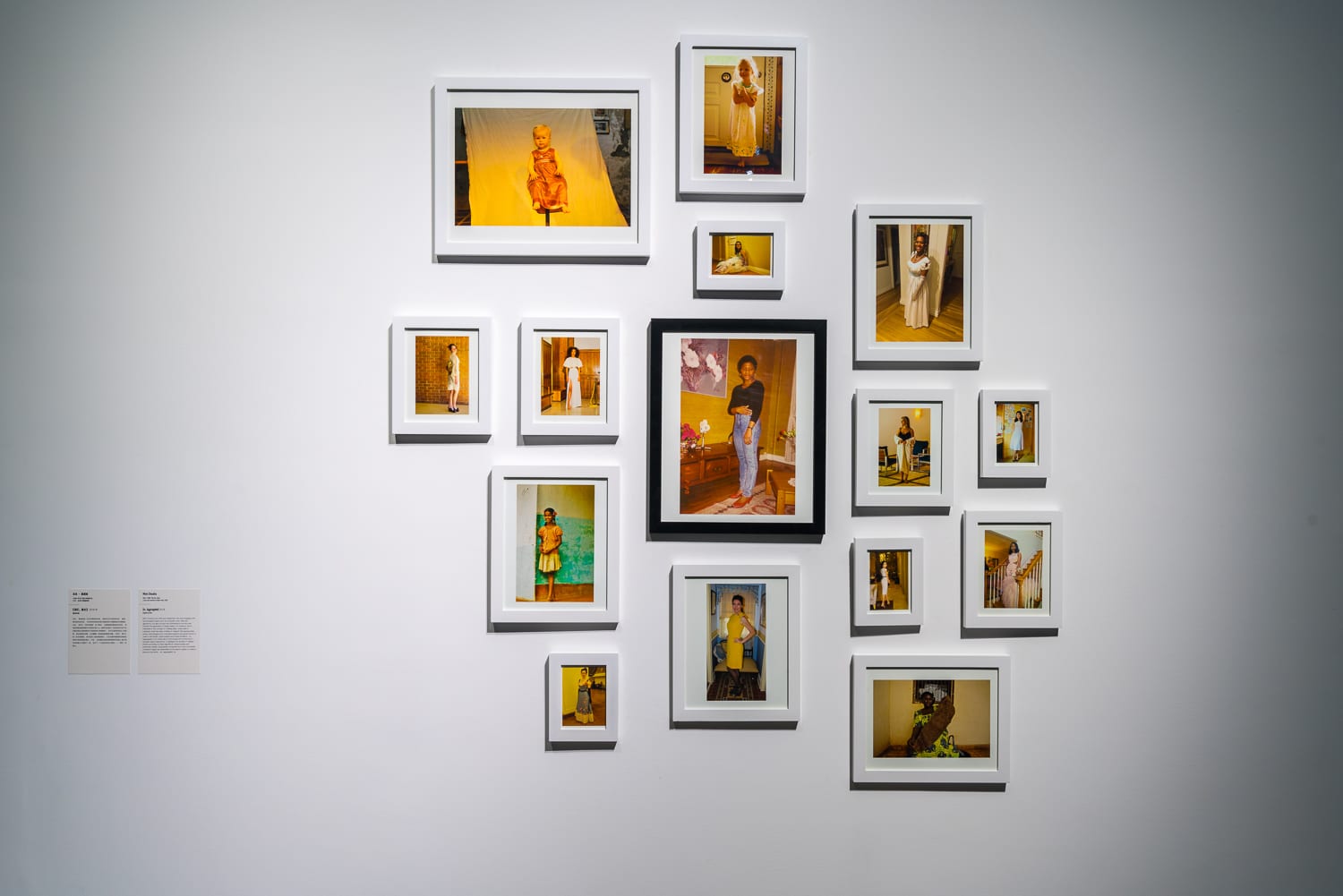 Mimi is an artist and researcher whose work highlights the social relationships and power dynamics behind data collection. Her multimedia practise uses print, code, installation, and video to call attention to how those in the margins are differently abstracted, represented, and missed by sociotechnical systems.
📷 Mimi Onuoha – Us, Aggregated 2.0. Using an image from the artist's personal family archives as its starting place, Us, Aggregated 2.0 presents a frame clustered series of photographs that Google's reverse-image search algorithms have categorized as similar and tagged with the label "girl".

Sougwen Chung
(Japan)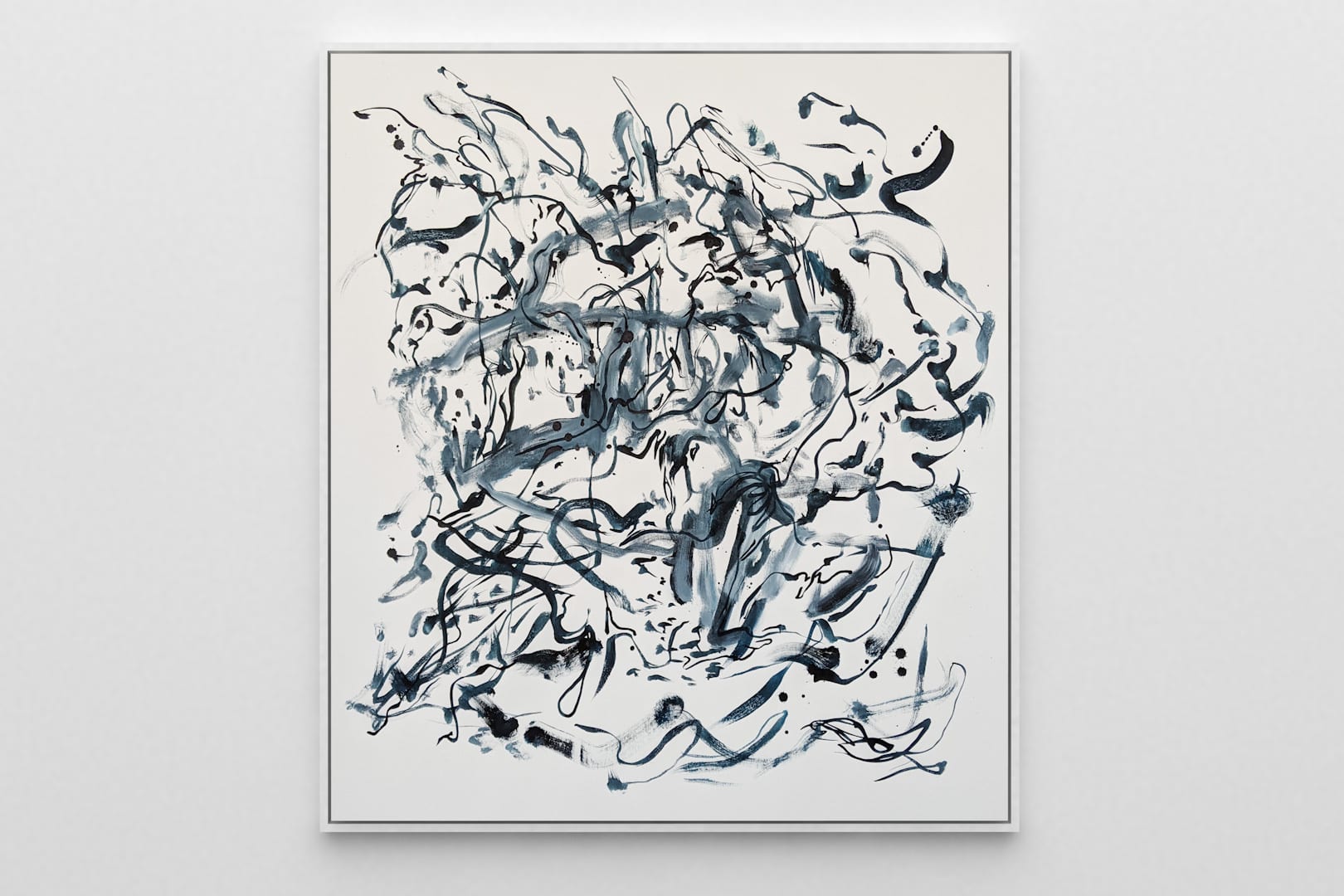 Sougwen is a young artist and researcher exploring the boundaries of collaboration between humans and machines. Chung's work investigates the interactions between mark-made-by-hand and the mark- made-by-machine as an approach to understanding the dynamics of humans and systems, creating visually engaging artworks as a result.
📷 Sougwen Chung – Bihua, Human & machine co-creation during the first quarantine isolation period in Brooklyn, New York.

At MASSIVart, we believe in the integration of new technologies and art as a differentiator with which we can help our clients rethink their creative strategies, to better understand the industry and the audience. If you'd like to know more about how we can help you to integrate data art into your project, don't hesitate to reach out to us!
–
Estefania Cardoso