Indigenous Crossroads: Canada – Oaxaca is a three-week festival offering an immersive experience on Canadian and Mexican culture, with a strong focus on Indigenous artistic expression, digital arts, and wellbeing.
From September 20 to October 8, the festival will bring together over 90 artists in various artistic disciplines, including video art exhibitions, virtual reality, murals, posters, literature and poems, magazines with AR codes, and musical playlists. MASSIVart is delighted to produce the most extensive festival cultural programming ever in Oaxaca while also supporting and promoting Indigenous art and culture globally.
As part of the hybrid festival, a Canadian artist, Rolande Souliere, and a Mexican artist, Tlacolulokos, collaborated in the creation of a colourful mural Our Sun Has Gone in Oaxaca city. We spoke with them directly to discover more about their experience working together.
Both artists had important takeaways to share from their collaboration. For Rolande Souliere, her takeaway was the continuing strength and knowledge of Indigenous traditions that continue to be passed on to generations and how visual artists, like herself, continue to represent the beauty and power of these traditions. For Tlacolulokos, the collaboration allowed him to contribute to the current understanding of different nations, communities, and peoples. Specifically, contributing to closing the social gap that exists across borders by creating visual works, in order to create a unity between native peoples.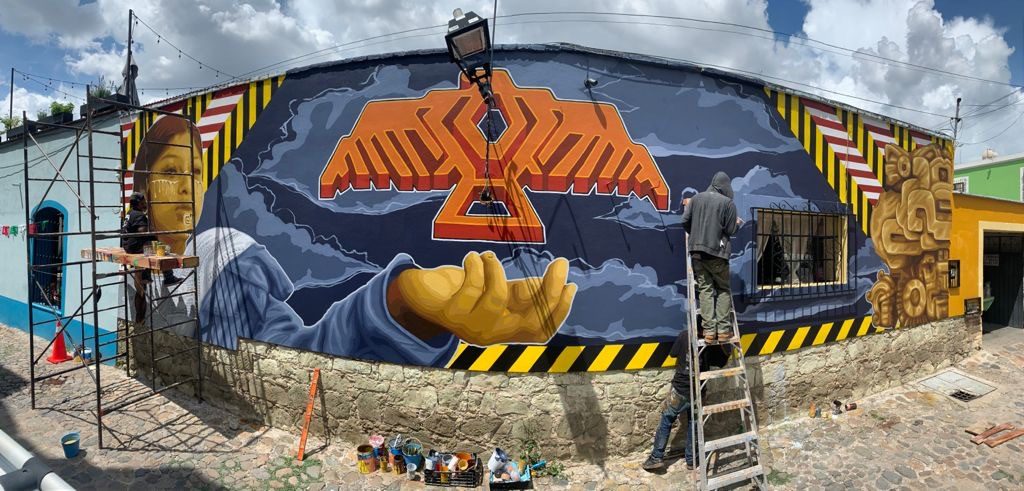 What do you think about initiatives such as the festival Indigenous Crossroads: Canada-Oaxaca?
Rolande Souliere: The initiatives are a great idea and it's important to develop and/or expand on Indigenous connections via art with Canada-Oaxaca.
Tlacolulokos: The dialogue and the issues that are generated in this project is the result of two ways of understanding the cultural reality of our environment and its complexity in an increasingly global society. The exchange and the parallels that exist since the times of the original civilizations have been a constant for the enrichment of the collective imaginary between Native American peoples.

How do you think art can benefit Indigenous communities?
Rolande Souliere: Arts can benefit Indigenous communities in so many ways. We are visual people and storytellers. We are familiar with certain shapes, forms, patterning, and colours and can pick up on these visual queues to address Indigenous histories and culture.
Tlacolulokos: Art builds, enriches, and strengthens the collective identity of the community with processes that make us question our past and future identity.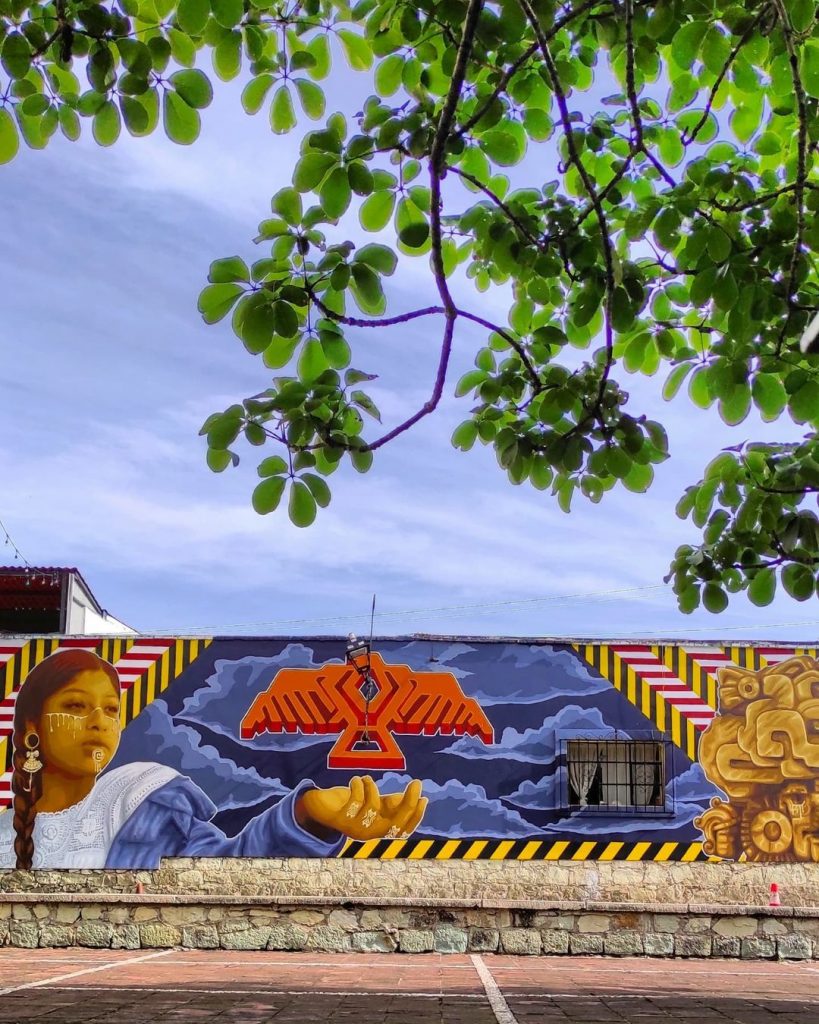 Could you share with us something special about the Anishinaabe People and your culture, Rolande? And Tlacolulokos, something special about the Zapotec community and its culture?
Rolande Souliere: We are one of the largest groups of Indigenous people north of the Mexican border and we live in the Northern United States and in southern parts of Canada, mainly around the Great Lakes Area. One of the trademarks of the Anishinaabe is a traditional dance known as the Jingle Dress Dance, performed only by women at Pow Wows. A Pow Wow is a huge festival where all the Indigenous nations get together and perform traditional dances, enjoy food, and craft.
It is said that an elder had a dream where he was told to have the women sew jingles made out of bone to their dresses. They were instructed to perform a certain type of dance. The dance would enable the jingles to make a particular sound. This sound would bring comfort to the world.
Currently, women wear 'jingles' that are made out of metal disks and folded to make a 'cone' shape, often their language group is stamped onto these disks. These 'cones' are then sewn onto the traditional regalia skirts and when the women dance, it makes a beautiful sound. This sound is said to 'heal' those who are feeling ill or sad and this sound will bring hope to them.
Tlacolulokos: The Zapotec culture is very proud of its identity, as each village has its own customs. The Zapotec culture has so many varieties of gastronomy, textiles, variants of Zapotec (mother tongue) in contrast to the political problematization that comes with the existence of more than 560 municipalities and their different ways of approaching their local vision.

How does your culture inspire your art practice?
Rolande Souliere: My culture is a continuous inspiration to me, not only through socio-political and cultural history but also through colonial history. Processes of wrapping, weaving, binding, and stacking along with the different colours and tactile materials used in making 'regalia' are inspirations that are carried over into my work.
Tlacolulokos: The great diversity that Oaxaca has culturally, from the pre-Hispanic era to the colonization, and the current globalization, the contradictions between its people, and the non-idealization of these make us see that special value that inspires us from the political and cultural point of view. Respecting the ritual practices of the place, we take up their symbols and beliefs in our work, questioning and rethinking them.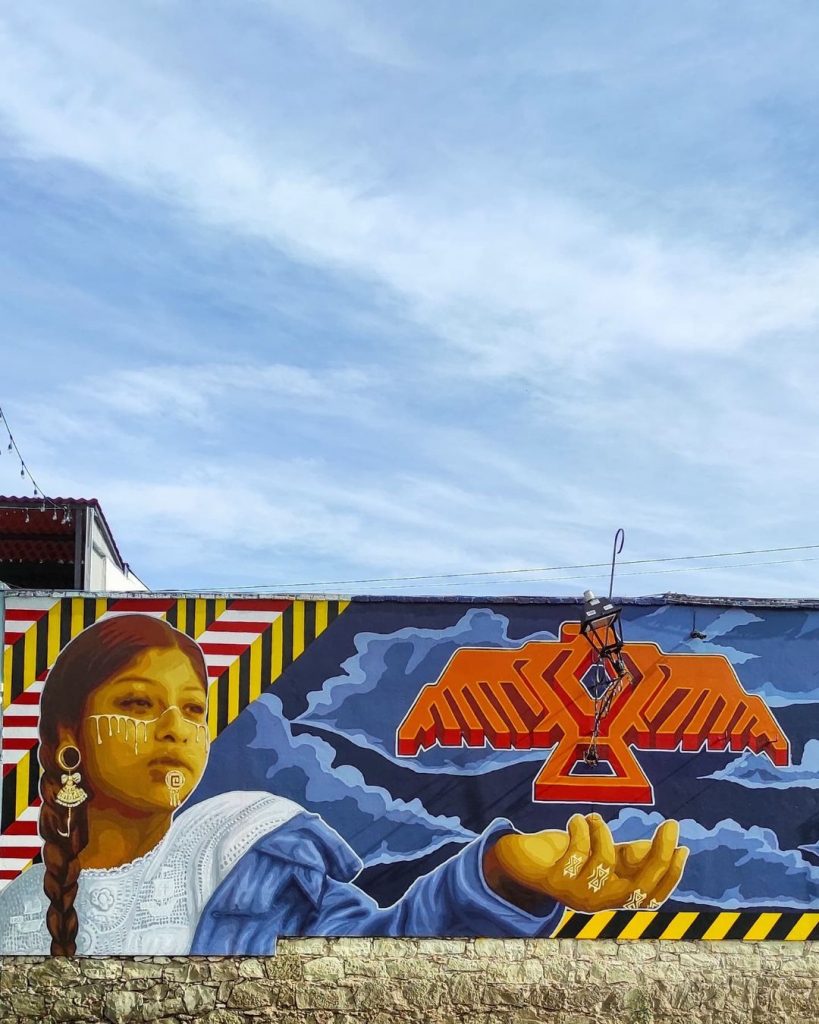 How was it to collaborate with an Indigenous artist from another country? Did you find any similarities?
Rolande Souliere: It was a pleasure to collaborate with Tlacolulokos. I learned new things about their culture that have similarities to my own culture and of course the political aspects in both our art practices such as resistance and empowerment.
Tlacolulokos: We felt a lot of empathy knowing that we were working from the common elements in the collective imagination of both communities. This generated an almost natural link within the dialogue between us, taking up ideas between our two projects and trying to make a dialogue that not only had to do with the artist, but with the particular context where the work will take place.

Can you please tell us more about the ideas behind the mural?
Rolande Souliere: Creating stories of the sky beings was a wonderful connection we shared and we carried this over to our mural project. Clouds are used to unite the two Indigenous cultures and our subject matter. Here we bring the mythology of the elements such as thunder, lightning, and rain to a visual form by showing the two mythological beings (Thunderbird and Cocijio) from our cultures that are responsible for such natural elements. We also incorporated traditional symbols such as Zapotec ancient patterns and ancient Thunderbird patterns that represent the treks of the Thunderbird. These Indigenous symbols in the mural represent important historical signifiers for both cultures.
Tlacolulokos: The concept of life is represented by the element thunder, as it is associated with rain and therefore water, essential to develop life. In the middle, Thunderbird and on the right side, Cosijo, both deities of lightning, share this similarity in almost all cultures of the world, by the worship of rain and the benefits it brings. As Native American peoples, these ceremonial similarities make us think that there should be more empathy between the different peoples of the world and begin to think of coexistence beyond the superficial.
—————————————–
Thank you to both Rolande Souliere and Tlacolulokos for sharing their inspiring stories.