Brookfield Properties develops and operates real estate investments on behalf of Brookfield Asset Management — one of the largest alternative asset managers in the world. Arts Brookfield is the company's cultural initiative, which supports innovation in music, dance, theatre, film, and visual art through free art exhibitions and cultural experiences across their properties, creating vibrant and valued environments for the people who work and live there every day.
​Brookfield Properties was looking to install a new piece of public art in the central plaza of its new, mixed-use development in New York City, Manhattan West. The work would then be reprogrammed for a second location, a waterfront plaza located at Brookfield Place in Lower Manhattan.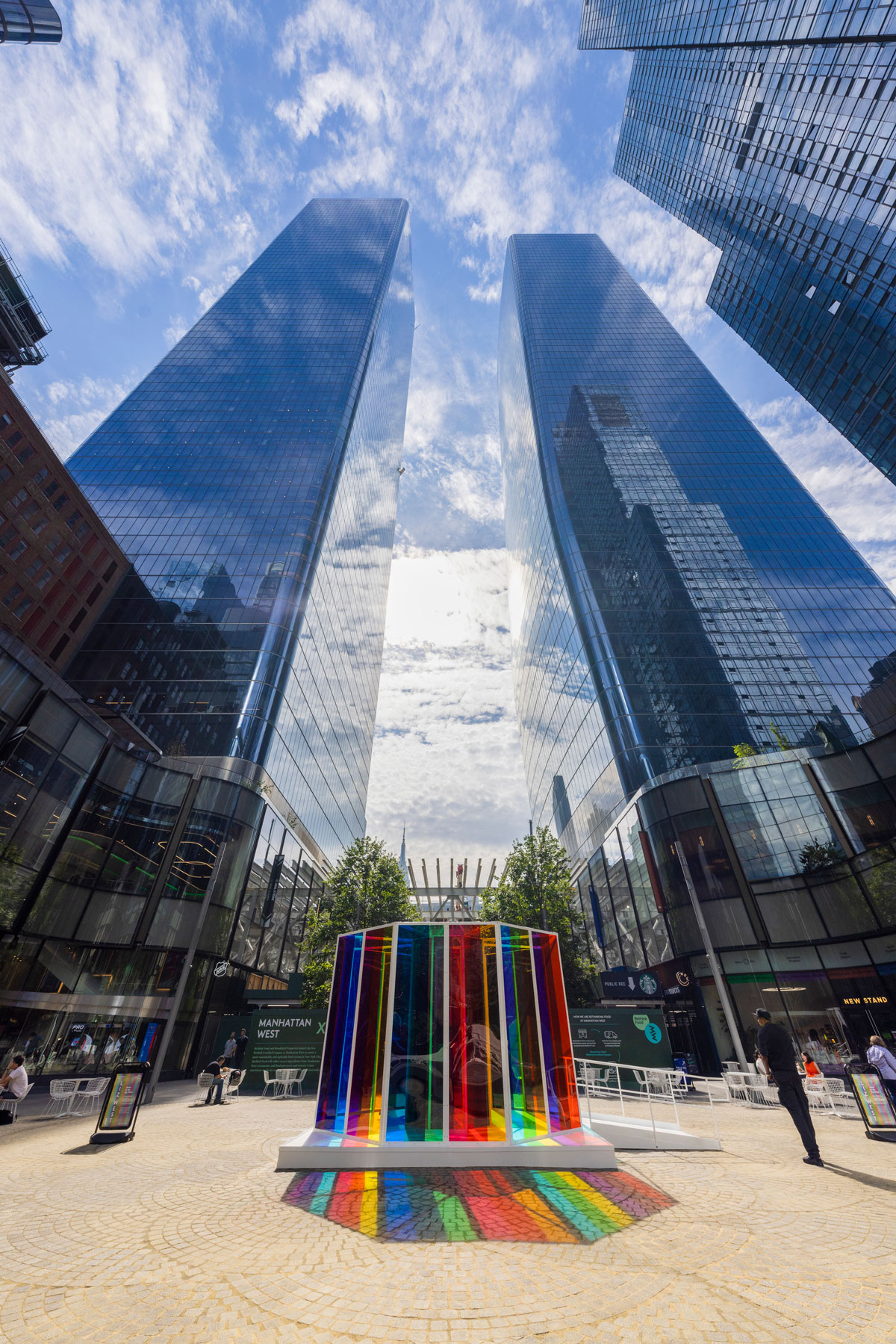 Hymn to the Big Wheel by UK artist Liz West was chosen to meet Brookfield Properties' goals. The immersive sculptural work explores the illusion and physicality of color and natural light in space. Consisting of a multi-colored octagon nestled within a larger octagonal shape, this work encourages the viewer to reposition and align themselves to differing colorways to see a changing scope of colors mixing before their eyes.
MASSIVart is proud to have contributed to the temporary transformation of these two places, creating distinctive moments and engaging with the communities of two New York properties. The unifying cultural program will result in stronger and more authentic connections with the destinations' audiences.
We asked Elysa Marden, Senior Vice President, Arts Brookfield for Brookfield Properties, some questions about the inspiration and experience in bringing Hymn to the Big Wheel to Manhattan.
As a leader in the Real Estate Industry Brookfield has been at the forefront of integrating art and cultural programming. Why is it important to bring your spaces to life through art?
Brookfield Properties is dedicated to creating vibrant environments for the people who work in our offices and the communities who visit our spaces every day. Through Arts Brookfield, our company supports innovation in music, dance, theater, film, and visual art, while enabling artists, our tenants, and the local communities to thrive. Arts Brookfield demonstrates the important role cultural experiences and public art play in creating communities while giving artists exposure to an expanded audience who might not otherwise experience their work.
What effect does this have on the space, public, tenants, and employees?
At Brookfield Properties, we strive to make our spaces more than just a place one works or lives, and we see public art as an important amenity for our tenants, residents, and the communities in which we operate. Public art can change the perception of the architecture, enabling people to experience our spaces in a new way. It can inspire and educate residents, tenants, and visitors. It also creates a reason for people to congregate, socialize, and come together.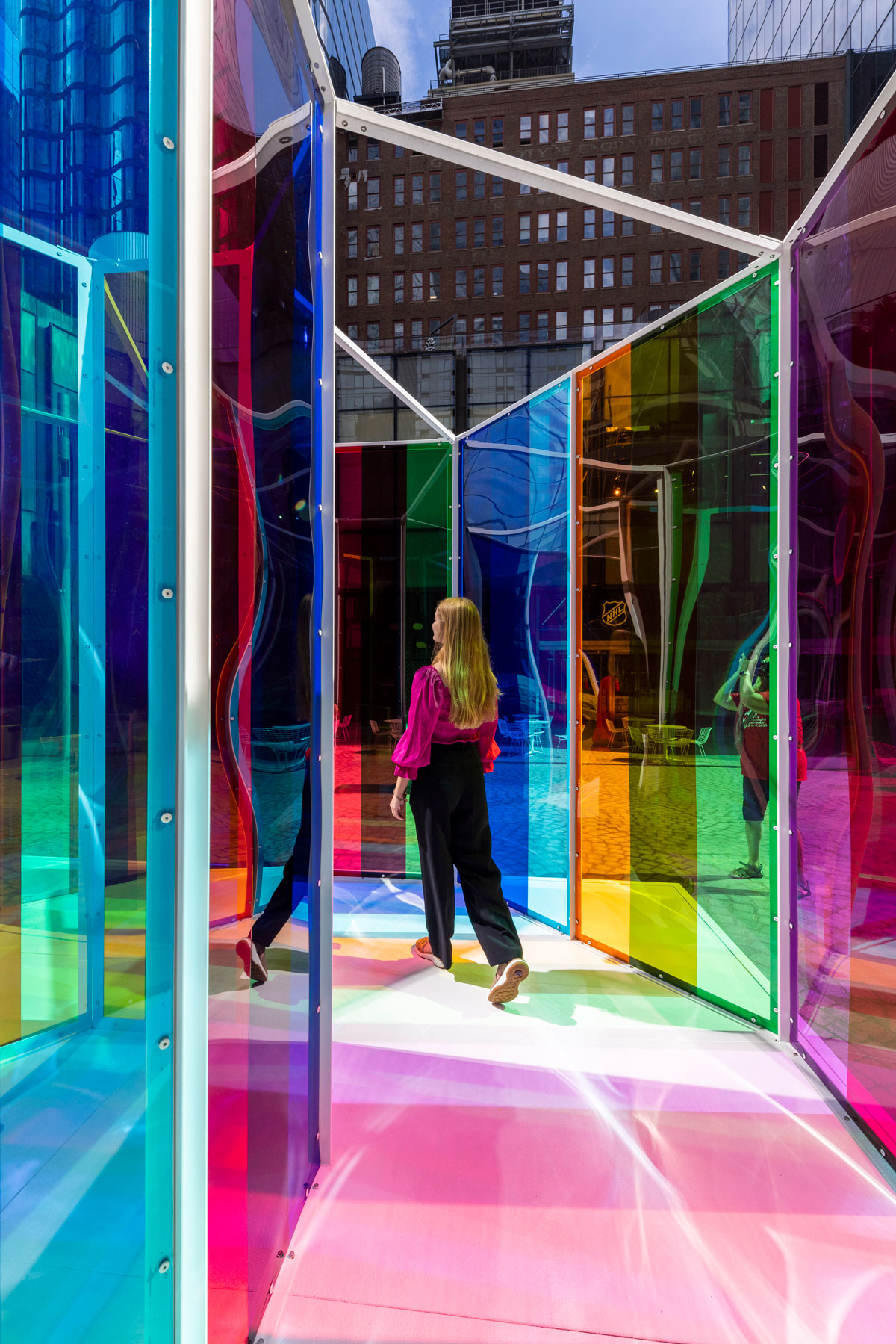 How do you measure the ROI of art integration and why is it important to invest in placemaking?
We integrate commercial real estate with world-class shops, restaurants, and cultural experiences, creating spaces where work and play don't just coexist, but thrive. As global companies compete for talent, our high-quality offices with modern amenities, featuring world-class art and events, help retain and recruit tenants. Our year-round curated events enable us to attract more interest in leasing space in our office and retail areas and add to the value of the lease. The welcoming environment Arts Brookfield creates at our spaces embodies Brookfield Properties' vision of enlivening workplaces and our commitment to developing flourishing communities.
Why were you interested in bringing Liz West's work to NYC?
Liz West's playful installation uses color and natural light to create a stunning display which brightens the environment it's in and brings joy to anyone visiting our properties. We strive to create new and engaging experiences for the public and it's especially wonderful that this is a work of art that the public can move through and explore. Hymn to the Big Wheel was originally commissioned by Canary Wharf Group for Summer Lights 2021. Once we saw how beautifully the sculpture transforms its environment with color and how it engages the community, we knew we had to bring it to NYC. We felt that our Manhattan West and Brookfield Place properties were the perfect backdrop for the inaugural exhibition of this work in the United States.
At MASSIVart, we think that art allows telling new stories that are linked to the identity of the place in which it is integrated, it is also a way to create discussions with visitors and good marketing opportunities (PR, word of mouth, social media). What do you think about that?
While we often commission new artwork or adapt pieces specifically for our properties, we were struck with how the long panels and octagonal shape from Liz West's installation resembled and complements the glass atrium of the Winter Garden at Brookfield Place and the stunning vertical office towers at Manhattan West. Similar to the installation, both properties were also created as a place to explore and be inspired by.
We've seen substantial marketing success with our engaging and photogenic visual art. Almost 60% of the visitors who pass through our properties have mentioned they find out about NYC events and installations through social media and word of mouth. Most people won't be able to pass by West's artwork without taking a picture and sharing it with their friends, family, colleagues, or followers on social media. Every piece and place have their own story and every individual creates their own narrative based on how the piece relates to them.
You can hear more about West's inspiration behind Hymn to the Big Wheel and perspective on bringing the artwork to two of our properties here.