1000 Visages is a kinetic work of impressive scale, created by Alejandro Figueroa, that dances to the rhythm of the sun, wind and moon and offers the community a universe of relaxation and contemplation.
This mesmerizing work in the form of a floating sphere is composed of 1779 pieces of reflective dichroic plexi suspended under a curved structure 40 feet high. It reflects the environment in which it lives and is enhanced by the elements of nature and the movement of humans who observe it.
1000 Visages was part of the series of diverse artworks that were displayed in Montreal's parks, streets, and near commercial avenues, allowing citizens to discover several artistic disciplines, including photography, sculpture and digital art. A total of 21 public art installations were displayed around various Montreal boroughs. Learn more about this project.
MASSIVart had the pleasure of collaborating with numerous Montreal artists and creative firms to make this exciting initiative a reality. Alejandro Figueroa from +AMOR and his installation, 1000 Visages, particularly caught our attention.
We wanted to give him the floor to learn more about him and this work.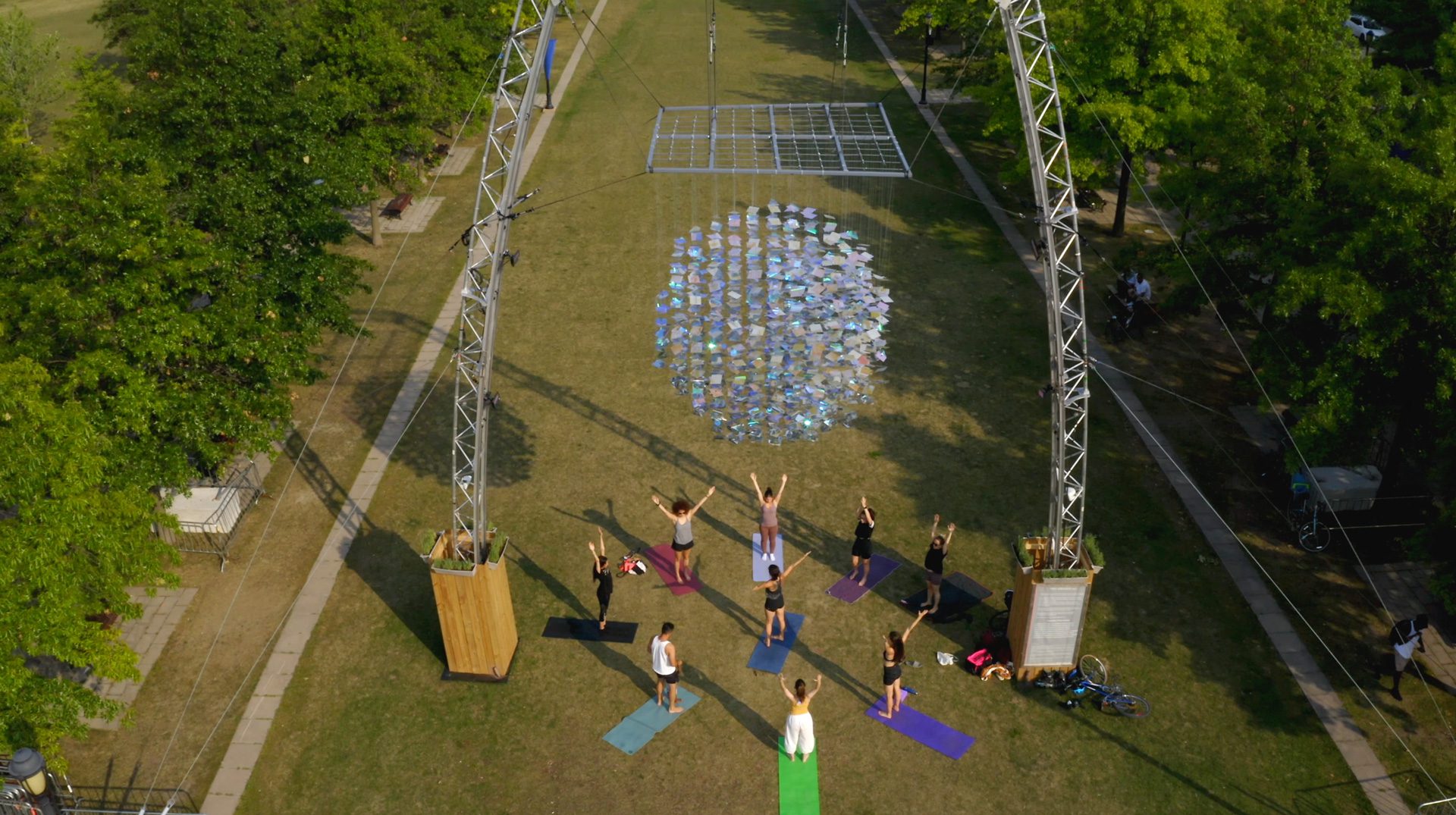 Can you tell us more about your general artistic practice?
My personal practice extends now over 20 years, and it has a wide range of mediums, from creating videos, to producing award winning VR experiences , to sculptural work, and in the last 7 years creating multi sensorial art installations. The common denominator throughout all mediums and time is a constant desire to build awareness and community, through the exploration of light, movement, time and colour.
I believe that art should reflect the times in which it is created.

What are your inspirations?
For all concepts, I have two main sources of inspiration in my work, Nature and the work of great masters. Once the ideas are in place, I will look at available materials to try to come as close to the original inspiration I can get with the resources available.

Can you tell us more about 1000 Visages?
In the last two years, I have tried to create installations that are physical representations of social phenomena or cultural concepts, and 1000 Visages is one of them.
1000 Visages is a physical representation of the community, in which the 1779 mirror moves independently from each other with the forces of nature and at the same time all mirrors are connected to form a beautiful spectacle of union.

What story did you want to tell?
In 1000 Visages I wanted to share the struggle of confinement, restrictions and lockouts. By creating a sphere composed of mirrors, I wanted people to look up and see themself, but also to see the surrounding people around them, to put an end to the loneliness and segregation in which we lived for the last two years (almost). I wanted people to feel whole.
What effect did 1000 Visages have on the people you met in the Parc des Faubourgs?
In all my productions I make sure to put as many layers of understanding as I can, the result of this train of thought is that I manage to capture a very large audience that will be captivated by the art for many different reasons.
In the specific case of the 1000 Visages, everyone loved it and everyone had his/her own interpretation about the meaning of the piece.

How do you think the integration of art can be beneficial to revitalize public spaces?
There are two tandem answers to this question, one from the public or community and from an artist's point of view.
From the community point of view, it is critical to have access to FREE, and no partisan, sources of inspiration. In times when everything is trying to sell us something, having art that is there to ignite creativity is primordial for the development of a healthy society.
As an artist, to be in the public sphere is a privilege and responsibility. To be in the public domain comes with a load of responsibility since you are imposing your vision into the collectivity, so you have to be extremely careful how you leverage this privilege. The intentions behind your creative process have to be noble and thoughtful whatever they are, there is no place for egocentric visions or energies in the public space.
And lastly, as an artist, I care about the democratization of art in society, this function has to be exercised at all costs in society, giving FREE access to the community has an unquantifiable positive effect.